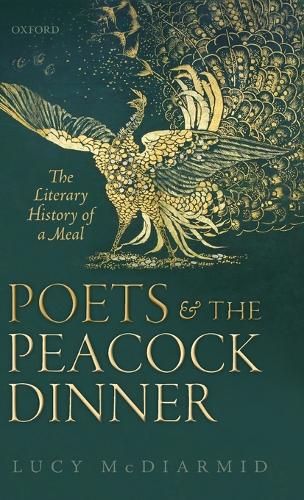 Poets and the Peacock Dinner: The Literary History of a Meal (Hardback)
Lucy McDiarmid
(author)
Hardback
240

Pages / Published: 20/11/2014
On January 18, 1914, seven male poets gathered to eat a peacock. W. B. Yeats and Ezra Pound, the celebrities of the group, led four lesser-known poets to the Sussex manor house of the man they were honouring, Wilfrid Scawen Blunt: the poet, horse-breeder, Arabist, and anti-imperialist married to Byron's only granddaughter. In this story of the curious occasion that came to be known as the 'peacock dinner,' immortalized in the famous photograph of the poets standing in a row, Lucy McDiarmid creates a new kind of literary history derived from intimacies rather than 'isms.' The dinner evolved from three close literary friendships, those between Pound and Yeats, Yeats and Lady Gregory, and Lady Gregory and Blunt, whose romantic affair thirty years earlier was unknown to the others. Through close readings of unpublished letters, diaries, memoirs, and poems, in an argument at all times theoretically informed, McDiarmid reveals the way marriage and adultery, as well as friendship, offer ways of transmitting the professional culture of poetry. Like the women who are absent from the photograph, the poets at its edges (F.S. Flint, Richard Aldington, Sturge Moore, and Victor Plarr) are also brought into the discussion, adding interest by their very marginality. This is literary history told with considerable style and brio, often comically aware of the extraordinary alliances and rivalries of the 'seven male poets' but attuned to significant issues in coterie formation, literary homosociality, and the development of modernist poetics from late-Victorian and Georgian beginnings. Poets and the Peacock Dinner is written with critical sophistication and a wit and lightness that never compromise on the rich texture of event and personality.
Publisher: Oxford University Press
ISBN: 9780198722786
Number of pages: 240
Weight: 418 g
Dimensions: 222 x 144 x 19 mm
---
MEDIA REVIEWS
...with its in-depth original and archival research, and its forays into networks that made a material difference to the production of art, The Poets & the Peacock Dinner remains an interesting read. It joins excellence on Irish literature with close readings of poetry, and adds weight to ideas that Pound cared more for advancing his own agenda than for purely improving poetry. As an example of literary-historical materialism, this book is exceptional. * Nicholas Taylor-Collins, Notes and Queries *
no one is better placed or qualified than McDiarmid, with her deep knowledge of Irish cultural history, to unravel and clarify the details and complexities. * New Canterbury Literary Society News, Michael Copp *
Lucy McDiarmid's book is a serious exploration of 'the way literary intimacies create means of transmitting the professional culture of poetry', but it is also an entertaining account of a carefully stage-managed occasion ... McDiarmid writes very persuasively ... compelling ... a considerable achievement. * John Greening, Times Literary Supplement *
this work is a vital and important study of an event often referred to but heretofore inadequately examined. * Review of English Studies, Catherine E. Paul *
[a] fascinating study ... meticulously researched ... Prof McDiarmid makes a highly credible case ... [and] writes with sensitivity and insight ... What makes this book an important as well as a very entertaining one is that it seeks to substantiate an original theory about literary influence ... [and] prompts one to wonder how Irish literary history could be illuminated by McDiarmid's theory. * Terence Brown, Irish Times *
Over the course of her elaborate account of an unconventional dinner held in a Sussex manor house in honour of its owner, Wilfrid Scawen Blunt... we witness her careful untangling of the literary and personal lives of W. B. Yeats, Pound, Blunt and Lady Augusta Gregory. * Times Higher Education, Sandeep Parmar *
McDiarmid's intimate, intricate narrative wittily reveals cross-currents: the young men flattered and challenged the patriarch, jostling amongst themselves. * Stevie Davies, Independent on Sunday *
McDiarmid uncovers a wealth of significant and previously unexamined information about the event that reveals its importance to the defining of the profession of the male poet in this period ... deftly moves from straight-forward narration, to exploration of these various writers' careers and work ... a vital and important study of an event often referred to but heretofore inadequately examined. * Catherine E. Paul, Review of English Studies *
McDiarmid's book is a highly original work of literary sociology ... McDiarmid has cast her net widely for the published and unpublished sources that provide the details of her story, and she hauls it in with a sure hand and a lively and lucid prose style that bear her considerable learning lightly. * Matthew Sperling, Literary Review *
a lively, engaging account of the dinner, its varied significances, and its participants. Highly recommended. * G. Grieve-Carlson, CHOICE *
There is a strong Irish element to the background of this story, and no one is better placed or qualified than McDiarmid, with her deep knowledge of Irish cultural history, to unravel and clarify the details and complexities ... scholarly and engaging. * Michael Copp, New Canterbury Literary Society News *
A lovely thing to own. * The Taster *
The occasion in January 1914 when seven poets headed by Yeats and Pound sat down to a dinner of peacock in honour of the ageing poet and public agitator Wilfid Scawen Blunt is a key moment in literary history. Or so it emerges in Lucy McDiarmid's brilliant exploration of the event. With her extraordinary flair for imaginative scholarship, she illuminates the origins and precedents for the peacock dinner, the offstage role of Lady Gregory, Yeats's close friend and Blunt's former lover, in organising this all-male gathering, the rivalries and alliances in those invited and excluded, and its long-term significance in terms of the genealogies of poetic modernism. Whatever the roast peacock tasted like, this is a book to be savoured and enjoyed. * Nicholas Grene, Professor of English Literature, Trinity College Dublin *
How could one meal (even if peacock was on the menu) matter so much? From a minor incident, one lunch eaten by seven male poets, Lucy McDiarmid serves up a literary historical analysis of major importance. The pivotal role played by a woman who wasn't one of the diners sustains this sophisticated reading of sexual intimacies, cultural transmission, modernist poetics, and literary professionalism. Poets and The Peacock Dinner is also utterly delicious: only McDiarmid can deliver a concoction at once this erudite and sexy, offering page-turning consumption in the time it takes to eat a long lunch but lingering satisfaction for much longer. * Margaret Mills Harper, University of Limerick *
This fascinating and original book explores the complex dynamics of friendship, mentoring, rivalry, and professionalization among a group of men and illuminates the central but often invisible role that women played in mediating those dynamics. Both wide-ranging and meticulously observed, rigorous and imaginative, Poets and the Peacock Dinner is a masterful combination of literary history, biography, and cultural theory. * Marjorie Howes, Boston College *
A splendid book in every respect ... Writing about literature has struggled with how to bring together technical 'new criticism' with 'new historicism'; this book does it without a struggle. One could hope that the book's approach will have many imitators, but copying the style of the book won't be easy ... This is truly grown-up feminist criticism. * Adrian Frazier, National University of Ireland, Galway *
[A]n excellent book which deserves to be widely-read ... with a strong narrative construction and with much fascinating biographical and historical material which is nevertheless critically sophisticated and at all times theoretically aware ... a significant contribution to the study of the pre-Great War beginnings of literary modernism. * Matthew Campbell, University of York *
Lucy McDiarmid's study is an absorbing work of rigorous scholarship consistently enlivened by a sharp and delightful wit. Its triumph resides in a lovingly meticulous unfolding of the webs of significance which radiate from this small gathering: literary homosociality, the practical business of coteries, the development of modernist poetics, assumptions about gender and creativity, and the politics of anti-imperialism. Few indeed are the books which so substantially vindicate the most ambitious claims of literary-historical scholarship. * Edward Larrissy, Emeritus Professor of Poetry, Queen's University, Belfast *
Sumptuous ... The book grapples with the complexities of art, politics, and the 'male homosocial friendships' that permeate literary history ... McDiarmid brings into focus a world on the brink of change and an event that managed to connect the pre- and post-Victorian world by traditionally paying homage to the literary past while making way for the poets of tomorrow. * Matthew Skwiat, Irish America *
You may also be interested in...
Simply reserve online and pay at the counter when you collect. Available in shop from just two hours, subject to availability.
Thank you for your reservation
Your order is now being processed and we have sent a confirmation email to you at
When will my order be ready to collect?
Following the initial email, you will be contacted by the shop to confirm that your item is available for collection.
Call us on or send us an email at
Unfortunately there has been a problem with your order
Please try again or alternatively you can contact your chosen shop on or send us an email at