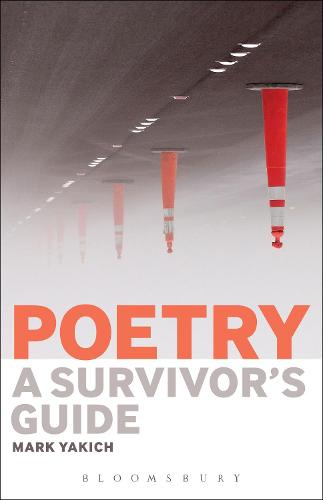 Poetry: A Survivor's Guide (Paperback)
Mark Yakich
(author)
Paperback
232

Pages / Published: 31/12/2015
Playful and serious, unforgiving and compassionate, Poetry: A Survivor's Guide offers an original take on a subject both loved and feared. In a series of provocative and inspiring propositions, the act of reading a poem is made new, and the act of writing one is made over. Questions of poetry's difficulty, pretension, and relevance are explored with insight and daring. In an age of new media and social networking, this handbook-cum-manifesto provides fresh reverence for one of our oldest forms of art.
Publisher: Bloomsbury Publishing Plc
ISBN: 9781501309496
Number of pages: 232
Weight: 256 g
Dimensions: 197 x 127 x 18 mm
---
MEDIA REVIEWS
Yakich's irreverent style, conversational tone, and quirky illustrations make for a guide that will be both instructive and entertaining for anyone interested in learning more about reading and writing poetry. * Publishers Weekly *
Surviving the "poetry bug" isn't always easy and can sometimes feel very lonely. But, Yakich's (English, Loyola Univ. New Orleans; A Meaning for Wife) handy guide could be the help lonely and not-so-lonely poets need. It presses tenets, techniques, and propositions about poetry in a gentle and reassuring way. Filled with clear examples and helpful tips, ostensibly this is a book for people who are interested in the making of poetry, but that could be writers as much as readers. ...Yakich is never pedantic or overly intellectual, writing instead in an informal voice that tends to feel more like a friendly discussion at the watercooler than a college lecture. ...[It] is cheerfully written and kindly meant. * Library Journal *
Mark Yakich's Poetry: A Survivor's Guide is more than a guide, it's a heart's hornbook for all of us who occasionally look at a poem and see nothing but alphabet soup. Ranging freely from topics like "Culture Jamming" to "Ineffability" to "Procrastination," Yakich brings us closer to the mysteries of art in entries of dazzling intimacy and intelligence. You will find cartoons here, and logos, and recipes, and illusions-and then, when you put down Poetry: A Survivor's Guide and pick up a poem to read, you'll find all those things there, too. If you're a poet, this book will remind you of the reasons why you fell in love with the art in the first place. If you're a reader falling in love with the art in the first place, it might just make you a poet. * Srikanth Reddy, Associate Professor of English, The University of Chicago, USA, and author of Voyager *
Poetry: A Survivor's Guide is a brilliantly provocative, witty and illuminating book about poetry in its many guises. It is both an homage to poetry and a reveille for its reanimation. In a series of superb vignettes - everything from Reader's Block to Culture Jamming and Procrastination - Mark Yakich offers sage advice and in doing so, bursts the urban myths about poetry wide open. This book will turn on its head everything you have ever thought about poetry, it will empower and entertain you and, most importantly, it will change the way you think about poetry. * Cassandra Atherton, Senior Lecturer in Literary Studies and Professional & Creative Writing, Deakin University, Australia *
This is a funny, brash, sweet, in-your-face, humble, questioning, advice-dispensing, and utterly smart-as-hell book. Everything you ever wanted (or didn't know you wanted) to know about "surviving" the reading or writing of a poem, or being a poet, or maybe even what it feels like to be a poem is in this "guide." With a light touch, Yakich fills these pages with stories, ruminations, and wisdom backed by years of reading, writing, and teaching poetry. His discussions of poems and poets range across time periods and aesthetics and he covers a wide-range of topics, with everything from heavy-hitters like image and metaphor to less frequent comers like spirituality and how not to fear literary critics. This book is indeed a guide, but not ultimately for how to "survive" poems so much as how to revel in them-not despite but because of their ambiguity, their strangeness, their lack of value (and the opposite), and for the chance they offer us to "play." Dedicated to Yakich's students, Poetry: A Survivor's Guide is for anyone who continues, for whatever ineffable reasons, to travel with poems in our pockets. * Shara McCallum, Director of the Stadler Center for Poetry, Bucknell University, USA, and author of The Face of Water: New & Selected Poems *
When we lose our connection to language, we lose our connection to ourselves. This book will teach you how to make sense of any poem. But, more importantly, how to make sense of the amazing and baffling world around us. Funny, inventive, perceptive, astute, accessible, affable, compassionate; Yakich is the perfect tour guide for a trip into, through, and around poetry. You will survive, and be stronger, more creative, and less alone after the adventure. * Priscila Uppal, Poet, Novelist, and Professor of English, York University, Canada *
In a market glutted with conventional poetry primers, it's quite a relief to discover the wide-ranging candor of Mark Yakich. Playful, soulful, sardonic, this is the kind of survivalist manual you'll want to cozy up to in bed. * Timothy Liu, author of poetry collections including Of Thee I Sing and Bending the Mind Around the Dream's Blown Fuse *
Poetry: A Survivor's Guide is filled with helpful advice, anecdotes, examples-and humor. Yakich takes his subject seriously (he does, after all, make a living writing and teaching it), but he also sees the fun in it. Poetry is part of life, in all its glorious wonder, awe, joy, tragedy, and ridiculousness, and Yakich would say that's how we should read it and write it. * Tweetspeak Poetry *
Reading this survivor's guide will make you feel why you fell in love with the poem. Not only will it remind you why you fell in love, Yakich's smart, playful, humble and sometimes brash words towards the poetry will make you realize (hopefully you already knew) the importance of the art in your life, others, and the social setting. -- Elijah Tubbs * [r] blog *
Divided into two main sections: Reading and Writing, this 'survivor's guide' touches on everything from sections on poetry basics like enjambment and rhythm, to 'reader's block' and advice on applying to MFA programs and submitting to literary magazines. It includes bits of guidance ('Close study of how a line ends and moves into the next is as good as any entry point in examining a poem') to moments of reassurance ('There's no need to finish reading an epic poem you only got halfway through. Its purpose was to be read halfway'). -- Taylor Murrow * Room 220 ("Bringing poetry down from a pedestal: an interview with Mark Yakich") *
[CC] Yakich (Loyola Univ., New Orleans) has written an excellent textbook for any poetry classroom. Aimed at readers and writers of poetry, as well as those who are not comfortable with the genre, the book is full of humorous anecdotes and suggestions for how to enjoy poems and how to write them. The engaging writing is that of a poet, and the author speaks with an informal authority. He breaks down poetry by author, style, and theme and encourages even the most dubious to tackle poetry. A quick and easy read, the book offers suggestions in short bursts, one after the next. Wry and entertaining, the book appears superficially simplistic but clearly has layers of thought put into it. Good for reading for enjoyment or to inspire and educate. The book will also appeal to poets who struggle with writer's block or just want an entertaining read on a topic they love. Summing Up: Recommended. Lower- and upper-division undergraduates; general readers; professionals. * CHOICE *
Irreverent and often profound pronouncements define Mark Yakich's Poetry: A Survivor's Guide, which seeks to bridge the gap between those haughty academic treatises on verse (such as Ezra Pound's ABC of Reading) and those quaint, but ultimately limited, workbooks brimming with writing exercises ... A light yet bountiful read, Poetry: A Survivor's Guide offers concise, practical advice for those who yearn to hone their craft and deepen their appreciation for poetry's strange majesty ... In his best moments, Yakich captures a genuine excitement for artistic possibility while remaining ever mindful of the practical demands we must confront with the world's oldest art form ... Poetry: A Surivor's Guide succeeds due to its sincere, idiosyncratic counsel for those embarking on their poetic journey. Though the field of creative writing suffers from no shortage of craft books, few offer readers a study so accessible, engaging, and comprehensive. * Plume *
You may also be interested in...
Simply reserve online and pay at the counter when you collect. Available in shop from just two hours, subject to availability.
Thank you for your reservation
Your order is now being processed and we have sent a confirmation email to you at
When will my order be ready to collect?
Following the initial email, you will be contacted by the shop to confirm that your item is available for collection.
Call us on or send us an email at
Unfortunately there has been a problem with your order
Please try again or alternatively you can contact your chosen shop on or send us an email at