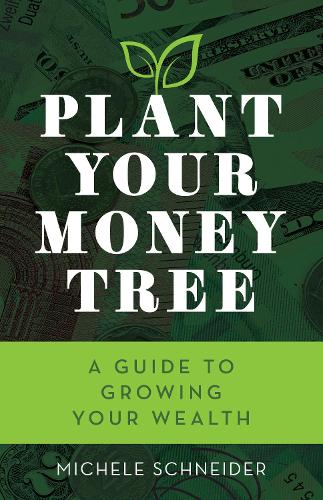 Plant Your Money Tree: A Guide to Growing Your Wealth (Paperback)
Michele Schneider
(author)
Paperback
272

Pages / Published: 08/07/2019
We can order this from the publisher
Plant Your Money Tree offers readers a strategic and actionable way to look at their financial life with a completely new attitude of confidence, empowering them to make smart decisions regarding: *What to do with their money *How to grow their money *When to make smart personal choices such as changing careers, guiding their kid's education, expanding their business, buying a house, putting money in a savings account, capitalizing on social trends and investing in the future *How to manage their existing portfolios and 401Ks In clear and accessible language, Mish Schneider walks the reader through the six most essential sectors of the U.S. economy as seen through six market phases ---bullish, caution, distribution, bearish, recuperation, and accumulation. She illustrates how to easily recognize these phases, understand their interrelationships and explains to readers why they should care. Using a personal and conversational tone, Mish's goal is to help anyone who believes the topic of the economy and growing wealth is beyond their comprehension by giving them the tools to make independent, informed decisions about their money. With that knowledge, readers will gain insight plus have practical, smart options for what to do with their finances. Mish holds the readers' hands every step of the way with her welcoming and easy to understand language. Schneider does not endorse passive or buy-and-hold type investing. Rather, she teaches readers an evergreen methodology that adapts to every market scenario.
Publisher: Rowman & Littlefield
ISBN: 9781538122570
Number of pages: 272
Weight: 322 g
Dimensions: 216 x 139 x 16 mm
---
MEDIA REVIEWS
"As a current hedge fund manager and former trader at Millennium Partners, part of my job is to find the best money managers. Mish offers the general public a way to take control of their own portfolio and in effect, become their own best money manager. Her Economic Modern Family explains how the economy works, turning highly complex concepts into easily digestible bites. The manner in which she overlaps the basics of economics along with the phases, provides the reader with extremely valuable insight. I can confidentially say that Mish opens the world of finance to those who thought they could never understand it before." -- Neal Berger, Founder and President of Eagle's View Capital Management, LLC
"As the CEO of a financial media company, I evaluate and review the leading financial publications and pundits in the financial arena. What makes Mish unique and sets her apart, is how she uses her real-world experience to explain complex ideas and then reduces them down to a simple actionable plan that lets the individual investor take control of their finances." -- Morgan Busby, CEO of Financial Media Corp
Michele Schneider builds upon the masterworks of legendary market technicians like Wyckoff and Templeton, and takes their concepts to another level by providing an everlasting blueprint for navigating the market's many phases in her book Plant Your Money Tree. Michele's passion and skill for teaching shines, as she deftly teaches powerful concepts in a relatable manner, and provides a road map that can be used by anyone to make successful money decisions in all markets. As a market professional, I know the importance of understanding market phases, and having a road map and system for engaging these markets, and Michele nails it with this profound work. -- Franklin Ochoa, Author, "Secrets of a Pivot Boss," President and Founder, PivotBoss, President and Founder, Ochoa Capital Management
"In Plant Your Money Tree, Mish provides a compass for what to do with your money and when. Mish widens the net to attract both the newbie and experienced investor, plus anyone who just simply wants to understand what they never thought they could before-how the market and the economy work. We will recommend that all our followers buy this book! -- Robb Hoffman, Real Money Trading Champion and Founder & CEO of Wealth365.com
"Michelle Schneider doesn't disappoint. This powerful book provides a clear and concise road map for ordinary retail investors who want to take charge of their financial future. I would recommend this book to anyone who craves powerful, actionable, investing knowledge without substantial background in economics or finance. Well done!" -- Roger Scott, Head Trader, Market Geeks LLC
For investors, Plant Your Money Tree is a "financial compass", guiding readers through each market phase and providing the blueprint to profit regardless of the economy. Just like you wouldn't go into the wilderness without a compass, you probably shouldn't try to navigate the market without having read Plant. For those (like myself - a mother of small kids with a business to run) who are merely seeking to better understand the economy as a whole, and how to make good financial decisions -- this book is an absolute must. Armed with the easy-to-follow guidelines and knowledge that Mish delivers in Plant, readers get the "why, when, and how" on improving and securing their financial futures. -- Jami Stout, Co-Founder, Financial Marketing Summit
Mish's book is an amazing piece that should be read by everyone involved in markets. It is a MUST have in every financial bookshelf. Her years of experience are capsulized in this wonderful manuscript with a plethora of examples, charts and history. Mish puts it all together in this masterpiece that will guide you to success. In this book she has dedicated herself to your success, something that is inherent in her soul. For as long as I have known Mish, she is all about caring/sharing to empower others with knowledge. She shows you how to take advantage of market missteps due to news, events and conditions. Anyone can learn, from novice to professional. I promise you will be a better and smarter trader/investor after finishing Mish's book. -- Bob Lang, Founder, CEO of explosive options.net, Chartist For Jim Cramer's Off the Charts segment
Early in my career, I had the good fortune to seek out Michele Schneider as a mentor. I feel that her guidance has allowed me to excel as a trader and educator and has helped lead me to establish the educational and trading website PetraPicks.com I continue to read Mish's report each night as a staple in my daily routine. Michele Schneider is a born teacher with a passion for the market and for education. I admire her as a woman who has seen the market from one end to the other including starting out in the commodities pits on Wall Street. Her teaching style is insightful, clear and organized. I am tremendously excited about her book: Plant Your Money Tree - A Guide to Growing Wealth. This book contains the material that I learned from Mish in an easy understandable format. Phases of the market and the key economic components need to be thoroughly understood in order to become a proficient trader. Michele Schneider has put it all together in one book in a way that makes it easy for the most novice trader to seasoned professional to understand. This book is at the top of the "Must Read List" for all my clients. Thank you Mish for putting together a trading roadmap that we will all be able to use throughout our investing and trading careers. Plant Your Money Tree - A Guide to Growing Wealth will help you navigate the rough waters of trading and put you on the right track. -- Petra Hess, Petrapicks.com
Cool. Calm. Collective. Mish Schneider makes investing look easy! It's analysis like this that wins you Real Vision's Best Trade Trade Idea of 2018. Mish recommended going long $DDD below $10. Within months the stock was trading above $20. Is it alchemy? No. Mish lays out her process in her new book, Plant Your Money Tree: A Guide to Growing Your Wealth. I highly recommend the book and encourage new traders to learn from Mish's tactics. She embodies a simple, yet effective approach to trading using phases & moving averages. The book is a great source to learn about the different market phases, moving averages, and how to use them while trading. It's a great read for anyone, regardless of their financial expertise. Mish does an excellent job of breaking down a serious & complicated topic so anyone can understand it. She's a real pro. -- Jake Merl, Editor, Real Vision
Mish stresses the fact that every person has the ability to understand what is going on in the market/economy just by learning to recognize the market phases rather than relying on information from others (news, financial planners, etc.). Each chapter concentrates on a specific phase ... defines the phase, presents charts to demonstrate the phase, discusses the chart in light of the definition of the phase, discusses what was going on in the economy at the time, highlights headlines and what "people" were thinking and saying at the time and contrasts that with what phase the chart was displaying. As Mish juxtaposed the actual chart and the headlines and stories at that time, it becomes obvious that the headlines and stories were a side show that could take ones focus off what was really important, the phases, as headlines and stories were often out of sync with the actual market change. A lot of information is given so that the reader is led through the thought process and can understand how to use market phases in their own analysis. -- Elnora Williams, Trader, Student of Market Gauge, Investor in Market Gauge Asset Management
It's a jungle out there. Tigers lurk everywhere. We all know it, and if we didn't before, recent political events have again lent proof to that jungle cliche. The news provides daily insights into the world of big money, finance, and their often covert operations world-wide That's why Michelle "Mish" Schneider's book, Plant Your Money Tree: A Guide to Growing Your Wealth, is so important right now. No one is so smart or so well-educated that we don't need a lot of help in the specialized and arcane world of finance and the stock market. It's a world of specialists and a whole lot of insider knowledge. But now "Mish" Schneider, in Plant Your Money Tree, brings her 40-years of experience in the center of that world, opening up the arcane secrets and specialized knowledge for we who are outsiders. We who wander dazed through the maze of 401Ks, IRAs, the endlessly talking heads and the published daily reams of words on the current financial scene. She explains it in a way both entertaining and understandable-but not oversimplified. She brings her unique background in special education, her years as a teacher and curiculum specialist to help her frame the knowledge and wisdom gained from years of immersion in the center of the world of finance, commodities, bonds and stocks. She has worked with and learned from some of the rock star billionaires of hedge fund fame such as Ray Dahlio and the late Paul Sarnoff. She knows how they think, and even more importantly, what they think. I know, like me, you may have tried to read those heavy black investment tombs, those books gathering dust in the bookcase that promised much, but have to be transcribed by a Ph.D. in finance to be understandable. But take heart, Plant Your Money Tree, is also a good read. Mish's style is conversational, often humorous, and just an all-around good read. So as Barbara Kollmeyer advised in her column for MarketWatch, follow "Mish" on Twitter and read her posts as I do flipping in and out constantly during the day, and most definately read Plant Your Money Tree. Don't let one of those jungle tigers chew up your money and eat your investments. Instead enjoy a full, safe meal and prosper with Mish's knowledge. -- Roberta Binkley, PhD
A great roadmap for any individual to use and learn from - the book is simple to read and easy to understand the complexity of the financial markets and investments of all types. A must read -- Maria Fiorini Ramirez, President & CEO of Maria Fiorini Ramirez, Inc., (MFR)
You may also be interested in...
×
Download the Waterstones App
Would you like to proceed to the App store to download the Waterstones App?
Reserve online, pay on collection.
Or,
add to basket
, pay online, collect in as little as 2 hours, subject to availability.
Thank you for your reservation
Your order is now being processed and we have sent a confirmation email to you at
When will my order be ready to collect?
Following the initial email, you will be contacted by the shop to confirm that your item is available for collection.
Call us on or send us an email at
Unfortunately there has been a problem with your order
Please try again or alternatively you can contact your chosen shop on or send us an email at