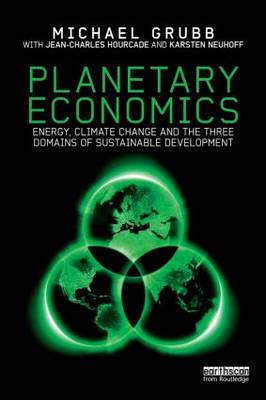 Planetary Economics: Energy, climate change and the three domains of sustainable development (Hardback)
Michael Grubb
(author)
Hardback
548

Pages / Published: 19/03/2014
How well do our assumptions about the global challenges of energy, environment and economic development fit the facts?
Energy prices have varied hugely between countries and over time, yet the share of national income spent on energy has remained surprisingly constant. The foundational theories of economic growth account for only about half the growth observed in practice. Despite escalating warnings for more than two decades about the planetary risks of rising greenhouse gas emissions, most governments have seemed powerless to change course.
Planetary Economics shows the surprising links between these seemingly unconnected facts. It argues that tackling the energy and environmental problems of the 21st Century requires three different domains of decision-making to be recognised and connected. Each domain involves different theoretical foundations, draws on different areas of evidence, and implies different policies.
The book shows that the transformation of energy systems involves all three domains - and each is equally important. From them flow three pillars of policy - three quite distinct kinds of actions that need to be taken, which rest on fundamentally different principles. Any pillar on its own will fail.
Only by understanding all three, and fitting them together, do we have any hope of changing course. And if we do, the oft-assumed conflict between economy and the environment dissolves - with potential for benefits to both. Planetary Economics charts how.
Publisher: Taylor & Francis Ltd
ISBN: 9780415518826
Number of pages: 548
Weight: 1043 g
Dimensions: 248 x 171 x 36 mm
---
MEDIA REVIEWS
`Really comprehensive and interesting. A profoundly important book - a genuinely original view of how we might overcome some of the most fundamental problems facing effective climate change policy around the world today.' - Lord Anthony Giddens, Fellow of Kings College, Cambridge and former Director of the London School of Economics
`A seminal book that challenges conventional wisdom about growth, innovation and climate policy. After reading it you understand why the tools that mainstream economics has provided policymakers have been unequal to the task. In filling out the picture, Planetary Economics contains a crucial practical message: the fact that energy is at the core of the economic machine is both the challenge and the opportunity, and three pillars of policy together are needed to steer it in safer directions.' - Laurence Tubiana, Ambassador and Special Envoy for Climate Change, France, and President, 21st UNFCCC Conference of Parties (COP21)
`Something interesting on every page' - Scott Barrett, Nature
`The book is compulsory reading for policymakers and academics for understanding the broader challenges of environmental change. What makes the book such an outstanding contribution is the way it brings together the fields of energy, environment, innovation, behavioural economics and macroeconomics. Its key policy message is a timely call for policymakers to act decisively, so that our societies can have the confidence to invest and innovate in solving the great environmental challenges of our time.' - Marcel Fratzscher, President, German Institute for Economic Research
`This important book sets out a clear and comprehensive theory of how transition can be achieved and a convincing and well evidenced argument that it will be, if only we apply the policy tools and approaches available. Proposed policies for building a low carbon economy often reflect very different ways of thinking: economists favouring markets and carbon pricing, scientists and technologists a vision of transformative innovation (fearing the short- term bias of markets and cost benefit analysis), whilst some environmentalists seek to engage people's enthusiasm to achieve changes in personal behaviour. Michael Grubb argues cogently that a successful strategy must combine all three approaches, and illustrates their respective roles and complementary nature.' - Lord Adair Turner, former Director-General of Confederation of British Industry and Vice-Chairman of Merrill Lynch Europe; from 2008-12, Chair of UK Financial Services Authority and UK Climate Change Committee; currently Senior Fellow, Institute of New Economic Thought
`The defining features of climate change -- long-time horizons, global reach, and uncertain but possibly catastrophic impacts - have stymied policymakers and strained many of the standard tools of economics. In Planetary Economics, Grubb and colleagues document and then tackle these characteristics head on. They organize the debate, fill in gaps, and present a unified framework for thinking about the problem, the best policy solutions, and how they need to fit together. This is an important read for anyone looking for a sensible and comprehensive way forward.' - Billy Pizer, Associate Professor of Public Policy at Duke University and former Deputy Assistant Secretary for Environment and Energy, US Treasury
`Combines extraordinary breadth with depth, all written with exceptional clarity. In explaining why energy and climate change take us beyond the traditional boundaries of economics, it is a landmark study which should expand the horizons of economics itself - as well as mapping out how, in doing so, we can solve some of the most pressing problems of our time.' - Catherine Mitchell, Professor of Energy Policy, Exeter University, UK
`An ambitious book that looks at nothing less than the future of human and planetary well being. It is smart, provocative, and unconventional at every turn. Grubb shows that the world's energy and economic systems are on the wrong track. Profoundly new thinking, including policies, will be needed to transform these systems and put the planet on track to much lower and safer levels of global warming pollution. The elements of that new thinking-such as smarter innovation policies, cleaner energy networks, and better values-are all around us today. Grubb's big contribution is to stitch them together and chart a path for change.' - David Victor, Professor, University of California San Diego
`Provides a fascinating integration of neoclassical, behavioural and innovation economics, backed up with reams of evidence from the climate and energy literature. The conclusions seem so obvious that, once presented, it is hard to understand why they have not yet become the mainstream view of how to tackle climate change.' - Paul Ekins, Professor, University College London, UK
`Michael Grubb has been a pioneer and innovative thinker in the field of climate change. In this book Michael not only exposes his understanding of the science underlying climate change but also the political realities which are clearly responsible for what many perceive as the lack of progress in reaching an effective global agreement. The author also explores and analyses the inertia that exists in the energy systems of different countries in the world, and looks at barriers that inhibit progress and opportunities by which the world can move ahead. This book, therefore, is a rich compilation of research based insights and analysis which would be a valuable resource for academics, government officials and the public at large in understanding the current status of and future prospects for action in the field of climate change.' - R K Pachauri, Director-General, The Energy and Resource Institute, New Delhi
`A book of extraordinary scope and ambition that will challenge readers to think more clearly and carefully about some of the biggest issues this planet and its people face. Grubb has no ideological axe to grind and no particular allegiance to one scholarly school or another - instead he draws on a range of theoretical frames to shed as much light as possible on the dynamics governing our energy systems, all with an eye toward figuring out how to steer them in a safer and more secure direction. Anyone who works in this area will be provoked to think more wisely as a result of reading this book.' - Michael Levi, Senior Fellow for Energy and the Environment, US Council on Foreign Relations
`This is the work we've all been waiting for for years. Its unique perspective combines deep academic insights with Grubb's experience of the worlds of government and businesses .. the depth and saliency of the arguments and examples is exemplary. A major intellectual and personal achievement.' - Simon Shackley, University of Edinburgh, UK
You may also be interested in...
Simply reserve online and pay at the counter when you collect. Available in shop from just two hours, subject to availability.
Thank you for your reservation
Your order is now being processed and we have sent a confirmation email to you at
When will my order be ready to collect?
Following the initial email, you will be contacted by the shop to confirm that your item is available for collection.
Call us on or send us an email at
Unfortunately there has been a problem with your order
Please try again or alternatively you can contact your chosen shop on or send us an email at