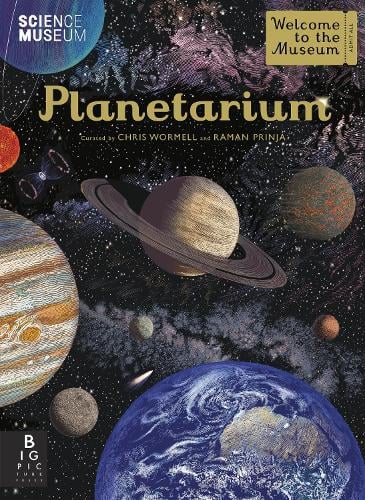 Hardback
112

Pages / Published: 06/09/2018
In stock online

Free UK delivery
The latest book from the creators of Historium and Botanicum is a truly eye-opening tour of the wonders of space. Stunningly illustrated and richly informative, it's not just for children.
Welcome to the museum that is always open to explore... Step inside the pages of this beautiful book to discover galleries of galactic matter, expertly curated to bring you the experience of a fascinating exhibition from the comfort of your own home. Planetarium features all aspects of space, from the Sun and our Solar System, to the lives of stars, the Milky Way and the Universe beyond. With stunning artwork from Chris Wormell and informative text by Professor Raman Prinja, Planetarium is the perfect gift for anyone with an interest in this fascinating field.
Publisher: Templar Publishing
ISBN: 9781787411579
Number of pages: 112
Weight: 1000 g
Dimensions: 375 x 275 x 15 mm
---
MEDIA REVIEWS
Planetarium is the latest installment in the Welcome to the Musuem series of books. Previous volumes included such titles as Botanicum, Animalium and Dinosaurium (you can probably guess their respective subject matters), and this astronomy-themed tome is an excellent addition to the collection. The first thing that catches your eye are the beautiful illustrations, they are quite simply stunning and will instantly entice readers of any age into the book. It's rather like being drawn into a magical world with colour, mystery and excitement. The reader's taken on a whistle stop tour of the universe and provided with concise descriptions of the planets within the solar system, as well as comets and meteors, from the Big Bang right through to the fate of our universe.There are also sections on exoplanets and black holes, while professor Raman Prinja briefly discusses the constellations visible from both hemispheres, which would each be worthy of seperate books. Each subject is split into a Gallery, like a museum for the mind's eye, and every illustration is given its own accompanying text, which allows the reader to gain sense of the scale of the topic being described and provides an excellent reference point. Such a broad spectrum of topics is covered that the book cannot delve into detailed science, but there are plenty of snappy and interesting facts on each page that all readers will be able to enjoy and learn from, no matter their level of understanding of the subject. This book is a worthwhile addition to any astronomer's library, ideal for leafing through on a cloudy evening to let the mind wander into the mysteries of our universe. * Sky at Night *
Welcome to the Planetarium... home to an incredible collection of astronomical wonders from icy moons to swirling galaxies! Published in association with the Science Museum, Planetarium is the exciting new addition to the Welcome To The Museum series from the Big Picture Press which offers tours in museums that are always open. This fantastic exploration of the universe in all its glory is the follow-on to the hugely successful Historium, a collection of objects from ancient civilisations, Animalium, a detailed exploration of more than 160 animal specimens, Botanicum, a super-sized book of stunning botanical delights, and the dangerously entertaining Dinosaurium. The Welcome To The Museum series enable readers to wander the galleries from the comfort of home and discover a collection of curated exhibits on every page, all accompanied by informative text. Each book is also packed with the finely detailed and incredibly coloured artwork of Chris Wormell, a self-taught artist who uses a digital adaptation of the engraving process to create his stunning images. In this eye-catching new tour, which comes in the form of a large, high-quality book packed with amazing pictures and fascinating facts, we learn about all aspects of space, from the Sun and our Solar System to the lives of stars, the Milky Way and the universe beyond. The informative text is written by Professor of Astrophysics, Raman Prinja, who takes us over the horizon of our blue-green planet and into a space world that has fascinated humans since the dawn of time. So step inside the pages of this spellbinding book and discover everything you ever wanted to know about space, planets and all things galactic. * Lancashire Evening Post *
Welcome to The Planetarium! Home to an incredible collection of astronomical objects from small icy moons to huge swirling galaxies. How big is the Universe? How did it begin? What mysteries does it hold? This book is one to keep and read and LOVE! It's a beauty. * Angels and Urchins *
Our first Picture Book of the Week this week performs an impossible feat, cramming the entire universe into a book... Good job it's a HUGE book then. Professor Raman Prinja has been our 'go-to' for fantastic space books over the last few years of blogging and now he curates a truly beautiful collection of amazing artefacts on a universal scale. It's "Planetarium - Welcome to the Museum" With the fantastic colour-and-etch style art of Chris Wormell (whose artwork adorns the billion selling "Book of Dust" by Philip Pullman, no less) we're taken on a truly stratospheric journey to examine all the amazing wonders on our own home planet, and out in the inky blackness of space. Ever wondered what a Black Hole is? What it does, and the incredible destructive forces that suck in any object unfortunate enough to pass its event horizon? Ever wondered how the first pioneers of space began to explore our galaxy, not with spaceships and rockets but with the humble telescope? Professor Prinja explains things in fantastic detail, but in language us mere earthbound mortals can easily understand. Chris's illustrations add a true touch of class to this collection, as they have in previous "Welcome to the Museum" titles - which are always a really stunningly presented treat. It's a fantastic book both as a reference for space-going school projects, but also for a thoroughly absorbing read at home too - and we always love the Big Picture Press releases that are designed for sprawling out on the floor with. This book is absolutely perfect for kids and adults who are interested in all aspects of space exploration, a truly brilliant showcase non-fiction book that perfectly demonstrates how to make a subject both exciting and engaging. C's best bit: Learning more about Black Holes (something of a fave space subject with her). Daddy's favourite bit: Breathtakingly brilliant facts about space and our universe, and some truly stunning illustrations make this an absolute must-have of a book. * Read it Daddy *
Go on an amazing guided tour of the galaxy with this stunning big-format book, and explore the solar system, the Milky Way and the universe beyond. It's part of the Welcome to the Museum series, and reading it is like being at an exhibition. * The Week Junior *
Wow, what a beautiful book! This is the second in the Welcome to the Museum series I have read and they really don't disappoint. The vintage feel of the book really is like wandering around a museum. Each page is like an exhibit with an accompanying illustration. Planetarium is all about space and the universe. 'This book will take you on an intergalactic journey far beyond Earth's boundaries.' Covering everything from telescopes to constellations, star types to galaxy clusters and everything in between. I love the style of writing, it is easy understand and the topics flow easily from one to another. The book is beautifully illustrated with large full page pictures in engraving style drawings. The only issue is that the book is better aimed at older children as the appeal is probably not as wide as some children's non-fiction books. The topics are each touched upon but not always very detailed. A beautiful book that would look lovely on anyone's bookshelves. -- Jenni Prestwood * Reading Zone *
What a beautiful book! A brilliant book filled with beautiful pictures and fascinating facts about our universe. It steps through different parts of space as if you are walking through a museum, so you 'walk' through seven galleries including Looking at Space, The Solar System, The Sun, The Night Sky, The Stars, Galaxies and The Universe. This is an interesting book for adults and children alike, whether you have a specific interest in space or not. It would make a fantastic gift for an older child who is passionate about space or a brilliant addition to any classroom environment when learning about space through science or topic. Younger children would definitely enjoy looking at the pictures while older children could use it as part of their independent work/research. -- Lucy Newton * Reading Zone *
The newest title in the 'Welcome to the Museum' series casts its gaze to the skies in 'Planetarium' - a stunning exploration of the universe beyond our galaxy's boundaries.Written in close consultation with Raman Prinja, a professor of astrophysics, this mind-boggling book allows its readers to travel across solar systems and journey into black holes all from the comfort of their armchairs. The large format allows Chris Wormell's stunningly detailed illustrations to create exhibits in your mind far greater than would fit into any museum.Definitely one for more confident readers but hours could be spent studying the illustrations alone. * Library Girl and Book Boy *
Planetarium is the latest in the Welcome to the Museum series, this time in conjunction with the Science Museum. Wormell's last collaboration in this series was on Dinosaurium, whose lavishly illustrated creatures set a high bench mark for illustrated non-fiction. This tome, exploring the Solar System, is no less delightful or comprehensive, and maintains the sophisticated authoritative tone of the rest of the series. Written by Raman Prinja, a Professor of Astrophysics at UCL, the book aims to go further than many space information books for children, starting with an explanation of radiation and light and traversing through the history of astronomy before navigating the Solar System, star life cycles and black holes. The end of the book takes in the incomprehensibility of huge superclusters and Universe expansion. To accompany these mind-bogging theories, facts and wonders, Wormell's power of intricate and detailed illustration has been utilised to its full extent. The detailed drawings of telescopes are like dioramas on the page, his intricate etchings of solar flares and coronal loops feel almost three-dimensional in their depiction. This is not an easy book - there is science galore and difficult concepts, but there is a handsome clarity to the text and a sense of wonder that imbues the science behind the illustrations. There's also some wonderful prose writing: "They [black holes] can't be seen, but if a human got too close to one, they would be sucked in by its gravitational pull, stretched out like spaghetti and incinerated in a wall of fire!" For space fans and astronomy maestros this is one outsized book they'll yearn to devour. * Minerva Reads *
Welcome to the museum that is always open to explore... Step inside the pages of this beautiful book to discover galleries of galactic matter, expertly curated to bring you the experience of a fascinating exhibition from the comfort of your own home. Planetarium features all aspects of space, from the Sun and our Solar System, to the lives of stars, the Milky Way and the Universe beyond. With stunning artwork from Chris Wormell and informative text by Professor Raman Prinja, Planetarium is the perfect gift for anyone with an interest in this fascinating field. * World Book Day *
Welcome to the Museum. If this is your first visit then prepare to be amazed, and with this title taken out of this world. Raman Prinja takes us on a journey into space and, thanks to the accompanying illustrations of Chris Wormell you will, I assure you, become immersed in the universe and astrology. Remember too that the Museum is open all hours and it has an incredible collection to be visited time and again... So, let me introduce you to some of the galleries and their exhibits. On entering the Museum, we find ourselves just learning how we fit into the wonder that is the universe. As we move deeper and deeper into the galleries we travel further from earth and discover the hidden depths of an, at time, unfathomable universe. You have all the time in the world. You will need all the time in the world for not only is this book crammed with facts that will take many readings to explore and learn, there is no known end to the spaces beyond our planet, many of which it would take a lifetime to reach. I found it challenging to move past the sweeping, shooting, graceful Laniakea, a region of space which contains around 100 billion stars, it is captured so captivatingly but I had to turn the page in order to find out more and then ... well my imagination was captured, my brain was firing questions and so I just had to read on. Some of the facts are mind-blowing - did you know that among the next generation of telescopes one, the European-Extremely Large Telescope, will have a diameter of 39cm! This means it will be able to gather 8 million times more light than Galileo did with his in 1609!! And so it goes on. One mind-blowing fact after another, all accompanied by elegant, sophisticated illustration. The narrative takes us step-by-step through the galaxy, explaining with plenty of detail, facts and technical language yet managing to not bamboozle the reader with sophistication. At the foot of each page is a key to the accompanying plate, just as an exhibit in a museum would have an accompanying label. Our curators, Chris Wormell - self-taught engraver, printmaker and children's book author/illustrator is accompanied by Raman Prinja - professor of astrophysics specialising in massive stars and the evolution of galaxies. Two very talented, intelligent contributors who have curated a notable exhibition and addition to Templar's Museum. Add this to your own growing home Museum and, like me, keep returning for more, especially if you find the time to make use of the recommended additional learning suggestions! I guarantee there is more than a lifetime of fascination in this title. -- Louise Ellis-Barrett * Armadillo *
Planetarium is a tour of the universe curated by the astronomer Raman Prinja and exquisitely illustrated by Chris Wormell -- Melanie McDonagh * The Evening Standard *
Starting just 100 kilometres above our planet, space stretches further than we can imagine, and only now are we starting to unravel some of its many mysteries. Written by an astrophysicist from University College London and illustrated by the phenomenally talented Chris Wormell, Planetarium explores the solar system, the sun, the night sky as seen from Earth, the stars, galaxies, and the universe as we know it. There are many books about space for children, and though it's a subject with enduring allure, it can be difficult to find a book with the right level of text and information for particular ages, presented clearly and with inspiring illustration. Planetarium is a large format luxury hardback suited to 9-12 year olds (though adults will also adore it, particularly Wormell's subtly 1980s-influenced illustration). Prinja's writing is excellent, clearly describing how, for instance, the sun "shines" for us because it is currently converting 700 tons of hydrogen in its core into 695 million tons of helium every second (in the process of nuclear fusion), or how galaxy clusters are naturally drawn to each other by their powerful gravitational force. A beautiful and wonderful book and a real treasure for any child. * BookTrust *
You may also be interested in...
Simply reserve online and pay at the counter when you collect. Available in shop from just two hours, subject to availability.
Thank you for your reservation
Your order is now being processed and we have sent a confirmation email to you at
When will my order be ready to collect?
Following the initial email, you will be contacted by the shop to confirm that your item is available for collection.
Call us on or send us an email at
Unfortunately there has been a problem with your order
Please try again or alternatively you can contact your chosen shop on or send us an email at