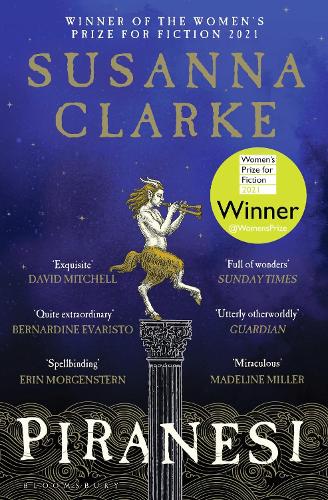 Paperback
272

Pages / Published: 02/09/2021
Weaving a rich gothic atmosphere, the author of Jonathan Strange and Mr Norrell mines a darkly fantastical vision with a tale of a very singular house and its mysterious inhabitants.
Winner of the Women's Prize for Fiction 2021
Shortlisted for the Costa Novel Award 2020
Piranesi lives in the House. Perhaps he always has. In his notebooks, day after day, he makes a clear and careful record of its wonders: the labyrinth of halls, the thousands upon thousands of statues, the tides which thunder up staircases, the clouds which move in slow procession through the upper halls.
On Tuesdays and Fridays Piranesi sees his friend, the Other. At other times he brings tributes of food and waterlilies to the Dead. But mostly, he is alone. Messages begin to appear, scratched out in chalk on the pavements. There is someone new in the House. But who are they and what do they want? Are they a friend or do they bring destruction and madness as the Other claims?
Lost texts must be found; secrets must be uncovered. The world that Piranesi thought he knew is becoming strange and dangerous. The Beauty of the House is immeasurable; its Kindness infinite.
Publisher: Bloomsbury Publishing PLC
ISBN: 9781526622433
Number of pages: 272
Weight: 190 g
Dimensions: 198 x 129 mm
---
MEDIA REVIEWS
'Reminds us of fiction's power to take us to another world and expand our understanding of this one.' - The Guardian, Autumn highlights
'Clarke's fantastical parable of solitude, imagination, ambition and contentment is a spectacular piece of fiction, and the perfect reading accompaniment to a year like no other.' - The Guardian, Best Fiction of 2020
'A startling novel of austere magical realism ... Clarke affirmed herself as one of Britain's most singular novelists.' - Daily Telegraph, Best Novels of 2020
'Like Hilary Mantel, Clarke made the very notion of genre seem quaint ... Piranesi is a tenebrous study in solitude ... A remarkable feat, not just of craft but of reinvention.' - The Guardian
'Like a thriller ... Compelling ... A fever dream - disorientating, engrossing, persistently strange ... It burrows into the subconscious, throwing out puzzles long after the final page ... Brilliantly singular.' - Sunday Times
'Brilliantly peculiar ... It subverts expectations throughout ... Utterly otherworldly .' - The Guardian
'A gently comic, thoroughly beguiling read ... The 'House' - its upper rooms lost in clouds, its lower chambers drowned by the sea - will haunt my dreams.' - Daily Mail
'The most curious confection ... Blending elements of mythology and fantasy, with nods along the way to CS Lewis and Tolkien ... Genuinely moving climax that throws open the doors of the halls in more ways than one.' - i paper
'Her prowess as a stylist is undiminished ... Piranesi's naively observant voice also nods to the narrators of those Enlightenment parables of flawed Reason lost amid marvels and monsters - think Defoe's Crusoe, Swift's Gulliver, Voltaire's Candide.' - The Arts Desk
'Close to perfect ... Full of wonders and an infectious ecstasy ... Clarke has the same skill Flann O'Brien poured into The Third Policeman for making insane worlds feel as solid as our own.' - Sunday Times
'A dazzling fable about loneliness, imagination and memory.' - The Spectator
'Beautiful and bewitchingly strange.' - Mail on Sunday
'This is a novel of exceptional beauty ... The cliche that this book is hard to put down is for once true; I can think of few recent books that keep the reader so passionately hungry to know what happens next and to understand the hints and guesses that appear in greater and greater profusion ... There is at the heart of her writing a rare capacity for the immediate: the stripped, wide-eyed descriptive simplicity of someone who, like her Piranesi, has gone through some sort of barrier and brought back news.' - Rowan Williams. - New Statesman
'A novel to revisit - a house you can open again, with statues touched by quiet thoughts and strange tides ... To read Piranesi is to be the labyrinth and the traveller in the labyrinth, which is poetry and prose.' - The Observer
'Piranesi astonished me. It is a miraculous and luminous feat of storytelling, at once a gripping mystery, an adventure through a brilliant new fantasy world, and a deep meditation on the human condition: feeling lost, and being found. I already want to be back in its haunting and beautiful halls!' - Madeline Miller
'A book that's deliciously weird but meticulously constructed to achieve maximum suspense. Susanna Clarke doesn't just write about magic; she channels it on to the page.' - Sunday Express
'Enthralling and transcendent ... Clarke's writing is clear, sharp - she can cleave your heart in a few short words ... The mystery of Piranesi unwinds at a tantalizing yet lightning-like pace - it's hard not to rush ahead, even when each sentence, each revelation makes you want to linger.' - NPR
'Plunges deep into those forbidden fortresses from which the un-mad and mortal among us are forever barred ... The only possible conclusion is: Clarke is writing from experience ... With great effort, Clarke has un-unpicked her personality and returned to this world, our Earth, so that the rest of us might know her exquisite burden. Welcome back, Fairy Mistress, if only for a spell! We are grateful to you, oh yes, but we mourn you a little, too-that you must work so hard to be human..' - Wired
'Utterly brain-mangling ... A creepy, expertly managed crime story.' - Metro
'Close to perfect ... As a work of fiction, it's spectacular; an irresistibly unspooling mystery set in a world of original strangeness, revealing a set of ideas that will stay lodged in your head long after you've finished reading.' - The Times
'Why don't you trip on the new Susanna Clarke book if you want to get your mind bent but don't much care for drugs?' - New York Magazine
'A high-quality page-turner - even the most leisurely reader will probably finish it off in a day - but its chief pleasure is immersion in its strange and uncannily attractive setting ... A standout feat.' - Wall Street Journal
'Could Piranesi match the hype? I'm delighted to say it has, with Clarke's singular wit and imagination still intact in a far more compressed yet still captivating tale you'll want to delve into again right after you read its sublime last sentence.' - Boston Globe
'A short and beautiful novel that reads like a poem ... in its cumulative effect of expressing an emotion and state of being that is inexpressible. It's a strange and lovely read.' - Buzzfeed
'In terms of invention and beauty, it's a fitting heir to Clarke's first book ... Clarke deftly weaves together highbrow and lowbrow so Piranesi as reader is both symbol and story. To read Piranesi is to be the labyrinth and the traveler in the labyrinth, which is poetry and prose ... The end of the novel doesn't exactly provide justice, and closure is only provisional. Piranesi is a gentle man, and a gentle book. It wants to leave doors open for its characters and its readers ... Piranesi is a novel to revisit - a house you can open again, with statues touched by quiet thoughts and strange tides.' - The Observer
'What a world Susanna Clarke conjures into being, what a tick-tock-tick-tock of reveals, what a pure protagonist, what a morally squalid supporting cast, what beauty, tension and restraint, and what a pitch-perfect ending. Piranesi is an exquisite puzzle-box far, far bigger on the inside than it is on the outside.' - David Mitchell
'A wonder.' - Slate.com
'Susanna Clarke has fashioned her own myth anew and enlarged the world again.' - New Republic
'Piranesi is a gorgeous, spellbinding mystery that gently unravels page by page. Precisely the sort of book that I love wordlessly handing to someone so they can have the pleasure of uncovering its secrets for themselves. This book is a treasure, washed up upon a forgotten shore, waiting to be discovered.' - Erin Morgenstern
'Okay, now everyone listen. No, I mean it, shut up for a second. We need to talk about Piranesi. I don't... I really do not know how to talk about this book beyond a very high pitched scream and an emphatic grabbing of your knee.' - Tor.com
'As gloriously imaginative as its predecessor ... A novel that could have been written by nobody else ... Her prose is crisp, direct and unfussy ... It's a book about the tension between those who want to possess a world and those who delight in it, describe it, honour it. It's an extraordinary book, well worth the wait.' - SFX Magazine
'Fifteen years on from Jonathan Strange & Mr Norrell, Clarke's second novel finally sees the light.' - Sunday Times, What to watch out for next year 2020
'Here is Clarke's talent in full flower; Piranesi is the most purely enjoyable novel I've read in a long while.' - Literary Review
'A magical house with labyrinthine halls and tides that thunder up staircases.' - The Times, Autumn highlights
'Delightful, discombobulating ... Piranesi is detective of his own existence ... Gripping.' - Psychologies
'It's 16 years since Jonathan Strange and Mr Norrell - now Clarke is back with a new otherworldly fantasy.' - The Guardian, 2020 in books: a literary calendar
'Sixteen long years have passed since the publication of the magnificent Jonathan Strange & Mr Norrell. Susanna Clarke returns at last in September with Piranesi ... The eerie tale of a man who lives in a flooded house.' - Daily Express
'The long-awaited new book from the author of Jonathan Strange & Mr Norrell.' - The Observer
'Susannah Clarke's much-anticipated follow-up finally arrives.' - SFX Magazine
'Sixteen years after Jonathan Strange And Mr Norrell, Susannah Clarke returns at last with the otherworldly tale of a man who lives in a flooded house.' - Daily Mirror
You may also be interested in...
×
Download the Waterstones App
Would you like to proceed to the App store to download the Waterstones App?
Reserve online, pay on collection


Thank you for your reservation
Your order is now being processed and we have sent a confirmation email to you at
When will my order be ready to collect?
Following the initial email, you will be contacted by the shop to confirm that your item is available for collection.
Call us on or send us an email at
Unfortunately there has been a problem with your order
Please try again or alternatively you can contact your chosen shop on or send us an email at