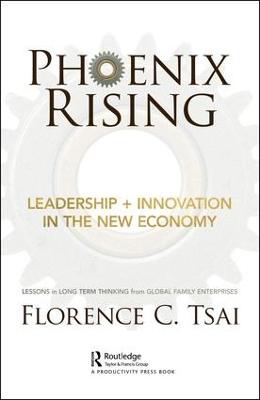 Phoenix Rising - Leadership + Innovation in the New Economy: Lessons in Long-Term Thinking from Global Family Enterprises (Hardback)
Florence C. Tsai
(author)
Hardback
182

Pages / Published: 06/05/2019
How can tech-forward companies, institutions and non-profits stay relevant long term in today's fast changing global economy? Written for leaders seeking proven strategies, this book by a veteran business advisor and leadership coach explains what large organizations can learn from family enterprises, and vice versa. When survival is threatened by disruption, or growth has stalled, the book shows why seasoned leaders and rising leaders from both family and non-family organizations should join forces for mutual benefit of combining innovation and long term thinking.
Florence Tsai advances the field of family business studies with new evolutionary models, organizational frameworks, and case studies of dozens of leading family companies, including IBM, Corning, and New York Times. The book addresses growing problems of disruption-challenges best addressed by seasoned and rising leaders working together, since they have complimentary skills. Seniors bring stability and judgment, while rising leaders understand new markets and introduces innovative ideas. The world's best family enterprises are masters of survival; what they can learn from non-family companies is how to stay nimble when change is accelerating at rates never seen before.
Non-family organizations facing trust gaps can learn from successful family enterprises' laser focus on stakeholder engagement. Families like Levi Strauss or Hermes have built trusted brands for generations. Facing disruption, Tsai explains how non-family organizations can insert long term thinking into the DNA of your organization by observing how enterprising families with enduring competitive advantages accomplish it. Strategies include how to develop future-forward mindsets supportive of innovation culture; how to nurture rising leaders who are intrapreneurs, entrepreneurs, and portfolio builders and prepare them to lead in their thirties.
Phoenixes rising are the next-generation leaders who lead their family enterprise through intentional transformation in response to inevitable changes and yield successful growth. The book describes this mechanism in detail. Legendary Phoenixes profiled in this book include Irenee du Pont in the U.S., whose tech innovation at Eleutherian Mills transformed the gun powder industry; David Rene de Rothschild in France, who rebuilt a banking business from scratch; and John Elkann of Fiat in Italy, who led the Agnelli family through a succession crisis to emerge stronger. Stories of successful next generation innovators include John D. Rockefeller, Jr. in the U.S., Cristina Stenbeck of AB Kinnevik in Sweden; and Mikkel Vestergaard, inventor of LifeStraw, in Switzerland.
With insights drawn from more than a decade of working closely with leading business families and advising the Chairmen and CEOs of their companies, the author argues that if we want to be guided by their long term success, it's the pioneer spirit of the family leaders, plus the enterprising culture of the families themselves, not so much their products or their famous companies, that we should pay attention to.
Written for the hackers and for the master architects, Phoenix Rising spotlights principled wealth creation and the shared value that comes from doing good while doing good business, engaging partners and stakeholders sustainably, for the lasting benefit of oneself and society.
Publisher: Taylor & Francis Ltd
ISBN: 9781138346680
Number of pages: 182
Weight: 467 g
Dimensions: 235 x 156 mm
---
MEDIA REVIEWS
"Florence Tsai is unusually wise. She is an expert in navigating tricky family dynamics across generations and cultures. What I love most about Phoenix Rising is the way it mixes historical case studies with her own experiences to ask the important question: How do you build something new while staying true to your legacy?"

James Cham
Bloomberg BETA


"Fabulous for families in business, politics, philanthropy, arts and sciences. Read this book to survive another day in business-then another generation. Don't lose the untapped talent closest to you. That warning is the best part of this book, and you should heed it."

George Courtauld
Best-selling author of The Pocket Book of Patriotism


"Florence Tsai can really write! She employs a brisk snappy style - dare I say hip - to give us a fully referenced and intelligent analysis of what makes and breaks family enterprises. Written for both specialist and layman, Florence Tsai draws from ancient Greek and Asian mythology, studies on what makes healthy relationships, the complexity and richness of family dynamics and even dares to bring in child development, all the while proving her point with case studies of particular businessmen who either succeeded or failed or both. She explains what enables families to be nourished by their predecessors and create a successful family enterprise. For those interested in family enterprises (who isn't?) but also for the philosopher, economist and historian, Florence Tsai's Phoenix Rising provides telling insights into how capitalism really works, how it adapts, innovates, disrupts and continues to survive in ways both surprising and exciting. I do wish someone like Karl Marx or Joseph Schumpeter could have had the chance to read it."

Nick Papandreou
Brookings Global Leadership Council economist, Secretary of the Andreas Papandreou Foundation, author of A Crowded Heart, Mikos and Manos and The Magical Path to the Acropolis, and screenwriter of "Little Greek Godfather"


"Florence Tsai has worked with family organizations from founders to next gens, and Phoenix Rising offers both the weight to convince and the tools to inspire. Florence's proposal for building and sustaining a legacy mindset ensures that leadership and innovation will remain the key focus for growth and longevity. An essential read for all family enterprises!"

Molly McAdams
Founder of Introducing Leaders and CEO of Strategic Legacy Ventures


"This is a must read for any family business organization with aims to thrive in future generations. An essential road map providing the secret sauce to building generational family and business success. Great insights for inspiring, developing and engaging next generation leaders."

Mike Hill
President and CEO of Minot's Light and member of the Bancroft business family


"A valuable read! Great inspiration for your life's journey in business. Lots of tips on how to develop all the talent you've got, so you can build value for all to share. For over 60 years and across three generations, that's still what motivates me as Chairman of a family business. My own journey began by working with my mom and my dad's brother, Bill . . . then with my wife, our four sons, and Bill's three sons . . . and soon (I hope) with many more from the fourth generation. Read this book and remember: give your rising leaders many chances to shine, back up your innovators, and don't let them slip away. Then, when you get to my stage, you'll look back on your career and realize, it's not all about the money you made or the successes you racked up, but the great people you had the good fortune to work with along the way."

Jack Mitchell
Chairman of Mitchells Stores and WSJ best-selling author of
Hug Your Customer, Hug Your People, and Selling the Hug Your Customer Way


"This is a book that ushers in a new mindset, and a new direction for family business. Family enterprise has a perhaps undeserved reputation for lack of creativity. This book reveals the day-to-day, entrepreneurial energy of family business. It begins with stories from the past and present, written like no other business book I've read, in the style of the new millennial generation. It looks at how family business can become a 'quantum machine' for innovative growth and development. The core of the book covers the human life cycle, from childhood to elderhood, for insights on developing entrepreneurial focus, energy and results in family business. It's full of stories of the creative energy of family and how it gets unleashed. You will never look at family enterprise the same way again after you read this."

Dennis Jaffe, Ph.D
Author of Working with Those You Love,
Research Fellow at Wise Counsel Research and co-author of Cross Culture


"Florence Tsai is an amazing resource for large families looking to take a longer term vision on their legacy, family business, and working with all family members. Guiding a large family through small and big changes takes patience, time and resources. While many put emphasis on short term gain and monetary reward, Florence shows in Phoenix Rising that experience, guidance, mentorship and immersion in the new economy are what puts families on track for long term success."

Brian Koo
Founder of Formation Group


"In Phoenix Rising, Florence Tsai offers a new model with frameworks that advance the study of business longevity. Institutions are always looking for new insights, but business lessons often don't translate well across sectors. The long-run horizons of multigenerational family-run enterprises turn out to be surprisingly similar. Who knew? I was inspired by the remarkable families whose stories of renewal appear in the book. Institutions grappling with disruption can learn to develop exceptional and resilient new "Phoenix" leaders, experiment more, and make keep-or-kill decisions quicker by following Florence's "core and edge" strategy. This book opens up new and timely discussions for leaders of all types of organizations that want to spark innovation and thrive for the next hundred years."
Pareena G. Lawrence
President of Hollins University


"With great energy and multiple examples from human nature, Florence Tsai builds a compelling picture of what makes 21st Century family enterprises thrive. She draws from famous stories ancient and modern, outlining the core characteristics of entrepreneurs who survived failure, coped with setbacks, and created businesses despite significant adversity. Phoenix Rising is a welcome addition to the growing literature on family enterprise development."

James Grubman, PhD
Author of Strangers in Paradise: How Families Adapt to Change Across Generations
You may also be interested in...
×
Download the Waterstones App
Would you like to proceed to the App store to download the Waterstones App?
Simply reserve online and pay at the counter when you collect. Available in shop from just two hours, subject to availability.
Thank you for your reservation
Your order is now being processed and we have sent a confirmation email to you at
When will my order be ready to collect?
Following the initial email, you will be contacted by the shop to confirm that your item is available for collection.
Call us on or send us an email at
Unfortunately there has been a problem with your order
Please try again or alternatively you can contact your chosen shop on or send us an email at