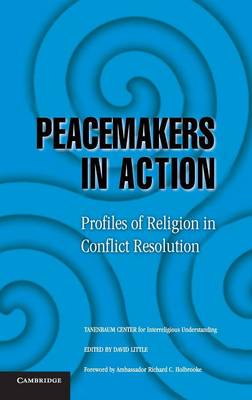 Hardback
524

Pages / Published: 08/01/2007
Across the globe, there are more than 50 armed conflicts, many of which are being perpetrated in the name of religion. In these zones of violence, there are brave men and women who, motivated by their religious beliefs, are working to create and sustain peace and reconciliation. Yet their stories are unknown. This book explores the conflicts and the stories of 15 remarkable individuals identified and studied by the Tanenbaum Center for Interreligious Understanding from regions as far-flung as West Papua, Indonesia, the Middle East, Northern Ireland, Nigeria, El Salvador and South Africa. The book also captures important lessons learned when these peacemakers convened in Amman, Jordan for the 2004 Peacemakers in Action Retreat and discussed their best techniques and greatest obstacles in creating peace on the ground. Peacemakers in Action provides guidance to students of religion and future peacemakers.
Publisher: Cambridge University Press
ISBN: 9780521853583
Number of pages: 524
Weight: 831 g
Dimensions: 243 x 162 x 28 mm
---
MEDIA REVIEWS
"I really admire the Tanenbaum Center Peacemakers in Action. They work courageously for the greater good under the most difficult circumstances. In order to build world peace through inner peace, I think the world's religious traditions have a special role. We should all learn from and follow their great example." --His Holiness the Dalai Lama
"Compelling stories of real people who did not wear their religion on their sleeve but took their faith to heart, to the streets, and most importantly toward engaging the conflicts in their backyards and then finding ways to constructively overcome enmity and hatred. This is a must read for people of faith and those with doubts about the integrity of religion in our contemporary world of cultural wars and the clash of civilizations, an inspiration to all of us." --Dr. John Paul Lederach, Professor of International Peacebuilding, Joan B. Kroc Institute of International Peace Studies, University of Notre Dame
"The Peacemakers and their experiences reflect the courage, resolve and ethical determination of putting faith into action. In a world beset by perennial conflicts, fear, suspicion and hatred, we would do well to learn by analogy." --His Royal Highness Prince El Hassan bin Talal of Jordan
"Here's the proof that religion can be an active and positive partner in the search for solutions. Drawing on the solid international experience of practitioners in the field, the Tanenbaum Center, a pioneer in the application of religion to conflict resolution, has provided an invaluable road map to the search for peace." --Sir Sigmund Sternberg, 1998 Templeton Prize Winner, Co-founder of The Three Faiths Forum
"Perhaps there is no greater grief in the human family as when a brother strikes a brother. But there is no greater power and joy as when a brother and a sister come together to heal these conflicts. Peacemakers in Action tells the stories of sixteen such individuals with great empathy, compassion, and impact. May all of us be good students of the powerful lessons offered on these pages. Religious cooperation is a path to peace. We need only follow it." --Dr. William F. Vendley, Secretary General, Religions for Peace
"This is the single most important book published in the field of religion and conflict resolution to date because, through the brilliant presentation of our most eminent scholar, David Little, it finally demonstrates the evidence of what we have all be arguing, the living examples of heroic, positive religious peacemaking, and their inherent potential to change the face of the global community, if we let them." --Dr. Marc Gopin, Author of Holy War, Holy Peace, Oxford University Press, 2002)
"Are there children of a lesser God? Are there lives that are worth less? Are there truths that are more so? Heroes are those who answer: no with their lives to those questions. Peacemakers in Action tells their stories and peacemaking achievements. More importantly, what emerges is a new narrative of human interaction across divides so alien to the shouts and arrogance of leaders who cannot lead without an enemy." --Gianni Picco, Former chief UN hostage negotiator, Author of Man Without a Gun: One Diplomat's Secret Struggle to Free the Hostages, Fight Terrorism, and End a War (Crown, 1999)
"The Tanenbaum Center is ahead of our time with its program Peacemakers in Action. In today's world, religion is often a source of conflict. By profiling those courageous individuals who put themselves at risk to use religion to resolve rather than cause conflict, the Tanenbaum Center shines an important spotlight on a hidden tool in today's dangerous world. This impressive volume of brave leaders' stories around the world is also a testament to the key role of women in resolving conflict. World leaders should read this book and learn its lessons. They fail to do so at their peril." --Ambassador Nancy Soderberg, Former U.S. Ambassador to the U.N. Author of The Superpower Myth: The Use and Misuse of American Might (2005)
"Theory is one thing; practice quite another. This book is about the doing, not the talking. As such, it provides new and important insights into the practical challenges of religious peacemaking. It also helps define the art of the possible in this burgeoning, yet largely unexplored, field." --Dr. Douglas Johnston, Founder and President, International Center for Religion and Diplomacy, Co-editor of Religion: The Missing Dimension of Statecraft (1994)
"I strongly commend Peacemakers in Action at this time when religion's leaders and its positive role are being questioned. This book illustrates the successful work actually being done on the ground at the micro level by many religious leaders of differing faiths who work to diminish the darkness. They are all united in using their moral suasion to further the peace and justice that arises from their beliefs, and to build bridges of coexistence and community. It also illustrates the importance for all leaders at the macro level to support these religious leaders who wish to unify, instead of divide, and to assist in furthering their visions and dreams of a world where common values of a peaceful community are universally respected." --Alan Slifka, Board Chairman of The Abraham Fund Initiatives
"Peacemakers in Action persuasively makes the case for the positive role people religion can play in those parts of the world that have seen devastating destruction of innocent life. Each personal journey toward conflict resolution and peace reveals the unspoken quality of each anonymous servant of God, male or female, without whose sincere efforts on the path to peace, the suffering of the people in those regions would have continued unabatedly. Needless to say, without the efforts of the Tanenbaum Center, the present volume mapping the constructive role religion can serve as a resource for peacemaking would have remained inaccessible. The beautifully written narrative of real people engaged in peacemaking provides a plan of action for those who want to emulate peacemakers like Pastor Wuye, Imam Ashafa, Father Reid, Rabbi Froman, Sakena Yacoobi and many others, who stand out as beacons of light in the darkness of injustice and violence. A rare and unique addition to the literature on what people of religion can deliver in action today." --Dr. Abdulaziz Sachedina , Author ofIslamic Roots of Democratic Pluralism (2001)
"Peacemakers in Action is a wonderful and inspiring book. It is through the publication of stories like this that progress toward peace in the world proceeds. Having read the book, I feel more optimistic about our future than I did before. It shows that peace is possible, and that is no mean accomplishment." --John C. Whitehead
"...distinct quality...complement the established work of multi-track diplomacy, especially when engaged in the context of protracted social conflicts...Those interested in the prospect of peace and human security might recognize in the Tanenbaum Center's Peacemakers Project the efforts of being "voices" that cry from the "wilderness" (Matthew 2:3) of chronic violence, while at the same time inviting others to take a look at what could be possible even in the most troubled circumstance..." --Michael Kuchinsky, Garner Web University, Human Rights & Human Welfare
You may also be interested in...
×
Download the Waterstones App
Would you like to proceed to the App store to download the Waterstones App?
Simply reserve online and pay at the counter when you collect. Available in shop from just two hours, subject to availability.
Thank you for your reservation
Your order is now being processed and we have sent a confirmation email to you at
When will my order be ready to collect?
Following the initial email, you will be contacted by the shop to confirm that your item is available for collection.
Call us on or send us an email at
Unfortunately there has been a problem with your order
Please try again or alternatively you can contact your chosen shop on or send us an email at