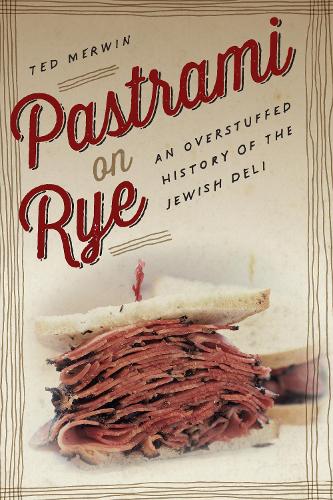 Pastrami on Rye: An Overstuffed History of the Jewish Deli (Paperback)
Ted Merwin
(author)
Paperback
256

Pages / Published: 02/10/2018
We can order this from the publisher
Winner of the 2015 National Jewish Book Award in Education and Jewish Identity from the Jewish Book Council
The history of an iconic food in Jewish American culture
For much of the twentieth century, the New York Jewish deli was an iconic institution in both Jewish and American life. As a social space it rivaled-and in some ways surpassed-the synagogue as the primary gathering place for the Jewish community. In popular culture it has been the setting for classics like When Harry Met Sally. And today, after a long period languishing in the trenches of the hopelessly old-fashioned, it is experiencing a nostalgic resurgence.
Pastrami on Rye is the first full-length history of the New York Jewish deli. The deli, argues Ted Merwin, reached its full flowering not in the immigrant period, as some might assume, but in the interwar era, when the children of Jewish immigrants celebrated the first flush of their success in America by downing sandwiches and cheesecake in theater district delis. But it was the kosher deli that followed Jews as they settled in the outer boroughs of the city, and that became the most tangible symbol of their continuing desire to maintain a connection to their heritage. Ultimately, upwardly mobile American Jews discarded the deli as they transitioned from outsider to insider status in the middle of the century. Now contemporary Jews are returning the deli to cult status as they seek to reclaim their cultural identities.
Richly researched and compellingly told, Pastrami on Rye gives us the surprising story of a quintessential New York institution.
Publisher: New York University Press
ISBN: 9781479872558
Number of pages: 256
Weight: 363 g
Dimensions: 229 x 152 mm
---
MEDIA REVIEWS
"[Pastrami on Rye] is an entertaining work of merit, written in a fluent style that recalls Calvin Trillin at his foodie best and Ludwig Bemelmans at his most observant." * Santa Fe New Mexican *
"Pastrami on Rye is both a celebration of the deli and an elegy for it. This lively book traces the delis evolution from dynamic gathering place to kitschy tourist site, peppered with hefty doses of popular culture. Merwin tells a fascinating story of cultural and culinary assimilation as he explores what it means to be modern and American. This book left me longing for the lost delis of my youth!" -- Darra Goldstein,Founding Editor, Gastronomica: The Journal of Food and Culture
"In Pastrami on Rye, Merwin finally addresses the pressing question overlooked in his first book on New York Jews (In Their Own Image): but where did they eat? This fun and informative examination of the New York Jewish deli is half history and half love story; batampte und geshmacht, with a heaping helping of sakhelyoull kvell before you plotz!" -- Eric Michael Mazur,co-editor of God in the Details: American Religion in Popular Culture
"A comprehensive history of the New York deli from its European antecedent beginnings to what Ted Merwin calls the 'postgastronomic' deli we have today. After doing exhaustive research into the subject, Dr. Merwin has put his scholarly pen and thoughtful gaze to work to create this marvelous book. I got really hungry for pastrami reading this comprehensive story of the American deli. Now that is a sign of a great read." -- Joan Nathan,author of Quiches, Kugels and Couscous: My Search for Jewish Cooking in France
"Merwin has set out to trace the rise and fall of the delicatessen in American Jewish culture, using this analysis to help us understand the American-immigrant experience. He has been more than successful. By meticulous and thorough research, Merwin has shown that in the postwar migration to the suburbs, city neighborhoods fragmented and delis closed." * St. Louis Jewish Light *
"In Pastrami on Rye, Ted Merwin gamely sets out to show how American Jews evolved from the clannish immigrants of the late 1800s into well-heeled secularists who atone for their parents' assimilation through (mostly culinary) nostalgia." * The Times Literary Supplement,Samuel Ashworth *
"Merwins tasty exploration of deli cuisine and culture also tracks larger shifts in the American Jewish experience, particularly in the post-World War II period when delis upstaged shuls as Jewish gathering places." * JTA *
"Brings together a vast range of scholarship and anecdote to produce the first comprehensive history of the Jewish delicatessen. Both culinary and cultural history, this book will be of interest to scholars and common readers alike, the former for its incisive interpretations of modern Jewish foodways and the latter for its ability to recreate a time and place that was 'home' for so many 20th century Jews in America. Its evocation of deli menus alone will get your mouth watering." -- David Kraemer,author of Jewish Eating and Jewish Identity Through the Ages
"The fruit of more than ten years of research and writing, Mr. Merwin's account shows that delis have been a rich part of the story of Jewish assimilation in America." * The Economist *
"Merwins extraordinarily exhaustive research and his skill in selecting just the right fact, telling detail, quote, and anecdote makes this one of the most enjoyable, enlightening, fluid and fascinating food histories I've ever read. And it is my history, too, being one of those many Jews for whom the delicatessen and love of delicatessen foods is as much a part of my identity as the ethics and humanity my religion has taught me." -- Arthur Schwartz,author of Arthur Schwartz's Jewish Home Cooking: Yiddish Recipes Revisited
"Thorough and thoughtful, scholarly and readable, Ted Merwin's Pastrami on Rye provides a vital addition to the academic literature in cultural history, American studies, American Jewish studies, food studies, and popular culture studies." * Journal of American Culture *
"Professor and journalist Ted Merwin uses interviews, archives and popular representation to tell the history of the Jewish deli in America. Calling on food studies and an eclectic mix of sociological theory, he builds a narrative from a space of civic engagement and mutual support, it grows into a site bound up with nostalgic and un-nuanced readings of the past." * Religion & Culture *
"Merwin's long awaited history of the deli delivers like the best deli fress: this is a book that nails the mustard-slicked soulful flavor of this cultural gem, with a heft of academic substance that leaves the mind thoroughly satisfied (and the body starved for chopped liver)." -- David Sax,author of The Tastemakers: Why We're Crazy for Cupcakes but Fed Up with Fondue
"A pleasing exercise in culinary and cultural history, evoking some favorite New York-centric comfort foods... [Merwin] does a solid job of locating the delicatessen... as a cultural and culinary center of New York Jewish life." * Kirkus Reviews *
"This delightful book just about guarantees that its readers will want to head to the nearest deli for a hot pastrami sandwich, or maybe corned beef, naturally on fresh rye bread." * Western States Jewish History *
"[Merwin's] writing is so lively and entertaining readers will forget they're being educated. The workis also an excellent example of a multidisciplinary approach--combining food studies, Judaic studies, history and sociology." * Reporter *
"The writing is so lively and entertaining readers will forget theyre being educated. The work is also an excellent example of a multidisciplinary approach combining food studies, Judaic studies, history and sociology." * Long Island Jewish World *
"[V]ery well researched and enjoyable." * JWeekly.com *
"Pastrami on Rye proves entertaining, provocative, and--appropriately--food for thought." * JewishBookCouncil.org *
"Combining a flair for anecdote with exhaustive research, Merwin has produced an exuberantly readable history of delis, and he reveals how their prepared foods helped free early twentieth-century women from daily kitchen drudgery. The very success of ethnic Jewish delicatessens led inevitably to cultural assimilation for Jews and to appreciative acceptance by Gentiles, and the delicatessen became indisputably an American institution." * Booklist *
"Avital addition to the academic literature in cultural history, American studies, American Jewish studies, food studies, and popular culture studies." * Journal of American Culture *
"Merwin has written a spectacularly funny, engaging and sharply analytical book." * Forward *
"[A]cultural history of American Judaism told through a particularly revealing culinary lens." * Haaretz *
"Try reading Ted Merwins new book,Pastrami on Ryewithout having your mouth water.Merwin offers plenty of delicious descriptions as he traces how delis rose up first as take-out services for Jewish immigrants, to gathering places for Jewish communities, to symbols of integration as pastrami piled high became popular nationwide." * New York Post *
"In Pastrami on Rye, author Ted Merwin captures the essence of the New York deli experience...Merwin offers a thoughtful, 'overstuffed' look at all aspects of the Jewish deli by examining the role of its food in America through, as he puts it, the 'greasy...gluttonous lens of the pastrami sandwich.' [A] delightful exploration of one of America's favorite culinary institutions." * Chicago Tribune *
"Ted Merwin... delivers a scholarly paean--like an ample but lean corned beef sandwich--to a vanishing New York ethnic icon." * New York Times "Metropolitan" *
You may also be interested in...
×
Download the Waterstones App
Would you like to proceed to the App store to download the Waterstones App?
Reserve online, pay on collection.
Or,
add to basket
, pay online, collect in as little as 2 hours, subject to availability.
Thank you for your reservation
Your order is now being processed and we have sent a confirmation email to you at
When will my order be ready to collect?
Following the initial email, you will be contacted by the shop to confirm that your item is available for collection.
Call us on or send us an email at
Unfortunately there has been a problem with your order
Please try again or alternatively you can contact your chosen shop on or send us an email at