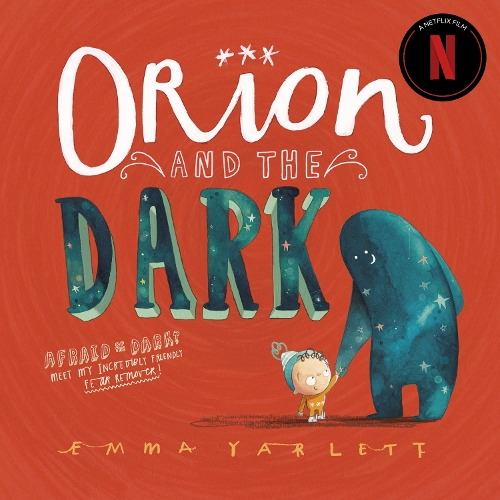 Paperback
40

Pages / Published: 01/05/2014
Orion is scared of A LOT of things, but most of all he's scared of the dark. So one night Dark decides to take Orion on an adventure. Emma Yarlett's second picture book combines incredible illustrations and spell-binding storytelling with inventive die-cut pages that make Dark come to life in the hands of the reader!
Publisher: Templar Publishing
ISBN: 9781783700295
Number of pages: 40
Weight: 260 g
Dimensions: 260 x 260 x 6 mm
---
MEDIA REVIEWS
Orion is scared of a lot of things: monsters in his closet, popping balloons, and haircuts, for example. But the scariest thing of all is . . . the dark. Despite brainstorming ways to conquer his fear (eating carrots to improve his night vision, keeping pet glowworms), nothing works. Finally, Orion can't take it anymore and stands on his bed to shout at the night sky, "I've had enough of you, Dark! I wish you and your scary sounds, your murky monsters, and your pitch blackness would just . . . just . . . go away!" Incredibly, the opposite happens. A bluish blob spangled with stars slips feet first through Orion's skylight and into the chair by the boy's bed. With a kind smile and die-cut arm extended, the Dark takes Orion's hand, and the two set off on an adventure to get to the bottom of Orion's nighttime fears. Reminiscent of Oliver Jeffers, Yarlett's illustrations are a joyful mix of digital collage, sketchbook, and saturated watercolor done in a palette of blueberry and Starburst candies. Many pictures invite close inspection, adding quirky details that fill out the story. Orion's adventures replace fear with fun, ending with a hug, a new friend, and a well- traveled pair of bunny slippers. Only sweet dreams ahead with this one. -- Julia Smith * Publishers Weekly *
Fantastic story about facing your fears, full of humor, momentum, trust and and moving parts. There are a couple of cut-out pages that enhance the story, providing a physical transition - Dark's arm reaching out, and later, holding close. The pages are so detailed that it's a difficult layout to do as a read aloud with an entire class, but in small groups it would work, where children will want to pause regularly during the reading to absorb the iteration and detail on the pages. I love how when Orion faces the biggest 'dark' he knows, the outside dark, night sky and Dark comes into his room, Orion's manner insist he greet Dark politely. The endearing anthropomorphism of Dark and his imagination, which is as big as the Orions's show children how fears and worries can be transformed into 'friends'.Yarlett's color palette for this is gorgeous with plenty of teal and blue and occasional orange/pink. My favorite spread is the arrival of day! Dark and Orion's characters' pop and I love her great variety of font in the asides. * Miss Marple's Musings *
Author-illustrator Emma Yarlett first caught my attention with her picture book Sidney, Stella, and the Moon, and now I can't stop re-reading her newest offering, Orion and the Dark. One glance at the cover and my book-stuffed heart says, "Yay!" My instincts rarely fail, and neither does Yarlett.Orion's fears are myriad: dogs, deep water, monsters, plaid. But the most terrifying thing of all looms at the end of each day, hovering at the top of a steep climb up to Orion's bed: the Dark. Despite his most creative solutions, bedtimes-and the Dark-are unavoidable. But delightfully, the Dark is less monstrous than Orion feared. Together, they explore and de-scary all the nighttime sounds and places, from closets and drains to ceiling fans and snoring.Yarlett is the best kind of author-illustrator, incorporating exciting fonts into her whimsical images, pulling the reader in again and again. Her text is simple enough for young children, but clever asides will keep adults entertained. Quirky sketches and thought bubbles fill each colorful page to perfection. Best of all are two die-cut pages in which the Dark literally embraces Orion-and the reader's imagination.Night-shy children will find companionship in Orion and comfort in the Dark's gentle, friendly appearance, while grown-up readers will invent excuses to keep this book on their own shelves. -- Jill Lorenzini * BookPage *
At some point most young kids (even some older ones) have fears about the dark. Bedtime and nighttime in general can set a child's imagination alight and sometimes there is just no convincing them that there is no mutant alien in the wardrobe!Orion and the Dark is a brilliant and completely stunning picture book for children that tackles these widespread fears of darkness beautifully and cleverly.The little boy, Orion is scared of a lot of things, but most of all, he's scared of the dark. He has tried countless ways and explored many options for avoiding the dark, but nighttime always comes.But one night, everything changes. Dark really does come to Orion, in the form of a friend who take his hand and shows him the reality of darkness and all it contains. On their adventure they investigate where all the spooky sounds and creepy shadows came from, giving answers to so many questions.Dark teaches Orion a new understanding of darkness and the two become great friends.This book completely won us over. Not only is is visually beautiful and full of intricate illustrations that you and the kids can pour over, but it is such a clever way to communicate the reality of nighttime and darkness to young children.With young children ourselves we know the challenges darkness can bring to a family. This book is a fabulous conversation starter and offers a new perspective on darkness for kids.The kids adore the die-cut pages as well! * Review Zoo *
Orion is a little boy who is scared of a great list of things, but especially the dark. Despite his best efforts, like painting his room with glow in the dark paint and dressing up as an owl, he is still afraid. Orion still dreads bedtime. One night the dark comes to visit him, together they face all his fears and find out that the dark is really not so bad. This is a wonderful book! The illustrations are fantastic, with a hand that is its own page for kids to reach out for. The creature that is Dark, is adorable and full of the night sky. Lots of little details to look at and explore. Why then I am reviewing it as OPTIONAL? Because I think bedtime fears belong in the great books for home reading category, to read with a grownup and talk about, but not as a topic for a school library. Would make a perfect gift for a little one who is scared of the dark. -- Stephanie * Kiss The Book *
I first discovered Orion and The Dark at the Candlewick booth at ALA Midwinter in Chicago earlier this year. I read and reread it, gushed about it, sent people to read it, e-mailed Nerdy Book Club to see if I could review it as soon as it was officially out. When I instantly adore a book so much I want to write a Nerdy post about it, it's basically love at first sight...or read.I so quickly fell in love with Orion and The Dark because it's a great story of overcoming fear. As a mentor text, I can see the discussion it might start around what scares us and why. It got me thinking about what I was scared of when I was little. What came to mind was a memory of sitting in my dad's car, asking him to wait a few more minutes before making me go into the first day of summer camp. Then, when time was really up, I begged him to walk in with me and help me figure out where to go. This reminded me of other times when I've been scared to walk into a new situation. Now, I don't get as freaked out because I know I can always introduce myself to people and start making friends but for a long time, I hated the thought of being somewhere new and not knowing anyone, where to go, or what to do.I'm sure everyone can think of something that scared or scares him or her and relate to Orion in this book. What I love even more is that once we start thinking about what scares us, then like Orion, we can start learning more about what scares us and it might not seem so scary anymore. Because, aren't we more scared the less we know? Once you examine something, look at it closely, understand how it works, see it from different angles, it doesn't seem so scary. When we know more, we're less scared. This is such a great message to share with kids and to remind adults of as well.Orion and The Dark is the perfect book for talking through what scares us and offers a great invitation to think or write about what scares us. But what makes the story truly stand out is the gorgeous artwork. I happened to visit Lake Michigan after I bought Orion and The Dark at the bookstore and I was amazed by how breathtakingly beautiful the colors are in this book and how they compare to the brilliant water and blue sky that was in front of me.Orion and The Dark is a gem of a book. Between the story and the artwork, it's picture book heaven. I think of it as a wonderful blend of Lemony Snicket's The Dark and Dan Santat's Beekle. There are even a few pages with sweet cut-outs that I'll let you discover for yourself. Overall, I'm pretty sure if you read this book, you'll find yourself hugging it to you and thanking Emma Yarlett for bringing this story to life. -- Jen Vincent * Nerdy Book Club *
Today's stunner is teeming with amazing illustrative detail. You need to allow plenty of time to wander leisurely through its pages.Orion's imagination is something of a curse, resulting in an extensive list of things he's scared of. At the top of the list, his number one fear; the dark. In spite of ingenious attempts at eliminating the dark from his life, every night Orion is forced to face his worst nightmare. Finally he cracks, "I've had enough of you DARK! I wish you and your scary sounds, your murky monsters and your pitch blackness would just... just... GO AWAY!"And this is where beautiful, beautiful Dark, the character makes an appearance. He's not even slightly what Orion imagined Dark would be like, he's awfully polite. (I loved my first ever interactive picture book handshake!) Together Orion and Dark share some amazing adventures, and from that night on, Orion puts his biggest fear to bed.This one needs to be seen to be appreciated, get your hands on a copy right now! * My Friend Lucy *
You may also be interested in...
Simply reserve online and pay at the counter when you collect. Available in shop from just two hours, subject to availability.
Thank you for your reservation
Your order is now being processed and we have sent a confirmation email to you at
When will my order be ready to collect?
Following the initial email, you will be contacted by the shop to confirm that your item is available for collection.
Call us on or send us an email at
Unfortunately there has been a problem with your order
Please try again or alternatively you can contact your chosen shop on or send us an email at