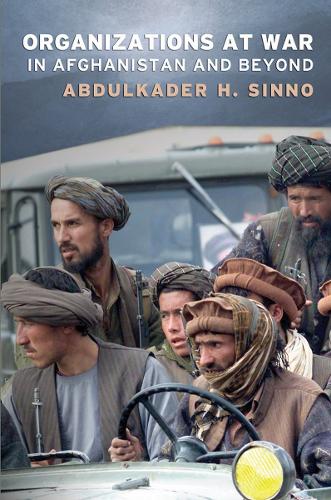 Paperback
352

Pages / Published: 04/12/2009
"After we had exchanged the requisite formalities over tea in his camp on the southern edge of Kabul's outer defense perimeter, the Afghan field commander told me that two of his bravest mujahideen were martyred because he did not have a pickup truck to take them to a Peshawar hospital. They had succumbed to their battle wounds. He asked me to tell his party's bureaucrats across the border that he needed such a vehicle desperately. I double-checked with my interpreter that he was indeed making this request. I wasn't puzzled because the request appeared unreasonable but because he was asking me, a twenty-year-old employee of a humanitarian organization, to intercede on his behalf with his own organization's bureaucracy. I understood on this dry summer day in Khurd Kabul that not all militant and political organizations are alike."-from Organizations at War in Afghanistan and Beyond
While popular accounts of warfare, particularly of nontraditional conflicts such as guerrilla wars and insurgencies, favor the roles of leaders or ideology, social-scientific analyses of these wars focus on aggregate categories such as ethnic groups, religious affiliations, socioeconomic classes, or civilizations. Challenging these constructions, Abdulkader H. Sinno closely examines the fortunes of the various factions in Afghanistan, including the mujahideen and the Taliban, that have been fighting each other and foreign armies since the 1979 Soviet invasion.
Focusing on the organization of the combatants, Sinno offers a new understanding of the course and outcome of such conflicts. Employing a wide range of sources, including his own fieldwork in Afghanistan and statistical data on conflicts across the region, Sinno contends that in Afghanistan, the groups that have outperformed and outlasted their opponents have done so because of their successful organization. Each organization's ability to mobilize effectively, execute strategy, coordinate efforts, manage disunity, and process information depends on how well its structure matches its ability to keep its rivals at bay. Centralized organizations, Sinno finds, are generally more effective than noncentralized ones, but noncentralized ones are more resilient absent a safe haven.
Sinno's organizational theory explains otherwise puzzling behavior found in group conflicts: the longevity of unpopular regimes, the demise of popular movements, and efforts of those who share a common cause to undermine their ideological or ethnic kin. The author argues that the organizational theory applies not only to Afghanistan-where he doubts the effectiveness of American state-building efforts-but also to other ethnic, revolutionary, independence, and secessionist conflicts in North Africa, the Middle East, and beyond.
Publisher: Cornell University Press
ISBN: 9780801475788
Number of pages: 352
Weight: 539 g
Dimensions: 229 x 152 x 5 mm
---
MEDIA REVIEWS
"Organizations at War in Afghanistan and Beyond is an original, penetrating, and important book; Abdulkader H. Sinno marries organizational theory to analysis of nonstate actors in situations of civil war or state disruption. This is strikingly innovative not only in respect to Afghanistan (where nothing like this has been attempted previously) but also in respect to complex transitions more generally. This is a book that no serious student of transitions from conflict can afford to ignore."-William Maley, Asia-Pacific College of Diplomacy, The Australian National University
"In Organizations at War in Afghanistan and Beyond, Abdulkader H. Sinno makes an original contribution to the study of civil war. He takes a specific case-that of Afghanistan-and uses organizational structure as a basis for explaining how events unfolded. Readers will be especially fascinated by the narrative of what occurred in Afghanistan prior to the Taliban's rise to power. This book is essential reading for anyone with an interest in either international politics or the study of organizations."-Patrick James, Professor of International Relations and Director of the Center for International Studies, University of Southern California
"Sinno does a remarkably thorough job of analyzing the Afghan insurgency and tribal interactions from 1978 through the present. This section is insightful, thoughtful, and exceptionally valuable; he reveals a deep knowledge of Afghan politics and rivalries, personalities, and agendas. Sinno's organizational theory approach to explaining success and failure of rival groups during this period is persuasive. His tables and analysis are clear and direct and provide an excellent starting point for anyone wanting to understand the complexities of events in Afghanistan from the end of the Soviet occupation through the collapse of the Najib regime and the rise of the Taliban. It is doubtful that there is an analysis of events in Afghanistan that is better, more complete, and more useful to a military commander, diplomat, or Provincial Reconstruction Team chief than what can be found in chapters six through eight of this book. This analysis should open some eyes and minds to reassessing the purpose and direction of the current operational activities in Afghanistan."-Keith D. Dickson, Joint Forces Quarterly
"Sinno's finding should end the current search of U.S. policymakers for a 'moderate Taliban' that can be broken off from the insurgency. . . . For the Taliban remains a formidable organization, and his book is a formidable account of why."-Barnett Rubin, Perspectives on Politics
"Sinno knows a lot about Afghanistan and offers significant insights about organizations and strategy on which others will want to build."-Lawrence D. Freedman, Foreign Affairs
"This book is a fascinating and serious piece of scholarship that carries implicit policy warnings. . . . Highly recommended."-Choice
"Sinno has produced an insightful book. His emphasis on organizational theory will arm those who study conflict with a valuable perspective."-H. R. McMaster, Survival
"The book accomplishes a crucial social science goal: it develops a parsimonious and generalizable theory that explains a wide range of behavior, without the need to resort to other variables (such as religion, ethnicity, ideology, or unique factors of anthropology or history). Sinno concludes with a set of predictions about other cases, using his findings to provide useful advice for policymakers. While he only mentions in passing the relevance of his findings for the Middle East, it is striking how well his arguments seem to explain ongoing conflicts everywhere from the Palestinian territories to Iraq. For all of these reasons, this book has great value."-Kimberly Marten, Political Science Quarterly
You may also be interested in...
Simply reserve online and pay at the counter when you collect. Available in shop from just two hours, subject to availability.
Thank you for your reservation
Your order is now being processed and we have sent a confirmation email to you at
When will my order be ready to collect?
Following the initial email, you will be contacted by the shop to confirm that your item is available for collection.
Call us on or send us an email at
Unfortunately there has been a problem with your order
Please try again or alternatively you can contact your chosen shop on or send us an email at