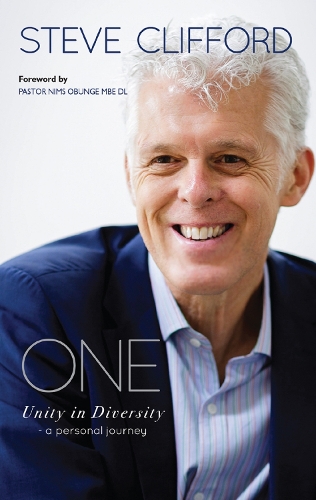 One: Unity in Diversity - a personal journey (Paperback)
Steve Clifford
(author)
Paperback
256

Pages / Published: 21/04/2017
One explores the personal journey of Steve Clifford, General Director of the Evangelical Alliance. It explores the challenges of unity as outworked both in his day-to-day marriage and home life, and national and international relations. Unity is what drives him - but not just for unity's sake. In bringing people together, we are following the John 17 mandate to show the immense love of God, who sent his Son for us. We connect to a shared mission, whether it's nurturing a church culture which is increasingly confident in the gospel, getting involved in community action or lobbying the government for a better society. The Church is the key to long-lasting change in the world - by working in unity we can transform our communities with the good news of Jesus.
Publisher: Lion Hudson Plc
ISBN: 9780857218193
Number of pages: 256
Dimensions: 216 x 138 mm
---
MEDIA REVIEWS
'Steve Clifford's passion for Christian unity is evident on every page of this lucid and moving book. The autobiographical sections are winsome and inspiring. The theological reflections are rich and perceptive. Steve's exemplary leadership of the UK Evangelical Alliance is informed by a deep appreciation of the Alliance's history, and he draws illuminating lessons from that history as he charts future priorities for a church called to be one, that the world might believe.' -- Revd Dr David Hilborn, Principal, St John's School of Mission, Nottingham
`In every age the Spirit of God calls the people of God to unite, but there seems to be a particular urgency to that call in our time. As we remember the events of the Reformation five hundred years ago, and as our post-modern, post-christendom world increasingly fragments, unity seems more necessary, more complicated and yet more possible than ever before. Steve Clifford is a natural-born reconciler. He holds his convictions humbly, speaks kindly, and practices the gift of friendship indiscriminately. Steve has been living the message of this book, privately as well as publicly, for as long as I have known him.' -- Pete Greig: 24-7 Prayer Emmaus Rd
`This is an absolutely captivating reflection of one man's persistent, and at times painful, pursuit of Christ-like unity in every area of his life. Instead of telling us how rubbish we often are in the Church at living out our One-ness, Steve reminds us of who we already are; God's people called to one hope. And this revelation has the power to transform how we talk, disagree, forgive, pray and live together. I hope this book encourages you, as it has me, to ensure our world knows we belong to Jesus, not by our ability to fight, but our eagerness to really love each other.' -- Rachel Gardner, Relationships Lead, Youthscape
`Good family conversations have far-reaching potentials. Steve Clifford does well in inviting evangelicals to reflect on our experience and what the world looks like from our perspective. One significant conclusion is that relationships matter. Drawing on his own experience of family life and churchmanship he illustrates examples of how to engage effectively with one another and the significance of unity in our mission and witness.' -- Bishop Donald Bolt, National Administrative Bishop New Testament Church Of God England and Wales and Superintendent for the United Kingdom
`I have often pictured church unity as an 'elusive butterfly' something beautiful but hard to catch or get hold of. Steve Clifford has managed to catch something which is still in flight. He has thoroughly and honestly got to the heart of what Jesus passionately prayed for, 'that all of them might be one.' -- Stuart Bell, Senior Pastor of Alive Church and Leader of the Ground Level network
`In a dangerously divided world, we need the constant reminder of the blessings of unity and reconciliation. The real inspiration of this book is the personal commitment of the author over many years to bring divided people together. The blending of biblical insights and warts and all testimony, underline the vital importance of striving to maintain Jesus' gift of unity between Christians' -- David Coffey OBE, Global Ambassador BMS World Mission and Past President of the Baptist World Alliance
`This is a timely book, an exhortation to the Church to seek unity despite our differences, and to love one another well even when we disagree. Steve asks challenging questions and approaches his subject with honesty and integrity, reminding us that whilst unity doesn't always come easily we must never cease pursuing it in order to bring glory to Jesus.' -- Mike Pilavachi, Soul Survivor
`For the Chinese, fried rice is what you do with leftovers. For a familiar subject that is more often talked about than practiced, Steve has given us some `fresh' rice to enjoy & reflect. There are both personal, challenging and authentic stories of his journey towards oneness that is both local and global. They are stories worth hearing so we understand a little of the big ideas and heart of Jesus' John 17 prayer. Read and be challenged.' -- S H Ong (Osh), Pastor Ambassador, Chinese Church in London
`One is a thoughtful and practical read underpinned with excellent theological reflections and personal experience. From marriage, to family, to households, through to local church, towns and cities, Steve explores the power of unity. He is not afraid to tackle the pain of disagreement or the challenges of integration across ethnic and generational divides. I hope this book provokes us all to action, to unity, to love.' -- Billy Kennedy, Leader, Pioneer
`Unity is not just about ideas, it is about the concrete reality of daily life and the choices that we make in specific situations. Steve Clifford's life is like a parable of what it means to build unity and find a way of standing together. As I read these pages I was reminded that unity is always a choice. We can allow ourselves to disconnect from one another or we can choose to protect the precious gift of unity by the things that we do and the attitudes we adopt. From our personal lives to our public ministries, unity is a thread that weaves its way through the fabric of our lives. Steve Clifford's commitment to unity is woven across the whole of his life. This book not only inspires me to be a better leader, it also inspires me to be a better husband, father and friend. May we hear the tone of this book and set our own lives to the pitch of God's beating heart. He has united us and we must, as much as is possible, stick together. That's what family does.' -- Malcom Duncan, Lead Pastor, Gold Hill Baptist Church and chair of the Spring Harvest Leadership Team
`Steve's journey of faith to date puts him in a unique position to write this book, addressing the joys and challenges of living as one in fulfilling Jesus' prayer. It is written in a beautifully warm style, so honest and so down to earth! I particularly enjoyed reading about the centrality of living in unity at home. The book is full of wonderfully practical guidelines gained from Steve's experience over many years of church leadership. There is no doubting his passion for the church of Jesus Christ; how different the church would look if every church leader committed to living by the ideals espoused in this book.' -- Tani Omideyi, Senior Pastor Love & Joy Ministries UK and Chair of EA
`Steve Clifford's passionate call for unity needs to be heard in today's evangelical community. He combines thoughtful biblical reflection, analysis of the history and contribution of the Evangelical Alliance and powerful personal testimony to build a compelling vision for unity that touches numerous areas of life. What gives this book its unique power and perspective is that it is written by someone who has (often at considerable personal cost) lived out its message with remarkable consistency.' -- John Risbridger, Minister and Team Leader, Above Bar Church, Southampton and Chair of Keswick Ministries
`Years ago, Steve Clifford played in goal at what is now London School of Theology. This wonderfully personal account of his life, ministry, and perspectives on a huge range of issues for evangelical Christians reveals him as an all-round `spiritual footballer': shot-stopper, great defensive work, creative in midfield, and scoring some memorable goals for Christ. Like me, you'll be informed, challenged and encouraged to play better for Jesus. Highly recommended.' -- Dr Steve Brady, Moorlands College, Christchurch, UK
`Steve's book puts flesh on the Biblical and theological bones of unity within the church. The book reads a little like a travelogue of Steve's life and experience and this is the very thing that encourages the reader to be practical and not just theoretical about the important doctrine of unity. Very few stones are left unturned. This is a helpful and challenging read.' -- Elaine Duncan, Chief Executive, Scottish Bible Society
`"How wonderful, how beautiful, when brothers and sisters get along!" Ps 133:1 (MSG). This book is a great testimony of God's personal dealings with one man through his networks of relationships at home, in the church and across the nation. Steve's well researched analysis of Biblical unity challenges us all to be intentional about strengthening our relationships. Steve didn't just write this book, he first lived it.' -- Pastor Nims Obunge MBE DL
`This book is one of 'lived out theology'. It marries together a deep biblical conviction that a united church makes God's love visible, together with all the many and varied ways Steve has implemented the ramifications of this revelation into his life and relationships. It is, as anyone who knows Steve would expect, full of honesty, wisdom, integrity and humility. A great read!' -- Ness Wilson, Team Leader of Open Heaven Church
`In this book, Steve tells us his own journey of how he has come to understand what it means for Christians to be one with each other - just as Jesus prayed - and confronts us with the reality of what that means. It is personal, honest, painful and challenging. It is a helpful read as the evangelical community considers what it means to be "one body".' -- Dave Richards, Rector, St Paul's and St George's, Edinburgh
`This book is disarmingly dangerous! Engagingly written from Steve's personal experience, this is a deeply honest and sometimes painful look at Christian, Evangelical, Unity. Be prepared to be challenged out of your isolated silo - for this book will enlarge your heart, so that we make visible the glory of Christ in our one-ness. Read it - thoughtfully!' -- Steve James, Rector, Holy Trinity Platt, Manchester
`I know Steve to be a generous, authentic and graciously candid leader. In his new debut book, One, he is just that! Steve gives a personal and honest account of his journey and pursuit of unity; the joy, power and beauty of it, as well as the challenges, pain and difficult lessons it involves. One is not only rich in story, but Steve has made it wonderfully practical. With a great scattering of church history, humour and family life.' -- Kiera Phyo Head of Youth and Emerging Generation Tearfund
You may also be interested in...
Simply reserve online and pay at the counter when you collect. Available in shop from just two hours, subject to availability.
Thank you for your reservation
Your order is now being processed and we have sent a confirmation email to you at
When will my order be ready to collect?
Following the initial email, you will be contacted by the shop to confirm that your item is available for collection.
Call us on or send us an email at
Unfortunately there has been a problem with your order
Please try again or alternatively you can contact your chosen shop on or send us an email at