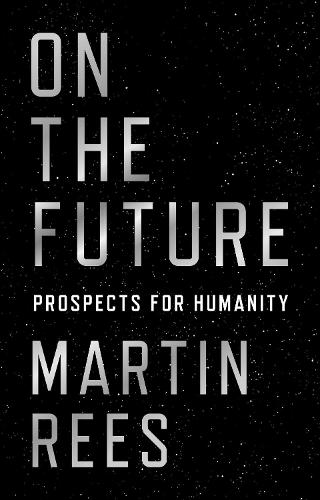 Hardback
272

Pages / Published: 25/09/2018
A provocative and inspiring look at the future of humanity and science from world-renowned scientist and bestselling author Martin Rees

Humanity has reached a critical moment. Our world is unsettled and rapidly changing, and we face existential risks over the next century. Various outcomes-good and bad-are possible. Yet our approach to the future is characterized by short-term thinking, polarizing debates, alarmist rhetoric, and pessimism. In this short, exhilarating book, renowned scientist and bestselling author Martin Rees argues that humanity's prospects depend on our taking a very different approach to planning for tomorrow.

The future of humanity is bound to the future of science and hinges on how successfully we harness technological advances to address our challenges. If we are to use science to solve our problems while avoiding its dystopian risks, we must think rationally, globally, collectively, and optimistically about the long term. Advances in biotechnology, cybertechnology, robotics, and artificial intelligence-if pursued and applied wisely-could empower us to boost the developing and developed world and overcome the threats humanity faces on Earth, from climate change to nuclear war. At the same time, further advances in space science will allow humans to explore the solar system and beyond with robots and AI. But there is no "Plan B" for Earth-no viable alternative within reach if we do not care for our home planet.

Rich with fascinating insights into cutting-edge science and technology, this accessible book will captivate anyone who wants to understand the critical issues that will define the future of humanity on Earth and beyond.
Publisher: Princeton University Press
ISBN: 9780691180441
Number of pages: 272
Dimensions: 178 x 127 mm
---
MEDIA REVIEWS
"One of the Financial Times' Best Books of 2018: Science"
"UK astronomer royal Martin Rees faces the future as scientist, citizen and 'worried member of the human species'. His bold, beautifully synthesized primer paces from human-driven challenges such as climate change to dizzying astronomical discoveries within and beyond the Solar System. . . A clarion call for global, rational, long-term thinking."---Barbara Kiser, Nature
"A remarkable book not only because of the subject-the prospects of humanity-but because it is so reasonable. . . . Rees largely manages to steer clear of both fear mongering and cheerleading. The question of how we should deal with new technology has no easy answer, and the author doesn't pretend that it does. Instead, in each case he lays out the important points to consider."---Sabine Hossenfelder, Wall Street Journal
"Fortunately for Rees, the symptoms of his anxiety appear to be an exceptionally clear head and a capable grasp of the big picture. His sense of cosmic wonder shines through brilliantly in the book's later chapters. Explanations of complex subjects like the Large Hadron Collider and the ongoing search for exoplanets benefit from his crisp, precise prose. . . . Rees is a seasoned science communicator, and in so far as his job is to get more and more people interested in the field, the book's short length and approachable style is a shrewd move that will open a wormhole to the big questions for the curious."---Louie Conway, Vanity Fair
"When politics seems impossible, it is sometimes good to take the long view. Astronomer Martin Rees's On the Future offers a cosmological perspective on the present state of the world. Brexit seems a bit less all-or-nothing when set against the prospect of post-human space travel."---David Runciman, The Guardian
"[Hawking and Rees] offer brisk, lucid peeks into the future of science and of humanity. They evince a profound faith in science's power to demystify nature and bend it to our ends."---John Horgan, Wall Street Journal
"[On the Future] offers forecasts of impending technological developments and words of hope for the human ability to use science to repair a wounded planet and improve lives. . . . This far-ranging but easily understood collection of ideas shares and communicates the enthusiasm of Rees's 'techno-optimist' view of the prospects for humanity." * Publishers Weekly *
"Short in extent but wide in range: from redesigning genes, through the likelihood of human-induced climate change, to the possibility of encounters with alien intelligence in the Universe. [On the Future]'s overall theme is that Earth's growing population will flourish only if science and technology are deployed with 'wisdom.'"---Andrew Robinson, Science
"Rees neatly packages his sprawling subject matter into a guidebook for the responsible use of science to build a healthy and equitable future for humanity."---Daniel Ackerman, Scientific American
"Rees is hardly the first to issue a stern warning about what lies ahead if complacency and consumerism rule, but his lucid, well-reasoned explanation of the stakes and inimitable prose lift this manifesto above the rest. An impassioned call to action from one of the world's foremost scientists. A book to be read by anyone on Earth who cares about its future." * Kirkus, starred review *
"It is hard not to be fascinated as [Rees] builds his Eeyorish case - which is laid out with the dispassionate air of a superintelligent alien anthropologist observing our species' eccentricities from afar. . . . [A] lucid and engaging book."---Tom Whipple, The Times
"Lord Martin Rees manages weighty, often scary, matters with an eminently accessible lightness of touch in On the Future: Prospects for Humanity. . . . [A] short, crisply written new book."---John Cornwell, Financial Times
"This slim volume, written in Rees's characteristically elegant style, will frighten and inspire - and above all, entertain."---Clive Cookson, Financial Times
"If you're worried about the prospects for the human race, try Martin Rees's On the Future for a sober, level-headed assessment."---John Naughton, The Observer
"The importance of science in society has no greater spokesperson than Lord Martin Rees." * The Economist *
"By no means merely a happiness pill, Martin Rees's On the Future: Prospects for Humanity nonetheless encourages the reader to think beyond the new norms of diminished and collapsing expectations. . . . This is less a book than a set of goggles that provides the reader a glimpse of a wider spectrum of possibility than would otherwise be visible."---Scott McLemee, Inside Higher Education
"Rees is clear-sighted and pithy. . . . His account of the planets and exoplanets on which we might one day descend feels thrillingly real. . . . Wonderfully optimistic."---James McConnachie, Sunday Times
"Rees shows us an optimistic yet realistic way of contemplating the what is to come, as long as we broaden our thinking and realise that we're all on this crowded planet together."---Sandra Kropa, BBC Sky at Night Magazine
"It would be easy for a book about the future to turn gloomy, but this one balances concerns with hopeful prospects." * Foreword Reviews *
"[An] eloquent book."---John Thornhill, Financial Times
"Rees dispenses his apocalyptic overview of the coming decades like cocktail party wisdom. The author, who moves in elevated circles and has the papal ear, is an affable doom merchant."---Anjana Ahuja, New Statesman
"An overview of the great science-based possibilities for mankind, as well as an expert's gentle warning against what will happen to life on earth if we continue to form our thinking around short-term goals."---Rozalind Dineen, Times Literary Supplement
"With the authority that only someone of his calibre could command, Martin Rees presents his vision of the future of mankind." * Nature Astronomy *
"This little gem is divided into four beautifully-crafted chapters providing broad perspective, personal anecdotes, some seldom-mined historical background, strong scientific emphasis, and hope."---Bruce L. Dietrich, Planetarian
"In [On the Future], Rees turns his focus closer to home, examining the existential threats that face humanity over the next century. From cyberattacks to advances in biotechnology to artificial intelligence to climate change, Rees, Britain's astronomer royal, says we are living at a critical juncture - one that could define how the human species fares."---Denise Chow, NBC News MACH
"[On the Future] shrewdly weighs up our chances of survival."---Andy Martin, Belfast Telegraph
"A rallying call for the sort of rational thinking that seems to have become unpopular in recent years. . . . A short, but persuasive, book."---Dominic Lenton, Engineering & Technology
"A really important book."---David Runciman, Talking Politics podcast
"Overall, this is a wise and humane overview of the challenges we all face, with much practical guidance about how best to tackle these in terms of responsible scientific and technological innocation related to deeper human values."---David Lorimer, Paradigm Explorer
"Lord Rees is the source on all things future-of-humanity." * Mayday *
"[A] condensed masterpiece of analysis and observation."---Jonathan Power, New York Journal of Books
"Reading On the Future will equip the reader with the means to challenge their representatives to lift their eyes above the daily grind of politics and set their sights on a brighter future which humanity can enjoy if the correct decisions are made in respect of the development and application of science and technology."---K. Alan Shore, Contemporary Physics
"I found reading Rees's ideas here rewarding. I also learned a lot from this book. . . as such, I am very positive about this book and I think that all ethicists should read it."---Wouter Kalf, Ethical Perspectives
You may also be interested in...
×
Download the Waterstones App
Would you like to proceed to the App store to download the Waterstones App?
Reserve online, pay on collection.
Or,
add to basket
, pay online, collect in as little as 2 hours, subject to availability.
Thank you for your reservation
Your order is now being processed and we have sent a confirmation email to you at
When will my order be ready to collect?
Following the initial email, you will be contacted by the shop to confirm that your item is available for collection.
Call us on or send us an email at
Unfortunately there has been a problem with your order
Please try again or alternatively you can contact your chosen shop on or send us an email at