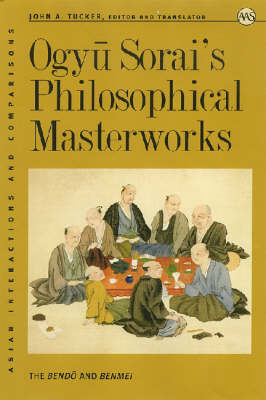 Ogyu Sorai's Philosophical Masterworks: The Bendo and Benmel (Hardback)
John Allen Tucker
Hardback
Published: 15/03/2006
Ogyu Sorai (1666-1728) was one of the greatest philosophers of early modern Japan. This volume, a monumental work of scholarship, offers for the first time in any Western language unabridged and fully annotated translations of Sorai's masterpieces. The Bendo (Distinguishing the Way) and Benmei (Distinguishing Names) are works of political philosophy that define the theoretical foundation for a leadership exercising total power, the best remedy, in Sorai's view, for a regime in crisis. The translations are based on the 1740 (Genbun 5) woodblock edition, the first major edition of these seminal texts published during the Tokugawa period. In his commentary, John Tucker situates the Bendo and Benmei in relation to NeoConfucianism via what is known as "philosophical lexicography." This genre, which links Sorai's thinking with Neo-Confucianism, is traced to the early-thirteenth-century Song dynasty text the Xingli ziyi (The Meanings of Neo-Confucian Terms) by Chen Beixi (1159-1223). Although Sorai was an unrelenting critic the Neo-Confucian formulations of the great Song synthesizer Zhu Xi (1130-1200), his thinking remained, due to its genre, methodology, and conceptual repertory, essentially a radical revision of Neo-Confucian discourse. Tucker's introduction also examines the reception of Sorai's two Ben during the remainder of the Tokugawa, calling attention to radical tendencies in later developments of Sorai's thought as well as to the increasingly scathing critiques of his "Chinese" approach to philosophy, language, and politics. Finally, it traces the vicissitudes of the two Ben in modern Japanese intellectual history and their role in the formation of the ideas of Meiji intellectuals such as Nishi Amane (1829-1897) and Kato Hiroyuki (1836-1916).
Publisher: University of Hawai'i Press
ISBN: 9780824829513
You may also be interested in...
We would love to hear what you think of Waterstones. Why not review Waterstones on Trustpilot?