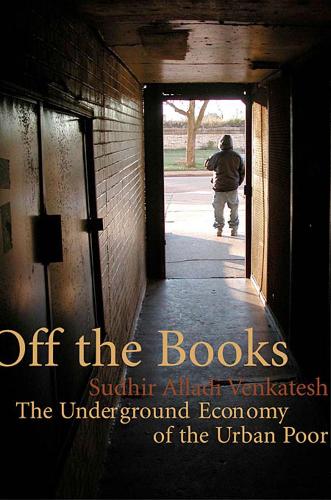 Paperback
448

Pages / Published: 03/03/2009
We can order this from the publisher
Listen to a short interview with Sudhir VenkateshHost: Chris Gondek | Producer: Heron & Crane

In this revelatory book, Sudhir Venkatesh takes us into Maquis Park, a poor black neighborhood on Chicago's Southside, to explore the desperate, dangerous, and remarkable ways in which a community survives. We find there an entire world of unregulated, unreported, and untaxed work, a system of living off the books that is daily life in the ghetto. From women who clean houses and prepare lunches for the local hospital to small-scale entrepreneurs like the mechanic who works in an alley; from the preacher who provides mediation services to the salon owner who rents her store out for gambling parties; and from street vendors hawking socks and incense to the drug dealing and extortion of the local gang, we come to see how these activities form the backbone of the ghetto economy.

What emerges are the innumerable ways that these men and women, immersed in their shadowy economic pursuits, are connected to and reliant upon one another. The underground economy, as Venkatesh's subtle storytelling reveals, functions as an intricate web, and in the strength of its strands lie the fates of many Maquis Park residents. The result is a dramatic narrative of individuals at work, and a rich portrait of a community. But while excavating the efforts of men and women to generate a basic livelihood for themselves and their families, Off the Books offers a devastating critique of the entrenched poverty that we so often ignore in America, and reveals how the underground economy is an inevitable response to the ghetto's appalling isolation from the rest of the country.
Publisher: Harvard University Press
ISBN: 9780674030718
Number of pages: 448
Weight: 408 g
Dimensions: 210 x 140 x 30 mm
---
MEDIA REVIEWS
No scholar in America understands the underground economy like Sudhir Venkatesh. The book is both beautifully written and incredibly insightful. I can't remember the last time I learned so much from reading a book. -- Steven D. Levitt, co-author of Freakonomics
Sudhir Venkatesh has uncovered a social world that will surprise even the most sophisticated observers of human behavior. This extraordinary study could become a classic urban ethnography, and will certainly change the way we think about life and work in the underground. -- William Julius Wilson, author of When Work Disappears: The World of the New Urban Poor
Off the Books is an outstanding contribution to our understanding urban economic, social and political processes. This engrossing ethnography has led me to change how I theoretically think about fundamental concepts such as social capital, social isolation, and the state of civil society in the US. -- Michael C. Dawson, author of Black Visions
An original portrait of the blurred boundaries between so-called legitimate and illegitimate economic relations in the U.S. ghetto ...A most comprehensive look at the informal economic life of the urban poor. -- Mitchell Duneier, author of Sidewalk
An unsentimental but powerfully human analysis of the webs of underground activity that sustain poor neighborhoods and their residents. Venkatesh gives the lie to the denigrating tropes of shiftlessness, mental dullness, government dependence, and disorganization that have been used to indict families in poverty. -- Mary Pattillo, author of Black on the Block: The Politics of Race and Class in the City
In this revealing study of a Southside Chicago neighborhood, sociologist Venkatesh opens a window on how the poor live...Venkatesh keeps his work vital and poignant by using the words of his subjects. * Publishers Weekly *
[Venkatesh] spent years in a 10-square-block neighborhood on Chicago's South Side observing the clandestine work of gangbangers and mechanics, prostitutes and pastors. The result, Off the Books: The Underground Economy of the Urban Poor, suggests that in some American neighborhoods, the underground economy is a source not just of sustenance but of order, and that while shady transactions may be illegal, they adhere to a distinctive and sophisticated set of laws. -- Patrick Radden Keefe * Slate.com *
Remember the Chicago grad student in Freakonomics who figured out why drug dealers live with their mothers? His name is Sudhir Alladi Venkatesh, and his new book, Off the Books: The Underground Economy of the Urban Poor, is the riveting drug-dealer back story--and a lot more. Venkatesh, who is now a professor of sociology and African-American studies at Columbia, spent 1995 to 2003 following the money in 10 square blocks of the Chicago ghetto. He finds an intricate underground web. In it are dealers and prostitutes--and also pastors who take their money, nannies who don't report income, unlicensed cab drivers, off-the-books car mechanics, purveyors of home-cooked soul food, and homeless men paid to sleep outside stores. Venkatesh's insight is that the neighborhood doesn't divide between 'decent' and 'street'--almost everyone has a foot in both worlds. 'Don't matter in some ways if it's the gang or the church,' says one woman as she describes the network that gives her some sense of security. The Wire meets academia, Off the Books is a great and an instructive read. -- Emily Bazelon * Slate.com *
[Venkatesh] examines the underground economy of a poor Chicago neighborhood and discovers a thriving system of licit and illicit exchange. Although the resourcefulness of certain drug dealers, back-alley mechanics, and fly-by-night day-care providers is remarkable, Venkatesh argues that under-the-table transactions work to further separate their participants from the economic mainstream. -- Benjamin Healy * The Atlantic *
In Off the Books, Sudhir Alladi Venkatesh defines the underground economy as 'a web in which many different people, from the criminal to the pious, from the down-and-out to the bourgeois, are inextricably intertwined'...The story Venkatesh tells in Off the Books is specific to Maquis Park, but the underground economy he found there almost certainly has its counterpart in the black ghettos of large cities. Indeed, its reach extends beyond the ghetto to the kitchens of restaurants, the homes of the well-off and the myriad service jobs that employ workers off the books. Yet it remains in the shadows, barely touched by researchers, a vast world usually ignored, misunderstood, or dismissed with stereotypes. Venkatesh's riveting account describes the underground economy through vividly realized characters...[His] dissection of Maquis Park's underground economy overturns one stereotype and common assumption about the urban poor after another...Venkatesh finds the underground economy's origins in the racism, economic devastation, and political abandonment that have decimated many big American cities...What can be done? Venkatesh offers no concrete remedies. But that is not his point. Off the Books is not about policy. Wonderfully written, brilliantly researched, it illuminates, as no other book has done, the ubiquitous world of shady activities that structure everyday life for the residents of the nation's Maquis Parks in ways few Americans observe or understand. -- Michael B. Katz * Chicago Tribune *
Venkatesh paints a detailed picture that reflects his close acquaintance with the neighborhood, moving from businesses that are legal but off the books to those that are entirely outside the law and talking to home-based food preparers and preachers, street hustlers and gang members...This is a Chicago you don't know, told in readable prose that puts most other sociologists to shame. -- Harold Henderson * Chicago Reader *
In Sudhir Venkatesh's newly published Off the Books: The Underground Economy of the Urban Poor, readers are introduced to a cast-royale of rogues, some loveable, others little short of detestable, who inhabit a super-isolated ghetto neighborhood in Southside Chicago...For four hundred pages, Venkatesh describes in intimate detail the often bizarre world of economic relationships in this urban edge zone, largely outside the web of economic, political, legal, and law-enforcement structures that dominate mainstream American life. The result is a compelling, deeply disturbing ground-level view of today's underclass...His approach--offering a pastiche of images of the ghetto economy rather than bombarding readers with statistics on income levels, life expectancy, and so forth--firmly situates Venkatesh in a long tradition of writers preoccupied with anecdotally chronicling America's underside and crafting verbal portraits of the colorful, often entertaining misfits on the margins...Overall, this is a fascinating look at a place and community that would otherwise remain entirely under the radar. If our economy and society throws up such spectacular inequalities, at the very least we owe it to the poorest of the poor to try to understand their lives, their struggles, their pain. Venkatesh takes us into this world; it's an often-ugly place, but, as Off the Books shows, it is also one that is strangely compelling. -- Sasha Abramsky * American Prospect Online *
[A] remarkable book. -- Paul Seabright * Times Literary Supplement *
[Venkatesh] immersed himself in Maquis Park, a poor black neighborhood on Chicago's Southside...He discovered and analyzed the diverse forms of unregulated, unreported, and untaxed work of small business owners. This "off the books" world thrives due to residents' lack of human capital, high entry costs, poverty, and social isolation. Venkatesh's analysis weaves hair salons, auto repairs, pimps, drug dealers, block club leaders, ministers, and gang leaders into an intricate web of exchange networks. Varied individuals are also called upon to mediate conflicts in the neighborhood. Venkatesh concludes that without significant changes in inner cities, the underground will flourish. Reminiscent of works by Elijah Anderson. -- J A. Fiola * Choice *
You may also be interested in...
×
Download the Waterstones App
Would you like to proceed to the App store to download the Waterstones App?
Reserve online, pay on collection.
Or,
add to basket
, pay online, collect in as little as 2 hours, subject to availability.
Thank you for your reservation
Your order is now being processed and we have sent a confirmation email to you at
When will my order be ready to collect?
Following the initial email, you will be contacted by the shop to confirm that your item is available for collection.
Call us on or send us an email at
Unfortunately there has been a problem with your order
Please try again or alternatively you can contact your chosen shop on or send us an email at