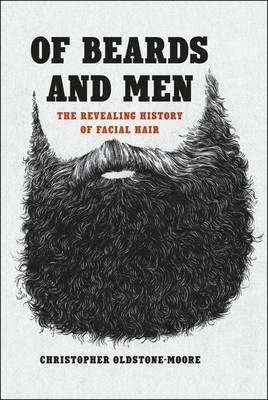 Hardback
352

Pages / Published: 15/12/2015
In stock online

Free UK delivery
Beards-they're all the rage these days. Take a look around: from hip urbanites to rustic outdoorsmen, well-groomed metrosexuals to post-season hockey players, facial hair is everywhere. The New York Times traces this hairy trend to Big Apple hipsters circa 2005 and reports that today some New Yorkers pay thousands of dollars for facial hair transplants to disguise patchy, juvenile beards. And in 2014, blogger Nicki Daniels excoriated bearded hipsters for turning a symbol of manliness and power into a flimsy fashion statement. The beard, she said, has turned into the padded bra of masculinity. Of Beards and Men makes the case that today's bearded renaissance is part of a centuries-long cycle in which facial hairstyles have varied in response to changing ideals of masculinity. Christopher Oldstone-Moore explains that the clean-shaven face has been the default style throughout Western history-see Alexander the Great's beardless face, for example, as the Greek heroic ideal. But the primacy of razors has been challenged over the years by four great bearded movements, beginning with Hadrian in the second century and stretching to today's bristled resurgence. The clean-shaven face today, Oldstone-Moore says, has come to signify a virtuous and sociable man, whereas the beard marks someone as self-reliant and unconventional. History, then, has established specific meanings for facial hair, which both inspire and constrain a man's choices in how he presents himself to the world. This fascinating and erudite history of facial hair cracks the masculine hair code, shedding light on the choices men make as they shape the hair on their faces. Oldstone-Moore adeptly lays to rest common misperceptions about beards and vividly illustrates the connection between grooming, identity, culture, and masculinity. To a surprising degree, we find, the history of men is written on their faces.
Publisher: The University of Chicago Press
ISBN: 9780226284002
Number of pages: 352
Weight: 590 g
Dimensions: 234 x 157 x 23 mm
---
MEDIA REVIEWS
"A finely detailed, borderline obsessive history. . . . Oldstone-Moore is a sensitive observer, who dispenses ironies with a light hand; tonsorially enthralled as he may be, he also seems in on the joke. His style is clipping and spry, free from the haughty grandiloquence and leaden jargoneering that characterizes much academic writing. . . . His long view on our unshaven history is likely to stand unchallenged for some time."
--New York Times
"Engaging . . . Readers will be enlightened as Oldstone-Moore links facial hair to gender perceptions, religious doctrine, military discipline, philosophical schools of thought, and more. . . . This is a great book for anyone who's ever pondered why Jesus is portrayed with a beard, wondered about the origin of Hitler's and Stalin's mustaches, speculated why the Amish grow beards but shave their moustaches, or realized that no U.S. presidential candidate has sported facial hair since Dewey lost to Truman."
--Publishers Weekly, starred review
"In
Of Beards and Men
, the historian Oldstone-Moore plumbs the many meanings of facial hair in Western history. . . . He writes well, and his erudition is impressive, enabling readers to learn all kinds of interesting things from this zigzag chronicle, which is basically a history of Western civilization as written on the faces of its leading men. Who knew, for example, that in 1968 Fidel Castro's regime barred facial hair for students at Havana University?"--Washington Post
"Much like growing a beard itself, the investment of time and patience (not to mention the occasional recombing) can be appreciated in hindsight. We learn that ancient Sumerians and Egyptians shaved to distinguish bearded lords from clean-shaven priests, and most of the gods of ancient Greece were portrayed as beardless while mortals were bearded. Oldstone-Moore devotes an entire chapter to explaining why Jesus was sometimes depicted with a beard and sometimes not--and it makes a lot of sense. . . .
Of Beards and Men
may not completely crack the code on facial hair, but once you've read it, it's unlikely you'll take any beard--or mustache--at face value again."--Los Angeles Times
"For everyone with a hirsute family member, a bearded patriarch, a fuzzy metro-sexual, here's a great gift, a not-entirely-serious account of why and when men grow facial hair. . . .
Of Beards and Men
is a history of beards, which begins in ancient times and works its way to the modern day, demonstrating when beards were cool and when they were not."--NPR Weekend
"Oldstone-Moore has a fantastic story to tell. . . He sees things other historians ignore and makes useful, even original connections. On Hitler and Stalin, he suggests that 'an analysis of mustaches might have alerted the Western allies to the real possibility of German-Soviet agreement.' Perhaps wary of being pigeonholed, he supplies two author photographs, one with a beard and one without. It's typical of the care, attention and dry wit to be found throughout this wholly admirable book."
--Daily Mail, book of the week
"We tumble through a series of lively case studies that illustrate those changing conceptions of masculinity Oldstone-Moore supposes changing attitudes to facial hair to represent. Despite excursions into the ancient, and the contemporary, Middle East, the focus remains on Western culture: Jesus's beard; Lincoln's beard; Hitler's mustache."
--Independent
"Of Beards and Men
is a fascinating, occasionally dizzying depiction of the oscillation between acceptance and prohibition of facial hair."--Toronto Star
"The history of civilization as we know it has been humankind's struggle to overcome nature, to assert order where entropy rules. But, as Oldstone-Moore writes in his book
Of Beards and Men
, each of us play out a microcosm of that struggle every morning in our personal grooming decisions."--Esquire
"Perhaps the most striking thing about
Of Beards and Men
is the revelation of one's own ignorance: who knew that such a fascinating through-line ran amid history, which itself ends up telling us so much about sexuality, gender, religiosity and sexual attraction? Oldstone-Moore has done so much more than to avoid easy tropes and clich d representations of facial hair and the men who wear it.
Of Beards and Men
is a sober and sensible but arresting walk through not simply a history of masculinity, but also the changing face of gender, sexuality, what's what in the world of cultural acceptance, and the world's changing tides of thought."--PopMatters
"Written in a very lively, witty, and accessible manner,
Of Beards and Men
is ambitious and compelling, surveying an impressive amount of material across a broad sweep of time. It wears its learning lightly, and Oldstone-Moore's fluid and witty prose makes the book eminently readable. A real page-turner!"--Christopher E. Forth, author of Masculinity in the Modern West
You may also be interested in...
Simply reserve online and pay at the counter when you collect. Available in shop from just two hours, subject to availability.
Thank you for your reservation
Your order is now being processed and we have sent a confirmation email to you at
When will my order be ready to collect?
Following the initial email, you will be contacted by the shop to confirm that your item is available for collection.
Call us on or send us an email at
Unfortunately there has been a problem with your order
Please try again or alternatively you can contact your chosen shop on or send us an email at