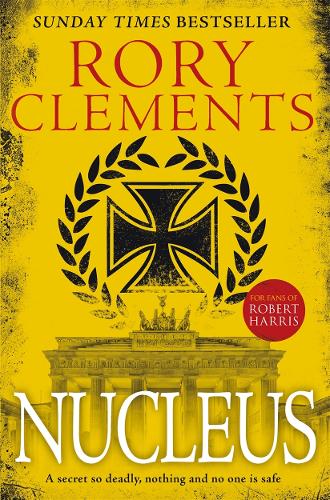 Hardback
384

Pages
Published: 25/01/2018
Email me when available
Stay one step ahead and let us notify you when this item is next available to order
×
Email me when available
Enter your email below and we will notify you when this item is next available to order.

Thank you
We will contact you when this item is next available to order.
The eve of war: a secret so deadly, nothing and no one is safeJune 1939. England is partying like there is no tomorrow, gas masks at the ready. In Cambridge the May Balls are played out with a frantic intensity - but the good times won't last...
In Europe, the Nazis have invaded Czechoslovakia, and in Germany he persecution of the Jews is now so widespread that desperate Jewish parents send their children to safety in Britain aboard the Kindertransport. Closer to home, the IRA's S-Plan bombing campaign has resulted in more than 100 terrorist outrages around England.
But perhaps the most far-reaching event of all goes largely unreported: in Germany, Otto Hahn has produced the first man-made fission and an atomic device is now a very real possibility. The Nazis set up the Uranverein group of physicists: its task is to build a superbomb.
The German High Command is aware that British and US scientists are working on similar line. Cambridge's Cavendish Laboratory is where the atom was split in 1932. Might the Cambridge men now win the race for a nuclear bomb?
Hitler's generals need to be sure they know all the Cavendish's secrets. Only then will it be safe for Germany to wage war.
When one of the Cavendish's finest brains is murdered, Professor Tom Wilde is once more drawn into an intrigue from which there seems no escape. In a conspiracy that stretches from Cambridge to Berlin and from Washington DC to the west coast of Ireland, he faces deadly forces that threaten the fate of the world.
Publisher: Zaffre
ISBN: 9781785763717
Number of pages: 384
Weight: 586 g
Dimensions: 242 x 160 x 32 mm
---
MEDIA REVIEWS
The history of this episode is eventful enough and, in this second of the Wilde series, the author whips it up into an additionally dramatic, twisty thriller. * Daily Mail *
Dramatic . . . pacy and assured * Daily Mail *
The series really hits its stride with the second volume. The murder of a physicist is one of many storylines that Clements juggles with aplomb * Daily Express *
Rory Clements evokes the nervous, reckless build up to the outbreak of war in a convincingly detailed thriller * Daily Mail *
an elegant, tense spy thriller * Sunday Express *
Political polarisation, mistrust and simmering violence * The Times *
A standout historical novel and spy thriller * Daily Express *
Enjoyable, bloody and brutish * Guardian *
Sends a shiver down your spine * Daily Mail *
A colourful history lesson . . . exciting narrative twists * Sunday Telegraph *
If you want to kick start your year with a cracking historical thriller then Nucleus is for you. I really liked the first book in the Tom Wilde series, Corpus, but this follow up is even better. As a thorough researcher, Clements has an impeccable sense of time and place. There are some very nice misleading threads that keep the reader on their toes but ultimately it all comes together as the pace builds to a nice crescendo. I am already looking forward to the next Tom Wilde novel. This is a great read. * Nudge Books, Book Noir *
Rory Clements has created two fine characters with Tom and Lydia and he deploys them with cleverness and skill. There's an air of intellectualism about these novels - as there would be with a professor for the central character - but there are no ivory towers here. The world is waking up to a second world war and Tom will have to get his hands dirty. With no doubt at all, this is one of the best historical and spy series being written today. I can't wait for more * For Winter Nights *
A very satisfying thriller that captures the spirit of the era perfectly, enlightens the reader with its intelligent, but never overpowering, use of historical and social detail * Raven Crime Reads *
Clements hits top gear in this entertaining new outing for the intrepid and unorthodox professor...In trademark Clements style, there are plot strands and twists aplenty as immaculately researched real history and a gripping sense of time and place blend seamlessly with a full-throttle, suspense-packed spy mystery that moves from Washington D.C. and the hallowed halls of Cambridge to German High Command in Berlin and the west coast of Ireland. Diverse characters like Nazi sympathisers, brave refugee smugglers and a Hollywood actress jostle with scientists, academics and politicians in a pulsating story that brings alive the fraught, paranoid and terrifying months when the world stood on the brink of war. Dark history with a thrilling fictional edge... * Lancashire Evening Post, Lytham St Annes Express, Lancaster Guardian, Leigh Observer, Blackpool Gazette, Wigan Today, The Visitor, Burnley Express *
Apart from Wilde and Lydia, the reader doesn't quite know who to trust and there is an effective and genuine surprise at the end when the identity of an enemy agent is revealed. Well-researched and plausible, Nucleus offers an attractive combination of history and suspense. * SHOTS magazine *
Nucleus is a fascinating historical thriller which is totally convincing in its authenticity, alive with menace and teeming with characters that stay with you long after the last page is turned. * Jaffa Reads Too *
The author knows how to write a killer final paragraph of a chapter and the whole things zips along leaving this reader slightly breathless at the end. I dislike the word 'unputdownable' and I'll be honest I did put this book down...but only for the time it took to make a cup of tea and then I was rushing back to pick it up again. With more thrills than a 100mph burn-up on Tom Wilde's trusty Rudge Special, Rory Clements has produced another cracking historical thriller. If you thought Corpus was brilliant, wait until you read Nucleus. Sign me up for Tom Wilde #3! * What Cathy Read Next *
Clements seems to have struck a perfect balance between a thriller which is full of espionage and mystery while keeping it light enough that it's easy to follow and a relatively quick read. Clements is a confident and assured writer and this is a good mystery full of twists and turns which are heightened because of the historical and political context. * Bibliomaniac *
Tom Wilde is a well-drawn central character...There are several red herrings laid in his path and I must admit that I found the story quite a complex one and certain characters kept me guessing. Cambridge in the late 1930's shone like a jewel in the story and a glance at Rory's website has some interesting information about the period. In short: well written, detailed and substantial, the suspense builds throughout. * Books, Life and Everything *
This is what a good action political thriller should be and I couldn't turn the pages fast enough. An excellent story and I can't wait to read what else Rory Clements has in store for Tom and Lydia... * Broad Bean Books *
The plotting is superb and deliciously intricate. You do need to keep your wits about you and keep alert and the rewards are enormous. I was thoroughly immersed in the plot and caught up in the tension. Lydia is arguably the most appealing and interesting of all of the characters in the novel. It's good to read a spy novel in which women play an equal role...With no doubt at all, this is one of the best historical and spy series being written today. I can't wait for more. * For Winter Nights *
Nucleus is an exhilarating page turner...I enjoyed Nucleus and I found Tom Wilde to be an endearing and compelling protagonist. Readers who are looking for an introduction into historical fiction should add Nucleus to their lists of must reads. * Murder and Moore *
there is certainly enough real and plausible drama, and satisfying plot twists to make me stay, not only with this, as a recommended read - but be keen to hope Clements still has places to go with Tom Wilde * Lady Fancifull *
Professor Tom Wilde finds himself the central character in this gripping conspiracy spy thriller. It's compelling from start to finish * Choice Magazine *
With subtle sub-plotlines threading through this clever and Darkest Hour timely yarn, quality evenings by the bedside lamp are guaranteed * Weekend Sport *
I loved the intricacies of this puzzle and can't wait to be thrust back into the dizzying (anti) social whirl of pre-war Cambridge again * Crime Fiction Lover *
This is a gripping tale...Tom Wilde is an iconic protagonist and I had so much fun following him throughout his fascinating venture. NUCLEUS is an absolutely and utterly brilliant spy thriller that I would highly recommend * Bookishly Ever After *
The whole things zips along leaving this reader slightly breathless at the end. I dislike the word 'unputdownable' and I'll be honest I did put this book down...but only for the time it took to make a cup of tea and then I was rushing back to pick it up again * What Cathy Read Next *
Somehow Clements manages to keep a firm grip on both his readers and his narrative, creating a pacy and dramatic historical spy thriller in the process. There is little time to draw breath as the author weaves his magic and places his characters in a series of increasingly dangerous situations. As the twisty plot drives the main characters towards the gripping conclusion, everyone finally must take a side and put their beliefs and lives on the line. An excellent read that will surely not be the last we hear of Professor Tom Wilde. * Historical Novel Society *
a very enjoyable return to Cambridge with my new favourite hero, and I'm already looking forward to the next book in the series * The Secret Library Site *
All the best thrillers inform as well as entertain, and Rory Clements offers us the choreography as well as the tap dance...on the basis of this superbly plotted work Professor Wilde will be packing his Walther automatic along with his fountain pen for some time to come * Catholic Herald *
Against a pleasingly authentic backdrop, [Clements] handles his complex factual material deftly, seamlessly integrating fictional characters and real people. And he manipulates his plot like a potter working clay. A sudden tweak, your perceptions are altered, and you're looking at a story of an entirely different shape... This is even better than Wilde's first outing, Corpus. If the upward trajectory continues, the next one will be very fine indeed * Church Times *
A cast of colourful characters, a plot rich in deception and intrigue, and a tangled web of espionage and murder is a real rollercoaster, equally appealing to fans of historical 'faction' or of spy fiction and thrillers. This is another standout historical thriller from a fine writer who can turn his hand to any historical period and brings the urgency of a news story to the frame of the novel * Crime Review *
This is a fast paced, clever narrative with strong characterisation * Journal Online *
You may also be interested in...
×
Download the Waterstones App
Would you like to proceed to the App store to download the Waterstones App?
Reserve online, pay on collection


Thank you for your reservation
Your order is now being processed and we have sent a confirmation email to you at
When will my order be ready to collect?
Following the initial email, you will be contacted by the shop to confirm that your item is available for collection.
Call us on or send us an email at
Unfortunately there has been a problem with your order
Please try again or alternatively you can contact your chosen shop on or send us an email at