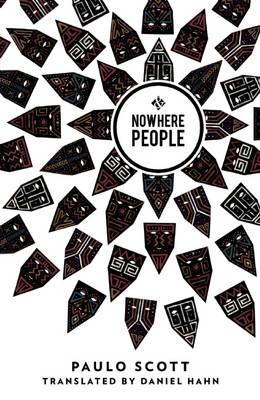 Paperback
336

Pages / Published: 07/08/2014
Driving home, law student Paulo passes a figure at the side of the road. The indigenous girl stands in the heavy rain, as if waiting for something. Paulo gives her a lift to her family's roadside camp. With sudden shifts in the characters' lives, this novel takes in the whole story: telling of love, loss and family, it spans the worlds of Sao Paulo's rich kids and dispossessed Guarani Indians along Brazil's highways. One man escapes into an immigrant squatter's life in London, while another's performance activism leads to unexpected fame on Youtube. Written from the gut, it is a raw and passionate classic in the making, about our need for a home.
Publisher: And Other Stories
ISBN: 9781908276384
Number of pages: 336
Weight: 295 g
Dimensions: 198 x 129 x 20 mm
---
MEDIA REVIEWS
'A powerful, complex and very ambitious voice. In the contemporary Latin American literature scene, Paulo Scott is a must-read.' Juan Pablo Villalobos, author of Down the Rabbit Hole and Quesadillas -------- 'Nowhere People highlights issues faced by indigenous Brazilians'. The Herald (Glasgow) -------- 'One of Scott's many merits is to show daring, on many levels. Scott is not afraid to create one of the most interesting voices in recent fiction. And that is the voice of a Guarani Indian girl. Maina is far from the stereotypes of the "noble savage" that orientate our literature and culture. Maina speaks.' O Globo -------- 'Immensely powerful. [...] This novel tackles post-dictatorship Brazilian ideologies better than anything else in fiction.' O Estado de Sao Paulo -------- 'Nowhere People is an inexhaustible font of surprises that the author's firm hand manages to harmonise.' Rascunho -------- 'Nowhere People is not your average book.' Folha de Sao Paulo -------- 'Stands out not just through its confrontation with its subject matter, but through Scott's particular style of writing - Nowhere People is an uncomfortable and strangely brilliant social history of post-dictatorship Brazil, chronicling the young left's fears after the honeymoon period of civilian rule, alongside the continuing prejudices against its indigenous tribes.' David Faulds, The Literateur -------- 'A lush postmodern spin on the intergenerational state-of-the-nation saga... Daniel Hahn's translation of this somersaulting, playful, emotionally pummelling and occasionally oblique novel is, one assumes, a feat of ventriloquism and linguistic plate-spinning: Nowhere People weighs in at only 300 pages, but contains multitudes'. Booktrust --------'An introduction, through [protagonist] Paulo's eyes, to the complex issues surrounding race and class in modern day Brazil. Post-World Cup 2014, the details here feel particularly resonant.' Maria-Luisa Meredith, Buzz -------- 'It is powerfully but sympathetically written, with an engaging cast of characters. Another fascinating work from the crowd funded house of And Other Stories'. Journal of the Law Society of Scotland -------- 'This raw and passionate tale set in Brazil about love, loss and family explores the sharply contrasting worlds of Sao Paulo's wealthy young people and the people of the dispossessed Guarani tribe - a classic in the making.' The National, Abu Dhabi -------- 'Embodiment of the complex relationship between upper-middle-class politics and impoverished, indigenous culture' Kirkus -------- 'Paolo Scott is one of the best novelists of his generation and is going to surprise us in the future. Of all the novels of the last five years, I really love Nowhere People. It is one hell of a book.' Joao Gilberto Noll, Posfacio -------- '[A] literary hand-grenade...a series of meditations on revolution, on homes, and on love in the form of an energetic and wide-flung story tracking two people and the lives they collide with.' Brooklyn Rail -------- 'The And Other Stories machine often seems unstoppable. Like Marvel Studios, they have reached a point where their brand seems to almost guarantee success. It would be easy, then, for them to rest on their laurels and start pumping stuff out. Fortunately, this doesn't seem to be the case...Nowhere People is a novel that, the moment you put it down, demands to be reread'. Matt Todd, A Novel Approach ------- 'Nowhere People is a provocative and interesting read, and feels timely given the focus on corruption and waste in Brazilian politics after the World Cup protests - Overall, this is another great release from And Other Stories.' Thom Cuell, workshyfop -------- 'The major achievement is the creation of the character and voice of Maina, the young girl who is deracinated by her encounters with 'Western' civilisation. The other achievement is that skill with which Scott retains our attention and interest in the two, across decades and continents against a background of post-dictatorship Brazil and Thatcher-ruled London. It is the ultimate expression of everyone's need for a real home.' Michael Johnston, Akanos -------- 'Nowhere People is, I think, an exceptional book. It's a clever, thoughtful, beautifully written, perceptive telling of a story that hasn't been told before. (I hope you'll read it when it's out and I hope you'll agree.)' Aysmptote -------- 'An audacious story, the novel fizzes with anger' Richard Lea, The Guardian ------- 'Scott writes with a fitful, kinetic energy, even a certain fury, as his novel leapfrogs between Brazilian social classes ... A revolutionary new work of Brazilian literature - The book's translation, by Daniel Hahn, is in itself a wondrous feat.' Words Without Borders ------- 'Original as well as reminiscent of the modernist masters. It seems Scott is keen to communicate the overwhelming emotions and unsettledness that preoccupy his characters...There is a strong sense of authenticity as the intrinsic connection between the author and his protagonists shines through. Despite cool, polite detachment the story is not without blood and guts. In fact, political argument and passion are well balanced. Overall, this novel is highly engaging, heartfelt and beautifully written.' Writers' Hub------'Nowhere People by Paulo Scott stands way out among the books I read in 2014. It's the kind of novel you read and already look forward to reading it again although it makes such a painful read. Translated from the Brazilian Portuguese by Daniel Hahn, it is an innovative and emphatic j'accuse by a former lawyer and activist, a great example of the possibility of political engagement through literature, a reminder of one of the worst crimes in the history of mankind, the crime of displacing and annihilating indigenous people around the globe. Read this if you don't mind crying.' Alexandra Buchler, director of Literature Across Frontiers, PEN Atlas, Best Books in Translation------'Short, shocking, lyrical, and very modern novel, Nowhere People is one of 2014's most exciting releases in any language - bold, fragmentary, funny and sad, it reproduces the texture of contemporary life with irony and love, and deals with the last two decades of the twentieth century in a way that's all about the twenty-first.' Pete Mitchell, Booktrust, Best Translated Books of 2014-----
You may also be interested in...
×
Download the Waterstones App
Would you like to proceed to the App store to download the Waterstones App?
Reserve online, pay on collection


Thank you for your reservation
Your order is now being processed and we have sent a confirmation email to you at
When will my order be ready to collect?
Following the initial email, you will be contacted by the shop to confirm that your item is available for collection.
Call us on or send us an email at
Unfortunately there has been a problem with your order
Please try again or alternatively you can contact your chosen shop on or send us an email at