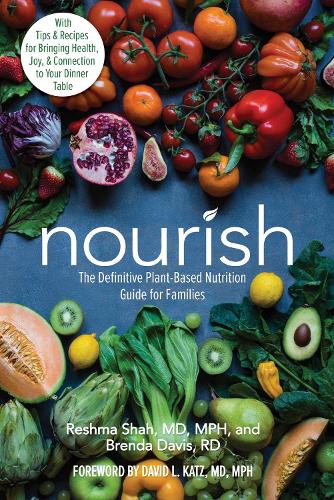 Nourish: The Definitive Plant-Based Nutrition Guide for Families--With Tips & Recipes for Bringing Health, Joy, & Connection to Your Dinner Table (Paperback)
Reshma Shah

(author)

,

Brenda Davis

(author)

,

David L. Katz

(foreword)
Paperback
448

Pages
Published: 18/02/2021
An evidence-based, practical resource that explores the many benefits of a plant-based diet and provides parents with the tools they need to feed their families for health and with joy.
Gold Award, 2020 Nautilus Book Awards, Health, Healing, Wellness & Vitality Category
Canada Book Award, Best Books of 2020, Health Category
While nearly all parents agree that a nutritious diet is important for children to thrive, most feel that their children are not eating a healthy diet. This is not surprising, given the demands of busy families and confusing, conflicting research about what diet is 
really
 best for health.
Nourish 
offers the solution parents have been waiting for when it comes to deciding what and how to feed their families. Authors Reshma Shah, MD, a plant-based pediatrician and affiliate clinical instructor at Stanford University School of Medicine, and Brenda Davis, RD, a world-renowned expert and pioneer in plant-based nutrition, will empower parents to become the experts of nourishing their families. 
Parents will learn:  
How a diet centered around plants can optimize health, prevent chronic disease, care for our planet, and be an act of radical compassion.
Nutrition specifics for all the stages of childhood—from pregnancy and breastfeeding all the way through adolescence.
Tips, strategies, and mouthwatering recipes to bring all of this information to their dinner tables as they transition to plant-based eating.
Publisher: Health Communications
ISBN: 9780757323621
Number of pages: 448
Weight: 581 g
Dimensions: 229 x 152 x 28 mm
---
MEDIA REVIEWS
"Nourish: The Definitive Plant-Based Nutrition Guide for Families is the book plant-based and plant-curious families have been waiting for. It is meticulously researched, clear, and insightful. If you have questions about raising plant-based children, this is the book you can trust for the answers." 

—Michael Greger, MD, New York Times bestselling author, founder of Nutritionfacts.org "If you want to know what kind of food is healthiest for you and your kids, this is your book. In Nourish, you will finally get all the answers to every question you've ever had regarding any member of your family, and every bit of it is incredibly well-researched and backed up by peer-reviewed science. Get ready, because you're about to feel empowered to lift your family to a whole new level of wellness—and it will be delicious!"

—Kathy Freston, New York Times bestselling author of Quantum Wellness, The Lean, and Clean Protein "As a father of four, there are few things as important as the well-being of our family. The food we eat has a profound effect on overall health, yet more than ever, people are confused and in search of guidance. Nourish is the roadmap to optimum wellness you and your family have been looking for. Expert advice backed by science is coupled with tips and easy-to-follow recipes. Brenda and Reshma are as brilliant as they are passionate and make it incredibly easy for you and your family to live your best life.

—Marco Borges, exercise physiologist and New York Times bestselling author "Nourish is the perfect guide for the very best of nutrition. It starts with the why—giving you a solid understanding of why food matters—and then provides the how—showing you easy ways to turn your knowledge into meals that can revolutionize your health and your family's health, too. The authors are world-class leaders in nutrition sciences, and they are also experts in making meal-planning approachable, fun, and delicious."

—Neal D. Barnard, MD, FACC, adjunct professor, George Washington University School of Medicine and president, Physicians Committee for Responsible Medicine "Nourish is simply the book for any family wanting to raise healthy children. At a time when companies marketing junk foods are spending billions to get our children hooked for life, and confusion reigns about the pros and cons of various diets, you have cause for gratitude. This wonderful book will fortify you and your whole family against the predatory practices of industrial food companies, and it is also jam-packed with useful and practical guidance that is 100 percent supported by science. Get it, read it, and heed it—and it will guide you and your family on a delicious, convenient, and exquisitely health-promoting food journey. If you want your children to thank you for the rest of their lives, get this book."

—John Robbins, bestselling author and president of 650,000+ member Food Revolution Network "Nourish takes the mystery out of eating for optimal wellness—not only for yourself but for those you love and nurture. Plan on keeping this book nearby as a trusted resource and constant companion. No one makes healthful, compassionate eating as clear and concise as Brenda and Reshma."

—Colleen Patrick-Goudreau, author of The 30-Day Vegan Challenge and The Joyful Vegan  "Just when you think a comprehensive guide to adopting plant-based eating could not be made fun and family friendly, along comes Nourish by seasoned pediatrician Dr. Reshma Shah and renowned registered dietitian Brenda Davis. This book tenderly introduces us to arguably the most important concepts in health, ecology, and ethics today with a tone that is clear, enlightening, and empowering. The authors—who are both parents and working professionals—courageously explore the aspects of making plant-based diets work in the real world, from shopping on tight food budgets with unforgiving time crunches, to feeding picky eaters and growing toddlers. Nourish provides a sane, reassuring, and practical path to evolving your food choices to those that will deliciously transform your life, the lives of those you love,  and all of our futures. It will be my go-to book that I suggest for my patients who need to make the plant-based transition. Savor the life-affirming journey that Nourish offers—you are in good hands."

—Michael Klaper, MD, program director of Moving Medicine Forward Initiative "Nourish is the definitive resource we've been waiting for. Brenda and Reshma couple research and experience with a practical, welcoming approach so that nutritious plant-based meals can be on every family's table. From nutritional specifics to practical concerns, Nourish delivers with expert support and guidance." 

—Dreena Burton, author of Plant-Powered Families

  "Reassuring and packed with essential information, this is the book all parents need to ease their family's transition to a plant-based diet. Writing with warmth and enthusiasm, Reshma and Brenda provide the tools and the knowledge that will allow anyone to confidently choose a more compassionate and healthy way of eating."

—Virginia Messina, MPH, RD, author of Vegan for Life "Nourish, by Reshmah Shah, MD, MPH, and Brenda Davis, RD, is an outstanding guide for families adopting plant-based diets and for health professionals who want accurate, up-to-date, and reader-friendly nutrition information. This book is exceptionally well written and provides carefully researched scientific material plus a wealth of practical tips. Nourish guides readers expertly through the potential challenges of pregnancy, lactation, childhood, and adolescence. It includes helpful information on meal planning along with recipes that the whole family will enjoy.

—Vesanto Melina, MS, RD, lead author of the current position paper on vegetarian diets of the Academy of Nutrition and Dietetics "What we eat in our childhood has far-reaching and powerful effects on our health throughout our entire life. Nourish is a well-researched and authoritative work that gives parents the most accurate information to assure their child's well-being. But more than that, this book can help anyone at any age understand and apply the foundational principles of nutritional excellence to prevent health problems, support our emotional well-being, and even protect our planet.

—Joel Fuhrman, MD, New York Times bestselling author and president of Nutritional Research Foundation "Evidence continuously supports the myriad advantages that a plant palate proffers. Dr. Reshma Shah and Brenda Davis have gifted the world with this comprehensive, conscientious, and caring guide to help families navigate a plant-based diet safely, healthfully, and effectively. Nourish is an informationally dense tome that belongs in every family's library."

—Julieanna Hever, MS, RD, CPT, author of The Healthspan Solution and Plant-Based Nutrition (Idiots Guides) "In Nourish, parents will finally find what they have been looking for—the complete guide to a plant-based lifestyle for the whole family from experts they can trust. Beautifully written and relatable, this book is the perfect nutrition guide for kids. Parents, this is the book you've been waiting for."

—Dr. Gemma Newman "Nourish will give you and your family the info, answers, recipes, and umph to maximize your plant-based lifestyle with 100 percent confidence. With Brenda and Reshma at the helm, you can rest assured that no stone will be left unturned as you and your loved ones set sail to the plant-strong promised land!"

 —Rip Esselstyn, founder of Plant-Strong by Engine 2 "This year, if you had only one book to help you and your family reach optimal health, it would be Nourish. Based on science and written to be easily applied to your life, we assure you this book will be a life-changing gift."

—Ayesha Sherzai MD, and Dean Sherzai, MD, co-directors of the Alzheimer's Prevention Program at Loma Linda University Medical Center and authors of The Alzheimer's Solution "This book is a complete nutrition guide for families that would like to eat more plant-based food. It's evidence-based, practical and loaded with the information and tools you need to raise a healthy vegan family. It covers nutrition specifics across all the stages of childhood—from pregnancy and breastfeeding all the way through to adolescence. It also features delicious recipes, including quick meals that can fit around a busy schedule."

—Veganuary.com, "10 Books to Help You Through Veganuary"
You may also be interested in...
×
Download the Waterstones App
Would you like to proceed to the App store to download the Waterstones App?
Reserve online, pay on collection


Thank you for your reservation
Your order is now being processed and we have sent a confirmation email to you at
When will my order be ready to collect?
Following the initial email, you will be contacted by the shop to confirm that your item is available for collection.
Call us on or send us an email at
Unfortunately there has been a problem with your order
Please try again or alternatively you can contact your chosen shop on or send us an email at