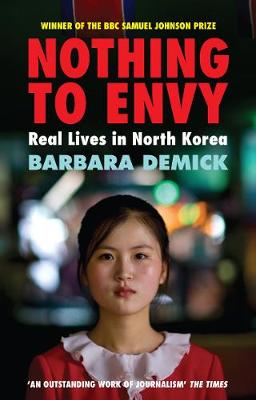 Nothing To Envy: Real Lives In North Korea (Paperback)
Barbara Demick
(author)
Paperback
336

Pages
Published: 08/07/2010
Through six defectors' compelling stories, Demick's endlessly illuminating work builds a rounded and authentic picture of daily life inside the Democratic People's Republic of Korea.
Shortlisted for the Baillie Gifford Winner of Winners Award
Updated in 2014 with a new epilogue.
If you look at satellite photographs of the far east by night, you'll see a large splotch curiously lacking in light. This area of darkness is the Democratic People's Republic of Korea… It is baffling how a nation of 23 million people can appear as vacant as the oceans. North Korea is simply a blank.
North Korea is Orwell's 1984 made reality: it is the only country in the world not connected to the internet; Gone with the Wind is a dangerous, banned book; during political rallies, spies study your expression to check your sincerity.
After the death of the country's great leader Kim Il Sung in 1994, famine descended: people stumbled over dead bodies in the street and ate tree bark to survive. Nothing to Envy weaves together the stories of adversity and resilience of six residents of Chongin, North Korea's third largest city. From extensive interviews and with tenacious investigative work, Barbara Demick has recreated the concerns, culture and lifestyles of North Korean citizens in a gripping narrative, and vividly reconstructed the inner workings of this extraordinary and secretive country.
'Weaving together the accounts of six North Korean defectors, the American journalist Barbara Demick has created a fascinating portrait' – The Guardian
Publisher: Granta Books
ISBN: 9781847081414
Number of pages: 336
Weight: 237 g
Dimensions: 198 x 129 x 20 mm
---
MEDIA REVIEWS
A rare and valuable insight ... Nothing to Envy is a searchlight shining on a country cloaked in darkness Barbara Demick's achievement is to restore a measure of humanity to 23 million human beings. Many scholars have pored over North Korea's atrocious history, its fearful politics, abysmal economics and blood-curdling propaganda. No writer I know has done a better job of clothing these academic concerns with the rich detail of the lives of ordinary people - explaining, simply, what it feels like to be a citizen of the cruellest, most repressive and most retrograde country in the world A most perceptive and eye-opening account of everyday life in North Korea This report on the lives of six of the citizens of totalitarian penal colony is unputdownable and deeply affecting, a worthy winner this week of the Samuel Johnson Prize for Non-fiction Taking the cases of six individuals and their families, Demick constructs a harrowing narrative of the North's slide into famine following the death of the elder Kim in 1994 ... The Kim dynasty, whose Stalinist cruelty Demick graphically chronicles, has shown remarkable staying power I loved it - I couldn't pull myself away. This is the first book I've read which tells me about the inner lives of individual North Koreans and the universal cruelty of that regime. Reading this book, I've learnt something about how it feels to be North Korean - it's not unimaginable anymore, but it's even more painful than I could have predicted Demick weaves stories derived from interviews and conversations, conducted over a number of years, into a compelling narrative. Her book is a reminder that oral history is one of our greatest resources. Its use in Nothing to Envy makes for a valuable contribution to the literature on North Korea A fascinating study in the oral history of Korea in the last decade of the twentieth century ... Nothing to Envy is a fascinating work which highlights in the lives of the individuals concerned the triumph of the human spirit in the face of overwhelming adversity The shroud of silence and misinformation surrounding North Korea means these stories of six lives inside the Democratic People's Republic of Korea, as told to Los Angeles Times journalist Barbara Demick by "defectors", are a revelation Barbara Demick, the Beijing bureau chief of the Los Angeles Times, has occasionally been to the north, but on visits so strictly controlled as to be worthless. Talking with émigrés and escapees now living in the south has provided the material for this terrific, often gruelling work of reportage. It gives a harrowing, surreal glimpse of what she calls "this hermit kingdom", which is so secretive and little known that it is the only country on earth not connected to the internet A fair, modest and informative book about North Korea, a country little known and less understood ... most of what her informants say is repeated in indirect speech, and I found their testimonies varied and convincing ... There is much to learn form this carefully written book that draws few conclusions beyond well-grounded individual cases. Barbara Demick says that in satellite pictures of the Far East, North Korea is an "area of darkness". She makes this black hole at least medium grey Beijing-based journalist Demick draws on extensive interviews with North Koreans who have defected to the South, revealing the truth of ordinary life within Kim Jong-Il's bizarre and repressive Stalinist state A lovely work of narrative non-fiction ... that offers extensive evidence of the author's deep knowledge of this country while keeping its sights firmly on individual stories and human details Eye-opening portrait of the downtrodden and monochrome lives of six ordinary citizens of North Korea ... Granta's comparisons with Stasiland are apt and you keep having to remind yourself this isn't fiction Nothing To Envy is based on her in-depth interviews with defectors - and their accounts are as harrowing as you would expect Writing a properly researched book on North Korea seems next to impossible. But in Nothing to Envy, Barbara Demick has done it ... Demick is thorough and fair on the troubled history of Korea In a detailed account of North Korea, Demick looks beyond the country's politics to engage with the human experience and suffering of its residents This remarkable book confirms our fears but does much more and is the deserving winner of the 2010 BBC Samuel Johnson Prize ... Barbara Demick is a reporter of impressive tenacity and thoroughness ... Many of those who defected have found their freedom hard to handle. Theirs have been lives twice blighted. But Demick does them proud Barbara Demick, who has an easy winning style, introduces us to a county of suppressed impulses and state propaganda ... This compelling book, a worthy winner of the BBC Samuel Johnson prize, details the experiences of six North Koreans who defected to China or South Korea I've never read anything quite like it ... Demick has unearthed some heartbreaking human stories Awarded this year's Samuel Johnson Prize for non-fiction, this book by the former Korea correspondent of the Los Angeles Times uses the accounts of six defectors to reconstruct everyday life under the secretive communist regime A fascinating portrait of a population bred from birth to be state automatons ... Alongside the daring prison breaks and midnight escapes through icy rivers to reach China, the tales of everyday love and loss make Nothing to Envy impossible to put down ... Demick's important book, by illuminating previously hidden aspects of North Korean life, helps restore humanity to some of the world's most oppressed people This is an extreme book ... I've never read anything like it ... Demick has unearthed some heartbreaking human stories This compelling account of life and death in Korea is eye-opening and often heart-rending. Demick's perceptiveness in describing the inner life of individual North Koreans both enthrals and horrifies. One of the most fascinating books of the year An elegant, honourable and meticulously referenced account of a country the author calls "grimly dysfunctional". It is an inspiring read. Thoroughly deserving winner of the Samuel Johnson Prize. Much-praised 2010 winner of the Samuel Johnson Prize for Non-Fiction, this is a painstakingly researched and gruelling account of the hardships and cruelties of life in the world's most isolated, eccentric and oppressive state A story of epic stoicism and suffering and illuminated by such jaw-dropping details as the doctors who have to donate their own skin to conduct operations A brilliant, timely work of very modern history and a deserving winner of the 2010 BBC Samuel Johnson prize Amy Bloom turned her unflinching gaze on the map of the human heart, finding solace in our ability to love no matter what gripping, revealing, enraging and unexpectedly inspiring A vivid picture of life in the Hermit Kingdom. It deserved the awards it has been winning Redolent and disturbing, an account of real lives drawn from interviews with defectors from the shadowy (actually dark) and sinister world of North Korea A rare light on so hidden a country, and all the more remarkable for its unfailingly engaging humanity
You may also be interested in...
×
Download the Waterstones App
Would you like to proceed to the App store to download the Waterstones App?
Reserve online, pay on collection


Thank you for your reservation
Your order is now being processed and we have sent a confirmation email to you at
When will my order be ready to collect?
Following the initial email, you will be contacted by the shop to confirm that your item is available for collection.
Call us on or send us an email at
Unfortunately there has been a problem with your order
Please try again or alternatively you can contact your chosen shop on or send us an email at