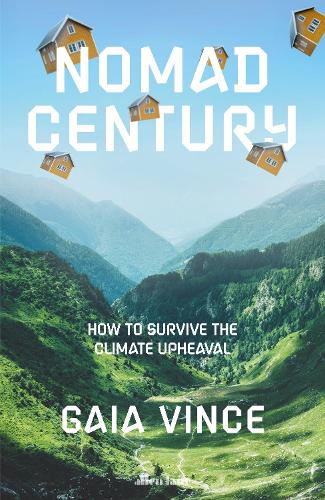 Nomad Century: How to Survive the Climate Upheaval (Hardback)
Gaia Vince
(author)
Hardback
288

Pages
Published: 25/08/2022
Powerful, provocative and intelligent, Nomad Century explores the ever-accelerating effects of global warming on human habitats whilst offering a hopeful path forward through rethinking our urban structures and food practices to help the planet to heal.
Shortlisted for the James Cropper Wainwright Prize for Writing on Global Conservation 2023
An urgent investigation of the most underreported, seismic consequence of climate change: how it will force us to change where - and how - we live.
We are facing a species emergency. With every degree of temperature rise, a billion people will be displaced from the zone in which humans have lived for thousands of years. While we must do everything we can to mitigate the impact of climate change, the brutal truth is that huge swathes of the world are becoming uninhabitable. From Bangladesh to Sudan to the western United States, and in cities from Cardiff to New Orleans to Shanghai, the quadruple threat of drought, heat, wildfires and flooding will utterly reshape Earth's human geography in the coming decades.
In this rousing call to arms, Royal Society Science Book Prize-winning author Gaia Vince describes how we can plan for and manage this unavoidable climate migration while we restore the planet to a fully habitable state. The vital message of this book is that migration is not the problem - it's the solution. Drawing on a wealth of eye-opening data and original reporting, Vince shows how migration brings benefits not only to migrants themselves, but to host countries, many of which face demographic crises and labour shortages. As Vince describes, we will need to move northwards as a species, into the habitable fringes of Europe, Asia and Canada and the greening Arctic circle.
While the climate catastrophe is finally getting the attention it deserves, the inevitability of mass migration has been largely ignored. In Nomad Century, Vince provides, for the first time, an examination of the most pressing question facing humanity.
Publisher: Penguin Books Ltd
ISBN: 9780241522318
Number of pages: 288
Weight: 480 g
Dimensions: 236 x 162 x 26 mm
---
MEDIA REVIEWS
'With the government's migration policy in such appalling disarray, Gaia Vince's Nomad Century has to be the most timely book of the year. Vince's calm, compassionate and authoritative explanation of the inevitability of migration is essential reading... there should be a copy on every desk in Whitehall' - Michael Brooks, Books of the Year, New Statesman
'A tour de force... Nomad Century should be on the reading list of anyone and everyone in any position of power. It is not simply a future atlas of human geography showing where will be habitable and for how many, but a hard-hitting must-read on how we will need to live in the coming decades to secure the long-term survival of humankind' - Anjana Ahuja, Financial Times
'Essential, bold and clear-sighted... I have yet to read a book that takes the question of how to survive the coming decades more seriously' - David Farrier, Prospect
'A powerful, provocative argument' - Nature
'After a summer of climate catastrophes, not least the appalling floods that left a third of Pakistan under water at the end of August, now should be the moment to consider radical solutions' - Philippa Nuttall, New Statesman
'Engaging and constructive... Vince leaves the reader with more than a few sparks of hope' - Herald
'Gaia Vince's new book should be read not just by every politician, but by every person on the planet, because it lays out, much more clearly than any existing scientific assessment, the world we are creating through global heating... Passionate and powerful' - Bob Ward, Observer
'Powerful... it holds much wisdom with which to tackle the challenges of our turbulent century... Nomad Century is a visionary book, an attempt to imagine how climate change might reshape our notions of what is politically possible' - Ben Cooke, The Times
'Nomad Century is a landmark work - terrifying in its message and urgency, but ultimately empowering in its conviction about a path forward. Gaia Vince lays bare the scale of the challenge before us, and the grand ideas that will be needed to meet it. We must be ready; this book shows us how' - Ed Yong
'Once again Gaia Vince demonstrates that she is one of the finest science writers at work today' - Bill Bryson
'The climate crisis already has millions of people on the move, and that number will steadily grow higher till it breaks the political structures of the planet - unless, as the author suggests, we start now to remake those structures so they can cope, and indeed benefit, from the flow of humans that is now inevitable. An important and provocative start to a crucial conversation' - Bill McKibben
'This book is a rather astounding addition to a growing body of thought that suggests the twenty-first century is going to include, and even require, lots of human migration-and that handled correctly, this could be part of a good adaptation to the climate and biosphere crisis we are now entering. What Vince gives us here is some cognitive mapping to understand the situation and see a way forward' - Kim Stanley Robinson
'Vince's perspectives and proposals are refreshing in a world where a Don't-Look-Up-style denial is solidly in place... If this book results in even a smidgeon more sympathy for the huge numbers of people being forced away from their homes, that will be a great thing' - Sally Hayden, Irish Times
'Nomad Century is the most important book I imagine I'll ever read. Gaia Vince calmly – without drum-banging or hand-wringing – sets forth likely consequences and end-of-century projections for our rapidly changing planet. It'll knock you flat. But before you hit the ground, she hands over an impressively detailed survival plan: supporting radical migration from newly uninhabitable regions, rethinking urban structures and food practices, restoring climate. The book is heavily researched, but Gaia's clean, intelligent prose propels the reader' - Mary Roach
Terrifying, yet strangely hopeful and immensely important. I'm not sure if you can 'love' a book about our precarious future but this is essential reading. Nomad Century brings together the two most pressing issues of our time: the climate emergency and migration. Every single one of us will be affected by this - and therefore we should all read this book. It's packed with facts, solutions and even some optimism ... so, yes, maybe I actually do 'love' it' - Andrea Wulf
'Brilliant. The most far-sighted book on migration I have read. Gaia Vince doesn't waste a sentence. Read this to understand our future' - Henry Mance
'Nomad Century will broaden your horizon when thinking about the biggest humanitarian crisis of known history. A passionate plea for humankind' - Ece Temelkuran
'Vince sounds the air raid siren for humanity, then offers a thrilling path forward. A harrowing then inspiring read' - Musa Okwonga
'Rigorously researched, accessibly written and illuminating... Vince's book makes a persuasive case that we can meet the momentous tasks ahead' - Geographical
'The UN's International Organisation for Migration predicts as many as 1.5 billion environmental migrants by 2050, with many fleeing drought, flood and wildfire. The coming together of two hot-button issues - the climate crisis and migration - is the basis for Nomad Century (Allen Lane) by Gaia Vince, an essential book on how humanity must adapt as the planet warms and some regions become uninhabitable. The question, she says, is whether the transition will be managed calmly or whether "hunger and conflict will erupt - an unconscionable outcome that would endanger us all"' - Anhana Ahuja, Books of the Yearm New Statesman
'After a year in which wildfires, storms and floods have driven thousands from their homes, this book's warning about a rising population of climate migrants has a chilling resonance. The survival solutions it offers - such as global freedom of movement - are not entirely persuasive. But the case it makes for fresh thinking is utterly convincing' - Pilita Clark, Books of the Year, Financial Times
'The Home Secretary, Suella Braverman, has said that she dreams of sending planes full of migrants to Rwanda. But policymakers are in denial about the number of people who will be forced to move as the impacts of climate change become more profound, argues the scientist Gaia Vince in Nomad Century: How to Survive the Climate Upheaval (John Murray). She calls for us all to step up and manage migration humanely' - Philippa Nuttall, Books of the Year, New Statesman
'In the opening chapters of Nomad Century, science writer and broadcaster Gaia Vince paints a stark picture of what the world is likely to look like if global average temperatures rise 4 DegreesC above pre-industrial levels. This isn't a distant or unrealistic prospect: climate models suggest we're currently heading towards a 3 DegreesC-4 DegreesC rise by the end of the century - less than three generations away. In this rigorously researched, accessibly written and illuminating book, Vince examines what these changes will entail and how we should respond, ending with an eight-point 'manifesto' to guide us. While not shying away from the scale of the challenges, she doesn't give in to fatalism or inertia: '[We] are facing a species emergency - but we can manage it' - Books of the Year, Geographical
'My first choice is Nomad Century by Gaia Vince, a brilliant and disturbing analysis of how climate change will affect the world's migration patterns. Vince argues that, instead of being afraid, we should embrace these new migratory movements. After all, she says, civilisations have all been built on the backs of migration. It is both a disturbing and a hopeful read' - Baroness Boycott, Book of the Year, Politics Home
You may also be interested in...
×
Download the Waterstones App
Would you like to proceed to the App store to download the Waterstones App?
Reserve online, pay on collection


Thank you for your reservation
Your order is now being processed and we have sent a confirmation email to you at
When will my order be ready to collect?
Following the initial email, you will be contacted by the shop to confirm that your item is available for collection.
Call us on or send us an email at
Unfortunately there has been a problem with your order
Please try again or alternatively you can contact your chosen shop on or send us an email at