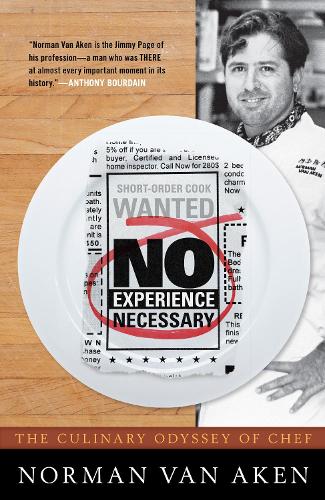 No Experience Necessary: The Culinary Odyssey of Chef Norman Van Aken (Hardback)
Norman Van Aken
(author)
Hardback
352

Pages / Published: 07/12/2013
No Experience Necessary is Chef Norman Van Aken's joyride of a memoir. In it he spans twenty-plus years and nearly as many jobs-including the fateful job advertisement in the local paper for a short-order cook with "no experience necessary." Long considered a culinary renegade and a pioneering restaurateur, Van Aken is an American original who chopped and charred, sweated and seared his way to cooking stardom with no formal training, but with extra helpings of energy, creativity, and faith. No Experience Necessary offers a uniquely personal, highly-entertaining under-the-tablecloth view of the high-stakes world of American cuisine told with wit, insight, and great affection by a natural storyteller.
Publisher: Taylor Trade Publishing
ISBN: 9781589799141
Number of pages: 352
Weight: 649 g
Dimensions: 237 x 159 x 30 mm
---
MEDIA REVIEWS
This is not your mother's cookbook, and it's not truly a cookbook, at that, although recipes are slapped in as palate cleansers between restaurant-themed chapters detailing chef and cookbook author Van Aken's escapades. Yet this might just be the book to hand to nearly every raffish, wanna-be-something male in sight-a rowdy, fist-pumped-in-the-air memoir of a guy who found his way chopping, dicing, and wreaking havoc. Van Aken's story starts in the 1970s, so there's hitchhiking, Volkswagens needing push starts, and fired-up grills (and girls) around every corner. Though his kitchen mates tend to serve f-bombs with every meal, Van Aken seems like a pretty good guy, gamely trying his hand at many non-food-related jobs, marrying the young lady he truly loved, and his enthusiasm for his life is evident in every exclamation point. Like Forrest Gump with a carving knife, the chef serves up tales of hearing Jimmy Buffet in a little Key West dive, partying at Tennessee Williams' house, and more, all in an era before celebrity chefs truly sprouted. Come and get it while it's hot-bad language, good times, fine dining. * Booklist *
Cookbook author, award-winning chef, and restaurant owner Van Aken (Feast of Sunlight; The Exotic Fruit Book) details his journey from Diamond Lake, IL, to Key West, FL, and back again in this entertaining memoir. He guides the reader through his early years as a cook and, later, a chef, in what feels like a conversation around the hot line on a slow night, with a bit of gin in a mug. (Don't end up wearing the sauce, though.) Van Aken's relaxed tone will draw in readers, and colorful language abounds (one memorable chapter is titled 'Shit Happens'). He hilariously describes an intriguing cast of characters, including a sprinkling of celebrity chefs in their early years and the unusual figures that populated a wild Key West and even a not-so-wild Illinois. Each chapter concludes with a recipe (e.g. 'Flame on Shish Kabob,' 'Bicycle Sammy's Potato Salad'). VERDICT: Those who love food, food culture, South Florida, and biographies will enjoy this romp through the 1970s and 1980s as Van Aken evolves from entry-level cook to a famous chef, with many stops in between. * Library Journal *
[In] vivid prose, Van Aken's narrative speeds through restaurants, anecdotes, and oddball characters. Each chapter ends with a flourish: a recipe from a particular stage of his career. . . . Van Aken has crafted an unlikely tale of a hippie kid who helped raise Margaritaville to a culinary destination. * Publishers Weekly *
...I'm struck for this cook's passion to be fed. This culinary memoir includes a smattering of recipes mostly derived from kitchens of Van Aken's colorful past, like a gin and tamarind tea cocktail he once served to Tennessee Williams so delicious it will now become a summer staple in my home. But the book's main focus is on the sacred friendships Van Aken formed with the late Charlie Trotter (whom Van Aken took from busboy to the kitchen) and Emeril Lagasse. He also pays tribute to other mentors and friends that have since passed; had this book gone to print just a few months later, his devoted friend Charlie-who died this past November-would have been included on that list. * Saveur *
Peppered liberally with Floribean recipes from his namesake Orlando restaurant and full of salty anecdotes, the James Beard Award winner's confessional cookbook offers an inside-the- kitchen view of a celebrity chef's career. Van Aken's misadventures with Emeril Lagasse and Charlie Trotter are the stuff movies are made from. * Orlando Magazine *
It is hard to think that as much a "melting pot," "salad bowl," or whatever other food analogy is used to describe this country, it has only been recently that its ethnic cuisines have been embraced by the oppressively high standards of the culinary world. Chef Norman Van Aken is one reason why...In his recently published memoir, No Experience Necessary, Van Aken writes about his unconventional journey of becoming a chef and the experiences leading up to the discovery of this American cuisine. * Smithsonian Magazine *
This yarn is peppered with the savory characters Van Aken came across on his adventures, including Emeril Lagasse, Anthony Bourdain, and even Julia Child. Then there are the unsung heroes of his adventures, such as ex-Navy man, Fred Boomer, who with two broken arms, taught Aken to make soup. * Short Order, The Miami NewTimes blog *
[A] great read from the man who's called 'The Father of New World Cuisine,' and a must-read for anybody with aspirations to not only work in a kitchen but to live the most romantic chef's life possible. * FoodRepublic.com *
No Experience Necessary chronicles his thrilling journey, along with great recipes interspersed between each chapter. * Orlando Style Magazine *
It is a rollicking story, full of near-misses and worthwhile achievements, and Van Aken tells it with gusto. * Virtual Gourmet *
Van Aken is a terrific storyteller. * Palm Beach Post *
Norman Van Aken is the Jimmy Page of his profession-a man who was THERE at almost every important moment in its history. The OG of South Florida, New World cuisine, and a guy who knows where every body is buried . . . many of them to be found in No Experience Necessary. -- Anthony Bourdain
Not only is Norman Van Aken's culinary career astonishing, but his personal journey is perhaps even more amazing. He is completely self-taught as a chef, and he is perhaps the most literary-focused culinarian in America. This wonderful book brilliantly documents his extraordinary odyssey. -- Charlie Trotter, James Beard Award-winning chef and author
For Norman Van Aken, being a chef is a passion that has taken him on an incredible journey that he's artfully poured into No Experience Necessary. His brilliant, witty storytelling will leave you inspired and hungry for more. It's a must-read for aspiring chefs across the globe. -- Emeril Lagasse
Fasten your seat belts-No Experience Necessary is here. Anyone wondering what it's like to live as a chef, and anyone who is wondering if they should, must read this book. Best stories since Kitchen Confidential: everything from an `Orgasmic. Lethal. Righteous' steaming rice raised to Charlie Trotter's lips to the hilarious story of local gadfly and bartender (`a notorious flamer even by Key West standards') failing to kill himself in two feet of Caribbean sea water. I adore this book. -- Jeremiah Tower, chef, author, architect, adrenalist
No career path is straightforward, but some are fated. Norman Van Aken took a circuitous route to the kitchen, but it is where he was meant to be. The American culinary landscape would not be the same without his vision, his authenticity, and his highly personal and remarkably provocative food-and his food would not be as delicious if not for his story and the recipes in this essential tome. -- Mario Batali, chef, author, entrepreneur
Norman Van Aken was a true pioneer of the American food movement in the 1980s, when chefs began to combine regional inspirations with modern cooking techniques. He was the first to blend Florida and Caribbean flavors with a classically trained approach to fine cuisine, and the first meals I ever ate in his restaurant were revelations and are still memorable today. One of the best things about dining experiences with Norman is his warm, kind-hearted, good-humored personality. It comes through in this book, just as it does in his cooking to this day. -- Wolfgang Puck
Norman Van Aken's memoir is as byzantine as a Russian novel but lots more fun. It's bawdy, bizarre, and often brilliant, with an abundance of marquee names. Appearances by Tennessee Williams, Jimmy Buffet, Julia Child, and, behaving badly, Burt Reynolds and Prince Stefano of Monaco. (Queen Victoria gets a mention, but posthumously.) One of the most delightful menu-writers of his generation, Van Aken has crafted an exhilarating groaning board of uninhibited culinary writing. It spans the length of the American food revolution, historically and geographically, and could have been titled Continental Confidential. -- Alan Richman, GQ Magazine
Although best known for bringing New World Cuisine into the culinary spotlight, Norman Van Aken has also managed to write one of the most compelling and page-turning memoirs I've read. No Experience Necessary is pure Norman as I have come to know him as a friend-revealing, funny, and brutally honest. And just as a memorable dish leaves you wanting more, so too will the pages of this delicious book. -- Thomas Keller, The French Laundry
Anyone contemplating becoming a chef has got to read Norman Van Aken's new book. As someone who entered the profession when it was not even remotely glamorous, Van Aken offers a personal odyssey of hard work, low pay, high anxiety and comic relief before he achieved recognition as one of America's most innovative chefs who became an inspiration for many to follow. Van Aken gets to the heart, soul and belly of the matter and does so with a mixture of justified pride and rigorous attention to detail. -- John Mariani, food and travel columnist for Esquire Magazine
Nobody says `rollicking' anymore, but that's the perfect word to describe Norman Van Aken's highly entertaining memoir-with-recipes-a sort of nonfiction picaresque novel as full of color and spice and wit as his celebrated cooking. -- Colman Andrews, editorial director, TheDailyMeal.com
Norman Van Aken has written a memoir as wild, lovely, and free as the winds off the Florida Straits. Studded with remarkable characters and places, as well as unforgettable dishes, No Experience Necessary is a marvelous piece of culinary history. The story of one man's transformation into chef and innovator, this memoir also paints a portrait of a cultural zeitgeist-a defining time in the national food scene. Van Aken writes with the heart of a chef and the soul of a poet, delivering a rich, vital image of America as seen through the kitchen door. -- Diana Abu-Jaber, author of The Language of Baklava and Birds of Paradise
Part Kitchen Confidential, part On the Road, and completely Norman Van Aken, No Experience Necessary is a picaresque tale of a life well-lived, in which food has played a major role. It is a delectable view of the education of a culinary star and comes complete with recipes that round out each chapter. So pull up a chair, pour a glass of the good red and savor! Bon appetit! -- Jessica Harris, food historian, professor, lecturer, and author of High on the Hog: A Culinary Journey from Africa to America
No Experience Necessary is a rollicking tale of a kid with heart who dives headfirst into cooking, and into life. -- Nathan Myhrvold, James Beard Award-winning coauthor of Modernist Cuisine: The Art and Science of Cooking and Modernist Cuisine at Home, and author of The Photography of Modernist Cuisine
Norman's life with food transcends that of a chef. He has brought us all a great gift with his craft, passion, and commitment. How wonderful to finally have this amazing journey documented for everyone to enjoy. -- Steve McPherson, president, ABC Television Network, and owner of PROMISE Wines
`I was hungry' is how Chef Norman Van Aken explains his incredible journey as one of America's best-loved chefs. His memoir is an energetic and entertaining read. It's a tale of naughtiness, niceness, and deliciousness as he invites the reader to experience his travels as a teenager responding to a `no experience necessary' ad to becoming a James Beard Award-winning chef. His life story is both romantic and tantalizing. As he shares many of his favorite recipes tied to the colorful personalities in his life, he left me hungry for even more recipes and stories! -- Susan Ungaro, president, James Beard Foundation
Norman is an inspiration to chefs everywhere. His story and drive to make a name for himself as the Father of New World cuisine not only put the rich flavors of the Florida region on the map, it provided insight and universal attention to our craft. -- Marcus Samuelsson, co-owner of Red Rooster Harlem
Reading No Experience Necessary was an unexpected surprise. I had always known and admired Norman Van Aken as a chef, but was unaware of his skills as a riveting and wonderful writer. His passion for food is artfully woven with his remarkable career and rich experiences-seasoned with influences from around the world-without losing insight on his fascinating personal life. I, for one, cannot wait to see the widescreen version of this book! -- Ken Hom, OBE, BBC-TV presenter, and author of 100 Easy Chinese Suppers and many other titles
Who knows when we start out on the journey of life where it will lead. But when there's passion in your heart, you're gonna follow your dreams no matter what obstacles may be in the way-you keep pressin' on and when you look back and see where you've been and how you got to where you are, you just smile and say `what a ride.' Norman's been blessed-he was given a talent and a gift and has shared them, letting others `enjoy the ride.' What can one say but mmm, mmm, good. No, great!!! Thanks from one who has had just a little `taste' of that talent. -- Richie Furay, founding member of Buffalo Springfield, Poco and the Souther Hillman Furay Band, Rock and Roll Hall of Fame inductee, and pastor of Calvary Chapel
With sturdy charm and addictive aplomb, Norman Van Aken traces his remarkable, wholly unconventional culinary education. `I was hungry for a lot of things,' Van Aken admits early in his picaresque primer, and instantly you believe him, and start rooting for his younger self-a long-haired, hitchhiking kid from Illinois-as he sets out to fill that void with a hard-earned passion for cooking. -- Monique Truong, author of The Book of Salt and Bitter in the Mouth
Norman has a great story and tells it so well-it's smart, funny, soulful, engaging. Let this be an inspiration to anyone who wants to become a top chef without going into insane hock for cooking school. -- Regina Schrambling, gastropoda.com
Norman and I go back over thirty years. He was the first chef I met who could combine a unique, sometimes crazy blend of fresh, local, premium ingredients to create extraordinary flavor. This book shares his remarkable journey, from a myriad of odd jobs to line cook to eventually becoming the Father of New World Cuisine. It just goes to show you that you may have to make a few detours, but you inevitably reach your destiny. Norman tells a great story . . . lives a great story . . . IS a great story. -- Dickie Brennan, New Orleans chef/restaurateur
Norman Van Aken has had an incredible journey in the world of food. I think anyone interested in how great American chefs do it, this memoir is for them. -- Paula Wolfert, James Beard Award-winning cookbook author
No Experience Necessary is a fun read by a truly spirited chef. Norman's recipes bring the stories to life and will have you taking a trip down your own memory lane. A must-read for anyone who's ever worked in the restaurant industry! -- Eric Ripert, chef and co-owner of Le Bernardin, New York
Norman's memoir-with-recipes, No Experience Necessary, takes readers behind the scenes as he develops his culinary philosophy and unique cuisine while shattering the glamorous myth of the life of a celebrity chef. This book shares the heartbreaking, heartwarming, and occasionally hilarious struggles of one of the country's leading New American chefs to reach his destiny. -- Karen Page and Andrew Dornenburg, two-time James Beard Award-winning authors of The Flavor Bible, What to Drink with What You Eat, Culinary Artistry, and Becoming a Chef
An honest and compelling life story interspersed with a lifetime of great recipes-this pioneering chef's journey from short-order cook to stardom is one terrific read. I enjoyed every minute! -- Barbara Fairchild, writer, educator, and former editor-in-chief of Bon Appetit
This is one of those equally sacred and profane (well OK, lots more profane) memoirs of life in the kitchen told by one of America's greatest chefs. As with Jimmy Buffett's music, you absolutely can't get hungry anywhere tropical without lusting after Norman Van Aken's food. After this book, we'll lust after his anecdotes as well, many featuring the likes of Charlie Trotter, Emeril Lagasse and other genre-busting food personalities. In this fast-paced memoir, as in a kitchen when you're slammed, tenses and time zones shift shamelessly along with quick bursts of memory, and the dish you're cooking now becomes the dish you first cooked 25 years ago-with the now-dead guy who taught it to you looking over your shoulder again, probably frowning. To crib from some of the book's first words, No Experience Necessary is as `as a la minute as humanly possible.' -- John DeMers, journalist, author, and host of radio's "Delicious Mischief"
Everybody knows that Norman can cook, but who knew he was such a talented storyteller? No Experience Necessary is packed with so many unexpected twists and turns-and boasts so many vivid characters-that it reads more like a thriller than a chef's autobiography. Cooks and noncooks alike will have a hard time putting this book down. -- Sara Moulton, host of Sara's Weeknight Meals
One of the best memoirs you will ever read. Norman's odyssey through life and through the kitchen not only touches me personally, but it illustrates his role as a true pillar in the evolution of culinary culture in America. This book will forever hold an elevated spot in my library-as Norman does in my life. Norman's writing brings to mind the Key West of Hemingway-he makes me want to pick up, move, and start my own adventure. -- David Myers, chef/ founder of Hinoki & the Bird, Comme Ca, and Pizzeria Ortica
Even after enjoying so much of Norman's delicious, innovative food, I am amazed at what it took to become a chef. This is an enticing odyssey indeed, rich with success and failure, collegiality, loyalty, and most of all dedication. -- Mimi Sheraton, food journalist and former restaurant critic for the New York Times, Time, and Conde-Nast Traveler
Norman Van Aken, in this brilliant and witty biography, tells us to stick to our gut instinct-to do what we want to do, and to work hard and unceasingly to reach our goals. Norman, throughout the course of his challenging journey with the support of his wife, Janet, eventually grew and enriched himself enormously both professionally and personally. Everyone, not just those who are heading to a culinary career, will learn that life can be wonderful if you face it seriously and fearlessly and work, work, work on it! -- Hiroko Shimbo, award-winning cookbook author and consulting chef
Norman's adventure from prep cook to rock-star chef, with all its hair-raising pit stops is hilarious. Fasten your apron strings-it's a thrilling ride! -- Mary Sue Milliken, chef-owner of Border Grill restaurant and truck
Norman Van Aken remembers highways, hotels, cars, bosses, kitchens, bars, accolades, smells, critiques, employees, sunrises and sunsets. He holds such info near to his heart and knows that creativity comes from all experience, not select moments. Here we have a former carny, vagabond and horndog weaving us around ovens and tables full of perfect salads, exquisite fish and . . . corn dogs. Poignant and ribald, through lean times and green times, this author cooks-and he can write, too! Spicy details are the essence of a fine meal, and details are the truth and soul of a good tale. Norman's story is captivating-you'll keep reading and forget to eat. -- Tom Corcoran, author of The Quick Adios (Times Six)
Reading Van Aken is like being a fly on the wall during the American food revolution of the last thirty years. -- Dorothy Cann Hamilton, founder and CEO, The International Culinary Center
A compelling story of how life shapes, forms, and influences the person we are and ultimately the person we become. Even more, it is a story of how we make the most of what we have and the most of what life gives us. From an aimless wanderer to a James Beard awardee and celebrated restaurant owner, Norman invites us to follow him in the pursuit of himself. This is a must-read for all aspiring cooks. -- Bradley Ogden, James Beard Award-winning chef and president of Bradley Ogden Hospitality
This is the vivid, true story of what restaurant life used to be-as America was coming of age in many ways, including in its culinary scene. The restaurant life was wildly mobile, deeply crazy and often seriously inebriated by booze, adrenaline, endorphins and rage. But there's a deep innocence and real passion, for survival, living, learning, loving, sharing and making a difference-to the people we love and those we've barely met. -- Clark Wolf, restaurant consultant, TV/radio personality, columnist, and avid blogger
I very much liked reading the history of Norman Van Aken. Reading the details of his life is a great education for any young man or woman planning to become a chef. No Experience Necessary is a well-written and engaging life story. -- Alain Sailhac, Master Chef of France, dean emeritus at the Culinary Center in New York City
Norman Van Aken is the quintessential Floridian: a wanderer turned native son. As a chef, he commands the nuance of natives, as well as the broad-strokes perspective of adventure-seeking travelers. On the plate, Van Aken captures the essence of Florida-the Cuban soul, the Southern roots, the South American echoes and Haitian exclamation points, they all share space, deliciously so. In No Experience Necessary, Van Aken invites us to ride shotgun along the back roads of America's steamiest food region. He delivers an irreverent, salsa-fied take on the road film that has been his culinary career. Buckle up! -- Liz Balmaseda, Pulitzer Prize-winning columnist, and food and dining editor, Palm Beach Post
In his exquisitely penned memoir, we travel with Norman Van Aken through years of personal reminiscing that never ceases to delight. We are with him as he searches for meaning, and for the inspiration that still feeds his unending hunger for flavor and for life. His words are witty, irreverent, riveting, and poignant. I enjoyed witnessing the moments of epiphany when, through his genius and in spite of many of life's tumultuous detours, Norman found his culinary destiny and the world finally met the chef who would change the way we eat. In my view, his story is still unfolding in an exciting and delicious way, and I, for one, can't wait to see what comes next! -- Sandra A. Gutierrez, author of The New Southern-Latino Table
No-holds-barred here: No Experience Necessary is a truly amazing and well-written book. It is a real glimpse into our culinary world, complete with profanities. This book is so refreshing that an old-soul chef shows his depth and character through his writing, and his life experiences. A great book to read for all, especially for the next generation of chefs. Congratulations Norman-this is a masterpiece! -- Alan Wong, James Beard Award-winning author and restaurateur
Norman Van Aken looks at sunsets differently than most, which is as good a reason as any for why he wound up in Key West with all the other restless and relentless seekers, the inquisitive head-scratchers, and members in good standing of the wonder brigade self-recruited from America's less-questing climes. Norman wants to know. He wants to show. And share. And he's done this all with food-his world. His story is straight ahead (with detours). -- Jim Poris, Food Arts magazine
As this humorous and insightful memoir makes clear, Norman's has been the life of an artist. In his creations as in his rise to culinary stardom, he has made adventure an everyday part of his life. Rethinking a planet of sensations, Norman has made the world taste great. -- Ricardo Pau-Llosa, poet and art critic
Norman's writing gives readers all the magic ingredients necessary to make the journey of life delicious, comforting, and fun. Follow these pages to live Van Aken style-with brilliance, generosity, and without a dull moment. I am a fan of Norman's: his food, and now, this engagingly readable book. -- Suvir Saran, author of Masala Farm and Indian Home Cooking and owner of Sacred Monkey
An amazing story from one of the true culinary heroes of America. This book will keep you up all night! -- Vinny Dotolo, chef, cofounder of Animal, Son of a Gun, and Trois Mec
This book is a captivating record of a turning point in American history when young chefs were discovering their talents and passion for food. Norman's part in that movement is fascinating. -- Daniel Boulud, chef/owner, The Dinex Group
Norman Van Aken is among the seminal American chefs who brought American cooking into its own, and No Experience Necessary is a classic chef memoir in the Kitchen Confidential, no-holds-barred style appropriate to a chef who came of age in the 1970s. I am truly grateful for this excellent, bawdy record of America's restaurant kitchens in the late twentieth century. -- Michael Ruhlman, author of The Soul of a Chef, and many other books
No Experience Necessary isn't just about the food-it's Norman's remarkable journeys that preceded it, and earned him a very special place in American cuisine. It's food worth eating and a story well worth reading. -- Peter Greenburg, travel editor, CBS News
Van Aken recounts scores of hilarious escapades from his mad, mad career. With such an exciting, unexpected path, one might be tempted to retitle No Experience Necessary to The Accidental Chef-but that would mislead, for it's no accident that Van Aken has done more than survive those escapades. Instead, he has risen to the top of his profession and his art, as this book chronicles both humbly and amusingly. No Experience Necessary is a must-read for soul searchers, whether in the kitchen or out of it. -- Juliette Rossant
Norman's story is a full-throttle roller-coaster ride, so strap yourself in and witness how an unbridled journey can lead to culinary greatness. His food, like his journey, is bold, brazen, delicious, and totally uncompromising; an American original. -- Sanford (Sandy) D'Amato, chef and author of Good Stock: Life on a Low Simmer
To quote Norman, `every journey is part of the life we live.' No Experience Necessary embodies the journey one takes when they become enamored by the restaurant business. It's about the friends and family we take with us, and the friends and colleagues we meet along the way. Long before there were `celebrity chefs,' one simply cooked for the love of cooking-it's not for the money; God knows that's true. It's for the love of it, all of it, and for the joy and appreciation for the art of hospitality. Norman has proved himself a master of it; he is a true virtuoso! -- Tony Abou-Ganim, founder and proprietor, The Modern Mixologist, and author of The Modern Mixologist and Vodka Distilled
While the Food Network and reality cooking shows are entertaining and interesting, No Experience Necessary goes a lot further. It's an insider's look at the revolution in food the last 30 years by one of the most passionate players on that stage. It delves into the heart and soul and mind of what it means to be a chef-an epic tale of a culinary life full of passion, bravado, endurance, skill, and luck, sprinkled with some misfortunes. Norman's commitment to truth is intimidating. This biography is completely captivating and entertaining; by far the most emotionally accurate read of what it means to live a life as a chef, told by the Huckleberry Finn of the food world. -- Mark Miller, chef, writer, culinary adventurer
As Van Aken (My Key West Kitchen: Recipes and Stories, 2012, etc.) readily admits in his delightful, oftentimes laugh-out-loud memoir, his journey into the life of restaurant cooking occurred by happenstance: He needed a job, and a diner needed a cook, no experience necessary. What unfolded over a 20-plus-year span was the slow maturation of a teen into a man and of a clumsy and untrained novice into a chef who rode the edge of the New American cuisine wave as it broke on the shores of America. From Illinois to Key West, Van Aken takes readers behind the scenes and deep into the hearts of the restaurants for which he worked, where the kitchen life was energized, hectic and often swelteringly hot. With no formal schooling in the culinary arts, the author watched like a hawk, asked numerous questions and read cookbooks by some of the best chefs in the world while learning the ins and outs of French cuisine, ethnic Latin American, Italian and Japanese foods, as well as the new fusion style of American cooking. At first, however, he did it all with a certain amount of reluctance, as he writes: 'A kitchen job again? Oh my God! What crimes did I do in a former life to merit this role again?' Nicely intertwined with the fast-paced antics of the kitchen are Van Aken's reflections on his romantic life with his wife and son. The author pays homage to the many chefs who influenced him in his career and recounts moments with some of the greats, like Julia Child, Charlie Trotter and Emeril Lagasse. As an added bonus, Van Aken includes a wide variety of recipes mentioned in the text. A lively romp into the frenetic life of a significant American chef. * Kirkus *
...[A] rollercoaster on two wheels - hilarious vignettes of real-life kitchens and a lowly cook's life from sun-up to sun-up again. * Florida Weekly *
No Experience Necessary is not in any sense a wine book, but its lessons are relevant to anyone who loves wine, food and life. * Wine Spectator *
Van Aken's story of his evolution from short order cook to acclaimed pioneer of new world fusion cuisine is frank and raucous. His vivid writing, in which small, sharp details bring to life a first encounter with a new hire, a crisis on the line, or a slow-motion car crash of a meal in an august restaurant, elevates this far above the run-of-the-mill dutifully respectful career chronicle. Very worthwhile. And a blast to read. * Kitchen Arts & Letters *
The book breaks down the vast experience Van Aken ended up with, burn by burn, kitchen by kitchen. * Miami Herald *
For lovers of great food, great restaurants and great tales, No Experience Necessary is a must-read. * Salt Lake City Weekly *
You may also be interested in...
Simply reserve online and pay at the counter when you collect. Available in shop from just two hours, subject to availability.
Thank you for your reservation
Your order is now being processed and we have sent a confirmation email to you at
When will my order be ready to collect?
Following the initial email, you will be contacted by the shop to confirm that your item is available for collection.
Call us on or send us an email at
Unfortunately there has been a problem with your order
Please try again or alternatively you can contact your chosen shop on or send us an email at