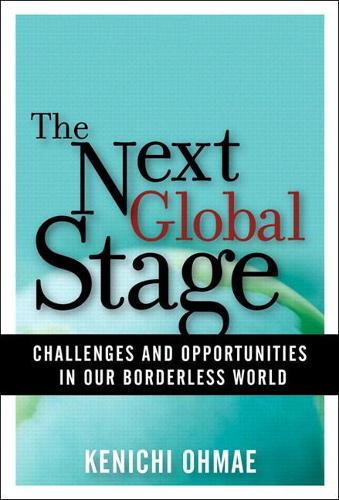 Next Global Stage: The: Challenges and Opportunities in Our Borderless World (Paperback)
Kenichi Ohmae
(author)
Paperback
312

Pages / Published: 10/09/2009
Globalization is a fact. You can't stop it; it has already happened; it is here to stay. And we are moving into a new global stage.
A radically new world is taking shape from the ashes of yesterday's nation-based economic world. To succeed, you must act on the global stage, leveraging radically new drivers of economic power and growth. Legendary business strategist Kenichi Ohmae-who in The Borderless World, published in 1990, predicted the rise and success of globalization, coining the very word-synthesizes today's emerging trends into the first coherent view of tomorrow's global economy-and its implications for politics, business, and personal success.
Ohmae explores the dynamics of the new "region state," tomorrow's most potent economic institution, and demonstrates how China is rapidly becoming the exemplar of this new economic paradigm. The Next Global Stage offers a practical blueprint for businesses, governments, and individuals who intend to thrive in this new environment. Ohmae concludes with a detailed look at strategy in an era where it's tougher to define competitors, companies, and customers than ever before.
As important as Huntington's The Clash of Civilizations, as fascinating as Friedman's The Lexus and the Olive Tree, this book doesn't just explain what's already happened: It offers a roadmap for action in the world that's beginning to emerge.
New economics for a borderless world
Why Keynes' and Milton Friedman's economics are history-and what might replace them
Leveraging today's most powerful platforms for growth
From Windows to English to your global brand
Technology: driving business death-and rebirth
Anticipating technological obsolescence-and jumping ahead of it
Government in the post-national era
What government can do when nation-states don't matter
Leadership and strategy on the global stage
Honing your global vision and global leadership skills
Publisher: Pearson Education (US)
ISBN: 9780137043781
Number of pages: 312
Weight: 386 g
Dimensions: 235 x 159 x 17 mm
---
MEDIA REVIEWS
Harvard Business Review's Review of The Next Global Stage
The Next Global Stage:Challenges and Opportunities in Our Borderless World
Kenichi Ohmae
(Wharton School Publishing, 2005)

In the early 1900s, German physicist Werner Heisenberg laid the foundations for quantum mechanics, a set of rules showing that at the subatomic level Newtonian physics was irrelevant. Just as quantum mechanics upstaged Newton, says strategist Kenichi Ohmae, a radical new model is upending old notions about the global economy. In this sprawling book, Ohmae warns that governments, businesses, and leaders that cling to their Newtonian approaches will become irrelevant themselves.

The heart of Ohmae's thesis will be familiar to readers of his previous books, including The Borderless World (1990) and The Invisible Continent (2000): In the new global economy, the nation-state, and the protectionist economic thinking that goes with it, is obsolete. Nation-states have borders, armies, flags, currencies, and a development-stifling instinct to protect their economies from the outside world. As global economic players, they're being displaced by "region states"-borderless centers of vibrant economic activity that welcome global trade and investment, like the Shutoken metropolitan area of Japan and Guangzhou in China.

If the rules of the old economy no longer apply, Ohmae ventures, then neither do the old rules of business. Fair enough. The problem is, he says, no one knows, or can know, what the new rules are: "By the time any rule book or user's manual appears...the 'new rules' will already be obsolete." What business leaders can be sure of, Ohmae argues, is that massive change without requires massive change within. That means wall-to-wall rethinking of corporate mission, strategy, and organization. Companies must cut loose from their "ancestry" and, for instance, compete by selling the very products that threaten them. Clinging to the core, as Kodak did in the face of predation by digital-camera makers, is a recipe for failure in this new age.

Companies must cast off their sentimental attachment to the nation-states where they're headquartered and jettison their hierarchies and old approaches to markets. Their leaders must become visionary facilitators without preconceived attitudes about their roles-ready to embrace even the idea that the best leader may be a team, not an individual. There can be no half measures in this radical transformation, Ohmae says, no testing the waters before taking the plunge.

It's a strong prescription. Unfortunately, this lively book can't, by its own admission, give business readers what they want most: practical advice for competing in the global economy. But it does remind executives to pry their gaze from the present and set it firmly on the future. As Heisenberg well understood, the more doggedly you map where a moving target is, the less you know about where it's headed.

-Gardiner Morse
You may also be interested in...
Simply reserve online and pay at the counter when you collect. Available in shop from just two hours, subject to availability.
Thank you for your reservation
Your order is now being processed and we have sent a confirmation email to you at
When will my order be ready to collect?
Following the initial email, you will be contacted by the shop to confirm that your item is available for collection.
Call us on or send us an email at
Unfortunately there has been a problem with your order
Please try again or alternatively you can contact your chosen shop on or send us an email at