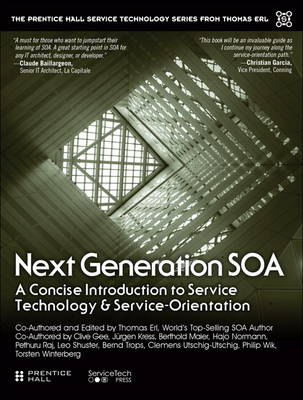 Paperback
208

Pages / Published: 13/11/2014
The Concise Introduction to Modern SOA: High-Value Approaches, Innovative Technologies, Proven Use Cases
After a decade of innovation in technology and practice, SOA is now a mainstream computing discipline, capable of transforming IT enterprises and optimizing business automation. In Next Generation SOA, top-selling SOA author Thomas Erl and a team of experts present a plain-English tour of SOA, service-orientation, and the key service technologies being used to build sophisticated contemporary service-oriented solutions.
The starting point for today's IT professionals, this concise guide distills the increasingly growing and diverse field of service-oriented architecture and the real-world practice of building powerful service-driven systems. Accessible and jargon-free, this book intentionally avoids technical details to provide easy-to-understand, introductory coverage of the following topics:
Services, service-orientation, and service-oriented computing: what they are and how they have evolvedHow SOA and service-orientation change businesses and transform IT culture, priorities, and technology decisionsHow services are defined and composed to solve a wide spectrum of business problemsDeep implications of the service-orientation paradigm--illuminated through an annotation of the classic SOA ManifestoTraditional and contemporary service technologies and architecturesHow clouds and virtualization support the scalability and reliability of services-based solutionsSOA-based industry models, from enterprise service to global traderA detailed case study: how real enterprises bring together contemporary SOA practices, models, and technologies
Next Generation SOA will be indispensable to wide audiences of business decision makers and technologists--including architects, developers, managers, executives, strategists, consultants, and researchers.
Publisher: Pearson Education (US)
ISBN: 9780133859041
Number of pages: 208
Weight: 342 g
Dimensions: 234 x 181 x 11 mm
---
MEDIA REVIEWS
"A must for those who want to jumpstart their learning of SOA. A great starting point in SOA for any IT architect, designer, or developer."
--Claude Baillargeon, Senior IT Architect, La Capitale
"What a monumental achievement! This book provides practical insights into next generation SOA for practitioners and newbies. It is a must-have compendium for anyone in the field of SOA."
--Jean Bernard Mathias, Tolmai
"SOA makes the world go round! Even more so, with the recent explosive growth of cloud computing and the billions of connected devices and apps. Next Generation SOA gives excellent, practical guidance on envisioning, architecting, and designing innovative service-oriented solutions in this new, always-online era."
--Gijs in 't Veld, CTO and Cofounder, Motion10
"This is the perfect book for anyone who wants to refresh or get a handle on the foundations of SOA without delving into the deep technical details and implementation specifics. By working from the principles, the book shows how the SOA concepts and goals have matured, influenced, and grown with technologies such as master data, virtualization, and cloud. The book points to other volumes in the series for the depth of detail and technicalities, allowing you to get the broad picture view without any vendor coloration."
--Phil Wilkins, Enterprise Integration Architect
"Next Generation SOA elucidates the foundational principles of service-orientation in a concise and insightful manner. The core concepts presented within its pages are indispensable for gaining the insight and understanding to become a competent SOA practitioner. This book will be an invaluable guide as I continue my journey along the service-orientation path."
--Christian Garcia, Vice President, Conning
"An excellent source for next generation SOA architectural patterns and solution orchestration, reflecting the perceptual mapping and processing of business patterns in alignment with the emerging technological transformation holistically."
--Ahmed Aamer, Sky Computing Pvt. Ltd.
"Whether you're a business decision maker or technologist, this book is a great read for those needing to grasp the complexities of SOA and its evolution to today's emerging architecture landscape with real scenarios demonstrating the application of service-orientation."
--Neil Walker, Enterprise Architect/SOA Specialist, Mindtree
"A power-packed introduction for newbies and a great reference for SOA practitioners. This book does it all and explains further in a concise manner the relevance of the service-orientation design paradigm for next generation architectures."
--Abhijit Karode, Head of Architecture (AST), iNautix Technologies India Pvt. Ltd. (a BNY Mellon company)
"This book is a clear, concise, and very concentrated resource for relevant vendor-neutral service principles and technologies, for API and cloud, and definitely beyond. What I like especially is that this is finally a book that incorporates the heritage of the SOA Manifesto to complement the traditional theoretical approach that many books expose, with real-life mechanisms to bring balance (choosing the right priorities) to the decision-making involved with service architecture and service-orientation."
--Roger Stoffers, Senior Solution Architect, Hewlett Packard
"The SOA landscape is changing so fast. With cloud, mobile, and social media so prevalent today, the conversation about SOA needs to go beyond the basic web service. In Next Generation SOA, Erl and his team explore the new frontier and introduce the technologies we all need to leverage to stay agile in this fast-paced IT world, which is really what SOA is all about!"
--Karen Patton, Manager Solution Architecture, Shaw Communications
"This book gives a clear overview of what makes SOA stand out now and in the future, while at the same time putting focus on those details that matter. This makes it not only a perfect starting point for novice people in our field, but also a great companion to the other books in the Prentice Hall Service Technology Series from Thomas Erl for the more experienced SOA professionals.
"Finally, its relatively small size and price make it an ideal give-away present to those who may not be directly involved in SOA projects but still are or should be interested in the subject at hand."
-- Marco Frankel, Service-Oriented Architect, The Future Group
"Get an overview of how the SOA landscape has changed recently due to the advent of virtualization, cloud computing, big data, and mobile computing. Without getting into the intricacies of implementation, it provides a quick walk-through of concepts required for executives and IT professionals for their next SOA initiative."
--Sanjay Singh, Certified SOA Architect, VP Engineering, ATMECS
"Next Generation SOA offers a fresh perspective on core SOA design and technology topics and affirms their relevance for modern industry operating models. It is a must-read for any enterprise looking to maximize existing or future investments in SOA technology."
--Nicholas Bowman, Independent SOA Architect
"As I started reading Next Generation SOA, I went through a personal confusion in the contradiction I felt between 'Next Generation' and the fact that the book is a 'Concise Introduction to Service Technology & Service-Orientation'. I found that contradictory until it clicked: The next generation SOA is an SOA that has freed itself from its initial dependence on vendor platforms. From then on, it all made sense. As an SOA Certified Professional I have found repeatedly, in the multiple workshops I have led, that there is a loud cry for an SOA workshop for IT top management. Analysts and architects all complain about the same thing: Top management just does not understand SOA and thinks it is just a new coat of paint on an old building.

"Well, this book fills this gap to a high extent: It is short and concise enough to be read by decision makers but gives enough basic concepts on many aspects of SOA to actually understand why things in the IT department--and in the business--just will not be the same.
"The case study at the end of the book--mainly oriented at legacy issues but useful even for eGov--is superb and will give enough material for study and discussions to a generation of SOA analysts, architects, and governance specialists. It even covers SOA governance nicely.
"Just the book you needed for your boss's birthday."
--Yves Chaix, Independent SOA Certified Consultant, Analyst, Architect, and Governance Specialist
"Nowadays, various web-based service technologies have expanded and emerged, offering options to industry practitioners to choose the best-fitting technology for their organization. This book helps you to understand and find out in a comprehensive way the variety of emerged service technologies, along with their importance, key elements, and how service-orientation became the fundamental pillar. This remarkable book, Thomas Erl's Next Generation SOA: A Concise Introduction to Service Technology & Service-Orientation, is an accurate and complete reference of knowledge for those who are passionate to explore and exploit the latest emerged service technology."
--Masykur Marhendra Sukmanegara, Advanced Technology Architect
"I recommend this book both for SOA professionals who want to keep abreast of market trends and for professionals who wish to have their first contact with this universe. It is a very enriching and enjoyable reading."
--Claudia Charro, SOA/BPM Professional
"Very good job on publishing/divulging these innovative concepts. As with Thomas Erl's previous SOA books, this one will help people gain a better understanding of the need for service-orientation (not only in IT, but in every aspect of work life)."
--Diego V. Martinez, IT Architect, Zurich Financial Services Argentina
You may also be interested in...
Simply reserve online and pay at the counter when you collect. Available in shop from just two hours, subject to availability.
Thank you for your reservation
Your order is now being processed and we have sent a confirmation email to you at
When will my order be ready to collect?
Following the initial email, you will be contacted by the shop to confirm that your item is available for collection.
Call us on or send us an email at
Unfortunately there has been a problem with your order
Please try again or alternatively you can contact your chosen shop on or send us an email at