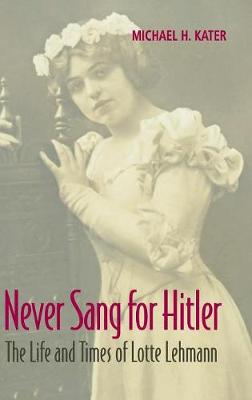 Never Sang for Hitler: The Life and Times of Lotte Lehmann, 1888-1976 (Hardback)
Michael H. Kater
(author)
Hardback
416

Pages / Published: 17/03/2008
In stock online

Free UK delivery
Lotte Lehmann ranks among the most celebrated singers of the twentieth century. She was a favorite of Richard Strauss, and also had a famous encounter with Hermann Goering, in which he claimed to want to make her the foremost singer in Nazi Germany. By the time of her final performance in 1951, she was considered one of the finest singing actresses of all time. Rather than a traditional biography, this book is both a descriptive narrative of Lehmann's life and a critical analysis of the interconnections of the artist and society. Kater describes the varying phases of Lehmann's life, as well as the sociocultural settings in which she finds herself - whether in the Wilhemine Empire, First Austrian Republic, Nazi Germany, or the United States. Kater's use of Lehmann's personal and other papers reshapes much of what is known about her life and career.
Publisher: Cambridge University Press
ISBN: 9780521873925
Number of pages: 416
Weight: 720 g
Dimensions: 242 x 164 x 29 mm
---
MEDIA REVIEWS
'... it not only rivals the type of research-driven tour de force we have come to expect of Kater, but it is also a labor of love. There is no way for the author to hide his admiration for Lehmann's talent, his wonder at her larger-than-life persona, and even at times his disappointment in her professional and personal choices. Kater has once again managed to amaze us, and we can only await with eager anticipation his next magnum opus.' The Journal of Central European History
"In his now canonical studies of musical life in Nazi Germany, Michael Kater has been passionate and relentless in his pursuit of truth-- finely shaded truth, not fables of black and white. He applies the same standards to his biography of the great soprano Lotte Lehmann, yielding a portrait as full and complex as the woman herself. This is no hagiography, but Kater performs the rare feat of taking a singer seriously, both as an artist and as a figure on the cultural and political stage." -Alex Ross, music critic for The New Yorker and author of The Rest Is Noise
"Though clearly a labor of musical love, Michael Kater's biography of Lotte Lehmann is no hagiography. It explodes many self-serving myths about her-including the real reasons why she 'never sang for Hitler'-and it does not hesitate to describe the manipulative, jealous, and competitive side of her nature, which often turned against fellow singers like Jeritza, Ursuleac, and Flagstad. But above all, this work brings to life Lehmann's remarkable artistic career, along with the men and women that she loved, and it embeds her life in a richly descriptive account of European and American history during the turbulent years of the past century." -Peter Jelavich, Johns Hopkins University
"The music world has been waiting for a comprehensive biography of one of the twentieth century's most important and fascinating singers. But this book is far more than mere singer biography, rather a convincing case study in German music, culture, and politics. Lotte Lehmann's life spanned the most remarkable stretch of modern German history: empire, republic, two devastating wars, and beyond. As an emigre, Lehmann lived in two worlds, old and new. Michael Kater, with his characteristic thoroughness, offers a rich and dispassionate account of the life and surroundings of a complex artist, teacher, and human being. Rather than trying to iron out all of Lehmann's many contradictions, he highlights them in a most compelling and thought-provoking way." -Bryan Gilliam, Duke University
"Lotte Lehmann was one of those larger-than-life figures whom the operatic world produced in such abundance in the first half of the 20th century, when the fame of the great singers spread out from the cities into the hinterlands through new technologies of recording and an increased pace of travel and cultural consumption among the stars and their public alike. Michael Kater's judicious, detailed, and revelatory biography provides a rich portrait of a life shaped as much by determination and a healthy self-regard as by astonishing musical gifts. He explores all of Lehmann's worlds, from small-town north Germany to the more familiar musical capitals of old Europe and the United States, and he conveys for each the primacy of personal relationships even in times of dire political change. Lehmann is an unusual guide to the twentieth century, but her view from the opera house proves refreshingly direct." -Celia Applegate, University of Rochester
"Lotte Lehmann was venerated as a singer of overwhelming warmth and unique expressive power. In addition to her vocal triumphs she enjoyed recognition as a poet, painter, author, director and teacher. Throughout her career she savored the cultivation of certain hyperbolic images. She was, we were told, goodness personified, an avid defender of modest womanly virtue, a selfless artist in perpetual quest of beauty and truth, a passionate enemy of the Third Reich, a gentle pedagogue who reveled in the triumphs of her students. A sentimental world gazed upon her with rose-colored glasses, and she emphatically encouraged that fuzzy gaze. In his impeccably researched, minutely detailed essay in demystification, Michael Kater rips off those glasses. He places Lehmann's rise to glory and eventual fall within crucial sociopolitical contexts. In the process he paints a telling portrait of an immensely talented yet perpetually insecure prima-donna." -Martin Bernheimer, Pulitzer Prize Winner and Correspondent for The Financial Times and Opera Magazine
"An important singer from the past seldom receives such a carefully researched biography, one that explores every facet of a life fully lived: public, private, professional, and musical. Michael Kater gives us an uncommonly full portrait of Lotte Lehmann. His vivid brush strokes leave no part of her personality or colorful career unexamined, as he follows her star over two continents during two world wars and their aftermath. Whether dealing with the monsters of the Third Reich, Hollywood's media moguls, the artistic geniuses who were her contemporaries, the insanely tangled musical politics of the time, or her own inner demons, Lehmann never flinched or remained a passive observer. Above all there was her unforgettable vocal persona that mesmerized everyone who heard her sing. Kater has captured the full picture in a brilliantly written book that opera fans and social historians alike will find compulsively readable." -Peter G. Davis, music critic and author of The American Opera Singer from 1825 to the Present
"No singer was more central than Lotte Lehmann to the development of opera and singing in general over the great transition period in the first half of the 20th century. Michael Kater has here provided a comprehensive survey of her career and the close relationships she had with the key figures of the period, notably the conductors, Bruno Walter and Toscanini as well as the great Richard Strauss, whose operas she sang with such fervour. The recording producer, Walter Legge, used to describe hers as a `double-bedded voice', and he was not far wrong." -Edward Greenfield, The Gramophone
"Michael Kater brings to his biography of Lotte Lehmann an exceptional command of musical life in Hitler's Germany, and of the drama of Germanic musical careers transplanted to the New World. The result is a challenging and fascinatingly detailed narrative, steeped in cultural history and awareness." -Joseph Horowitz, author of Artists in Exile: How Refugees from 20th Century War and Revolution Transformed the American Performing Arts
"Kater has written a fascinating account of the influential teacher and opera singer Lehmann." -Reference & Research Book News
"Kater (emeritus, history, York U., Toronto, Ontario) has written a fascinating account of the influential teacher and opera singer Lehmann. Famous for her roles in operas by Richard Strauss in Austria and Germany, Lehmann left during the Nazi era, first for France and then to the U.S., where she eventually founded the Music Academy of the West in Santa Barbara, California. Exhaustive in its research, Kater's account describes both the political and the artistic circles in which Lehmann moved. Especially riveting is the description of the musical world in Vienna and Berlin and the process by which the Nazis took control of it. Much of the unfolding drama of the story is heightened by the contrast between Lehmann's carefully constructed public persona as a fervent anti-Nazias presented in her statements and later in her autobiographywith her actual words and letters, which reveal a great talent who was focused on her career, regardless of politics. Scholarly in its research, this page- turner brings its protagonists to life." -Book News Inc
"Readers will be hard-pressed to recall when they have read such a nuanced character study of a diva...Essential." -Choice
"Never Sang for Hitler offers insight into the life of Lehmann, and the world in which she sang. It is highly recommended." -Debra Greschner, Journal of Singing
"...Kater has delivered a compelling portrait of Lotte Lehmann and the constellation of characters with which she consorted and environments in which she traveled. It will be especially useful for scholars of the culture of opera and music and lovers of opera in general." -Jonathan O. Wipplinger, H-German
"One walks away from this book not only with a detailed knowledge of Lotte Lehmann, but also with an understanding of the role and workings of European and American opera stages during the first half of the twentieth century." -Daniela Richter, Canadian Journal of History
"...an incredibly rich resource that will offer something of interest to a wide variety of readers, ranging from scholars of cultural history and gender studies to avid Lehmann admirers." --Central European History
You may also be interested in...
Simply reserve online and pay at the counter when you collect. Available in shop from just two hours, subject to availability.
Thank you for your reservation
Your order is now being processed and we have sent a confirmation email to you at
When will my order be ready to collect?
Following the initial email, you will be contacted by the shop to confirm that your item is available for collection.
Call us on or send us an email at
Unfortunately there has been a problem with your order
Please try again or alternatively you can contact your chosen shop on or send us an email at