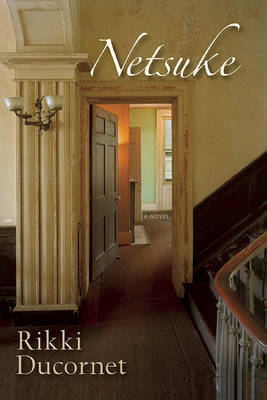 Paperback
128

Pages / Published: 19/05/2011
Ruled by his hunger for erotic encounters, a deeply wounded psychoanalyst seduces both patients and strangers with equal heat. Driven to compartmentalize his life, the doctor attempts to order and contain his lovers as he does his collection of rare netsuke, the precious miniature sculptures gifted to him by his wife. This riveting exploration of one psychoanalyst's abuse of power unearths the startling introspection present within even the darkest heart.
Publisher: Coffee House Press
ISBN: 9781566892537
Number of pages: 128
Weight: 170 g
Dimensions: 191 x 127 mm
---
MEDIA REVIEWS
"Sex and psychosis are indistinguishable in this killer new novel from Ducornet. . . . [A]s fascinating as it is dirty and dark, . . . the plot is impossible to resist."--
Publishers Weekly
,
starred review
"Ducornet is a novelist of ambition and scope. One is grateful for what she's accomplished here."--The New York Times
"Pick up a book by the award-winning Ducornet, and you know it will be startling, elegant, and perfectly formed--like netsuke, those miniature Japanese sculptures used to fasten the cord of a kimono. This latest, an unflinching meditation on the twinned drives of lust and destruction, is no exception. . . . Writing about a satyr-psychiatrist could be so predictable, but Ducornet makes her characters real and scary beneath the ruminative, quietly observant prose. Highly recommended for literate readers."--Library Journal
"Ducornet's new book tenaciously plums the tension between impulse and restraint." --American Book Review
"An enticing, fast-moving exploration of one man's obsession with his calculated power and unhinged desires."--Booklist
"Ms. Ducornet writes with velocity, immediacy, and impact. It only takes a few pages to be caught up in the mind of the doctor. . . . This story has some fascinating insights and noholds-barred language."--New York Journal of Books
"'When the very air of one's marriage grows thin and dim, there is nothing to do but set out to find a richer, brighter air, ' ponders the narrator of Port Townsend author Rikki Ducornet's brief, fervent novel Netsuke. . . . Written in lyrical, sensuous prose, as if shrouded in a fog of humidity, Netsuke emerges as a character study of a man in crisis."--The Seattle Times
"The almost eerie tale of a dicey, bisexual psychoanalyst gone mad."--Washington City Paper
"[A] finely crafted object of a novel . . . . Ducornet weaves a complex tapestry of various and repeated colors, textures, and designs. . . . The total effect is simply remarkable, an austere yet somehow lush beauty. At times this chilling tale seems neo-gothic, reminiscent of the work of Patrick McGrath, though much more compact. Ducornet has the extraordinary ability to compress an explosive tale of violence and repression in a small, tight container. . . . [W]e are simultaneously repulsed and entranced as the disturbing but gorgeous story accelerates to its foregone conclusion."--Rain Taxi
"Carefully limning the interstices between obsession, rage, desire, truth, and intimacy, as well as attentively traversing the places of same, Netsuke castigates a life, and perhaps our society as a whole, in which Eros has gone awry."--American Book Review
"Netsuke is a testament to Ducornet's ever evolving, ever relevant, and simply compelling ability to tell a story. It's well-suited for this era so defined by its shades of gray. . . . [I]t is perfect for this moment in American culture."--KGB Bar Lit Journal
"Dark, yet enlightening. Rikki Ducornet's writing is beautifully disturbed, off-putting and brilliant. . . . Rikki Ducornet uses the loathsome character as a vehicle to explore interesting points about the intersection between humanity and animal instinct."--Twin Cities Daily Planet
"[Netsuke] mesmerizes in its fascination with the psychoanalyst's destruction of anything worthwhile around him, and the reader becomes a voyeur unable to look away. . . . The writing is superb, whether detailing disturbing moments fraught with drama or revealing the doctor's thoughts. . . . Netsuke has teeth and claws. It isn't a comfortable book for a reader to inhabit, and yet it has important things to say, embedded in the deadly beautiful prose. . . . Readers owe it to themselves to encounter this slim but complex novel on its own terms."--Jeff Vandermeer
"Rikki Ducornet's Netsuke is a slim but powerful novel. This dark psycho-sexual tale of a psychoanalyst's downward spiral is crisply written, engrossing, and impossible to forget, and has me searching out other works by Ducornet."--Large-Hearted Boy
"Ducornet is a very good writer, and she crafts a marvelous and disturbing story. . . . If you can stomach the bleak view of intimacy ("A moment's bliss and then: the mule brays"), this novel is amazing. For fans of Chuck Palahniuk."--Hey Small Press
"Netsuke comes at the summit of Rikki Ducornet's passionate, caring, and accomplished career. Its readers will pick up pages of painful beauty and calamitous memory, and their focus will be like a burning glass; its examination of a ruinous sexual life is as delicate and sharp as a surgeon's knife. And the rendering? The rendering is as good as it gets."--William Gass
"[Ducornet] writes novels in delicate, precise language. . . . [Netsuke] is an introspective study of the life of a bad man--or is he a man who just keeps making bad decisions?--who can't stop abusing his power."--The Stranger
"Judging by her new novel, [Ducornet] has not lost ground. . . . Netsuke, a short novel that seethes with dark energy and sinister eroticism, still has power to shock, maybe even to appall. . . . Our society is numb to explicit depictions of sexual acts. The perversity, decadence, even the depravity that Ducornet renders here feel explosively fresh because their sources are thought and emotion, not the body, and finally there's pathos too."--The Boston Globe
"Netsuke is a little masterpiece, a gem of a psychological novel. Because the doctor's mental condition is unstable, his actions are unpredictable, lending an uncertainty to the plot which keeps the story taut and exciting. And the ending is unpredictable, though in context makes perfect sense. Very highly recommended."--Lisa Guidarini, NBCC
"[Netsuke], just released on Coffee House Press, is a classic example of Ducornet's desire to explore darkness. . . . To this writer, the psyche is a most magnetic frontier."--Peninsula Woman
"Rikki Ducornet can create an unsettling, dreamlike beauty out of any subject. In the heady mix of her fiction, everything becomes potently suggestive, resonant, fascinating. She exposes life's harshest truths with a mesmeric delicacy and holds her readers spellbound."--Joanna Scott
"There is the time before you open Rikki Ducornet's Netsuke and then there is only the time in which you are reading--a searing present of heart-swallowing secrets, warped eroticism, betrayals, and insight trellised against the page in nightshade-gorgeous prose."--Forrest Gander
"Rikki Ducornet travels . . . literary terrain with an assured, lyrical voice that consistently fascinates." --Los Angeles Review

You may also be interested in...
Simply reserve online and pay at the counter when you collect. Available in shop from just two hours, subject to availability.
Thank you for your reservation
Your order is now being processed and we have sent a confirmation email to you at
When will my order be ready to collect?
Following the initial email, you will be contacted by the shop to confirm that your item is available for collection.
Call us on or send us an email at
Unfortunately there has been a problem with your order
Please try again or alternatively you can contact your chosen shop on or send us an email at