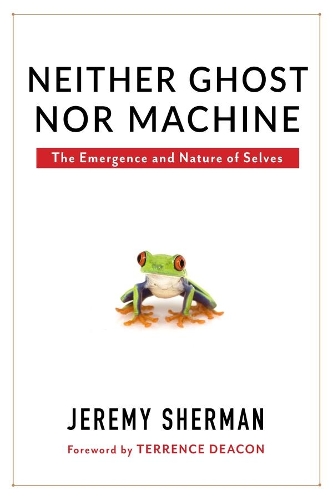 Paperback
312

Pages / Published: 05/12/2017
If the universe is aimless, how do selves and aims emerge? Why do living beings have aims when inanimate things do not? Current science encourages us to reject the ghost-in-the-machine explanation-that something called spirit, soul, mind, or will was somehow breathed into matter-and instead accept that selves are just matter, in aimless mechanistic motion like everything else. But what about life's many emergent qualities, the multifarious purposes that shape actual physical behavior not just in human lives, but in all of life? Even the simplest life forms have adaptive functions, traits that accomplish goals or ends. How can we explain the nature and origin of selves and aims without resorting to supernatural forces or explaining them away as nothing but cause-and-effect mechanisms? In Neither Ghost nor Machine, Jeremy Sherman explains the emergence of selves and aims in an aimless universe. He distills for a general audience the theory developed by renowned neuroscientist Terrence Deacon, which extends the breakthrough constraint-based insight that inspired evolutionary, information, and self-organization theory. Emergent dynamics theory provides a testable hypothesis for how mattering arose from matter, function from physics, and means-to-ends behavior from cause-and-effect dynamics. It offers a physics of purpose, demonstrating that there is a strictly physical explanation for the emergence and nature of selves and aims, one that shows our existence in an otherwise inanimate universe is not absurd. Neither Ghost nor Machine bridges the gap between the hard and soft sciences, suggesting fresh and exciting solutions to philosophical mysteries that have perplexed humanity for millennia, from free will to causality to morality.
Publisher: Columbia University Press
ISBN: 9780231173339
Number of pages: 312
Dimensions: 229 x 152 mm
---
MEDIA REVIEWS
In Neither Ghost nor Machine, Jeremy Sherman takes on a central mystery: How did the universe get from matter to mattering? Whence purpose? Whence selves? These are topics too easily ignored in our rush to find the molecular stuff of life and not the organizational "what is" of life. With this fine book, and that of Deacon, we are well launched.--Stuart Kauffman, MacArthur Fellow, author of At Home in the Universe: The Search for Laws of Self-Organization and Complexity
Neither Ghost nor Machine reckons with the most profound questions one can ask about the nature of the self and of life on earth. It is the work of a fiercely inquisitive and original mind.--Kaja Perina, editor in chief, Psychology Today
When the Big Bang banged all there was was just the stuff of basic physics, fermions, bosons, and such. There was neither life nor mind. Now there is life all over the place and some of it is conscious. How is that possible? How could such things as life and mind emerge? Jeremy Sherman has written a clear, clever, witty guide to the new science of emergence championed by Terrence Deacon. This is a philosophical treasure trove that explains how novelty emerges without explanatory gaps and violations of the laws of nature.--Owen Flanagan, James B. Duke Professor of Philosophy, Duke University, author of Consciousness Reconsidered
For those of us who call ourselves religious/spiritual naturalists, this book is sure to become an instant classic. Its narrative of how living beings are and came to be is rigorous, accessible, and lyrical, and will greatly deepen our affinity with the natural world and with one another.--Ursula Goodenough, Washington University in St. Louis, author of The Sacred Depths of Nature
Neither Ghost nor Machine is an eloquent manifesto in the movement to reclaim questions of purpose and agency for science. Presenting Terrence Deacon's account of the natural emergence of living agents, Jeremy Sherman casts aside the stale, old dichotomies to show us a new way of thinking scientifically about life.--Jessica Riskin, author of The Restless Clock: A History of the Centuries-Long Argument over What Makes Living Things Tick
Jeremy Sherman lucidly explicates the paradigm-changing vision of Terrence Deacon, which addresses the mysteries of the origin of living systems from the nonliving and the emergence of mind and purpose in a nature that is still the the process of evolving.--Bruce H. Weber, coauthor of Darwinism Evolving: Systems Dynamics and the Genealogy of Natural Selection
You may also be interested in...
Simply reserve online and pay at the counter when you collect. Available in shop from just two hours, subject to availability.
Thank you for your reservation
Your order is now being processed and we have sent a confirmation email to you at
When will my order be ready to collect?
Following the initial email, you will be contacted by the shop to confirm that your item is available for collection.
Call us on or send us an email at
Unfortunately there has been a problem with your order
Please try again or alternatively you can contact your chosen shop on or send us an email at