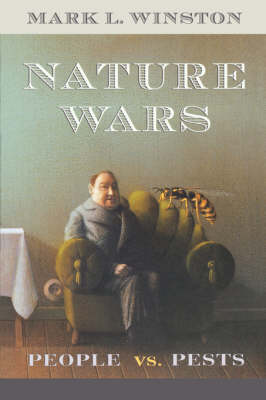 Paperback
224

Pages / Published: 02/09/1999
The aim of this book is to sound the alarm against dangerous tactics for controlling the pests that are an annoying but integral part of our world. Over 30 years after the devastation wrought by DDT, chemical pesticides are as pervasive as ever. The author argues that this ongoing commitment to pesticides reflects our sense of place in nature: embattled, beleaguered and driven to aggression. Here he seeks to show how a more measured and discriminating approach to pests, one based on management rather than obliteration, might serve us and the natural world much better. Case studies are used and take the reader from lawns and kitchens to farms and orchards, from insects and weeds to rats and coyotes. These show the complex political, biological, economic, social and personal interactions that lie behind each pest management decision. The diverse instances of pest management are considered, and reveal a consistent pattern of mistakes and problems. The author uses these to lead to a realistic, workable proposal for reducing pesticide use.
Publisher: Harvard University Press
ISBN: 9780674605428
Number of pages: 224
Weight: 321 g
Dimensions: 234 x 156 x 11 mm
Edition: New edition
---
MEDIA REVIEWS
"Winston...brings an unusually reasonable and compassionate voice to a debate usually swarming with harangues...Winston understands the impulse [to turn to powerful chemicals to control pests], but he also understands that the consequences can be harmful and surprising..."Nature Wars" leaves room for hope by setting an example of reasonableness...He cuts through hysteria, spotlighting the real threats of genetically engineered plants...[and] recommends tolerance toward the roach...If people would only listen to voices like Winston's, our world would be safer for organisms in their natural places--and even for pests like us." --Polly Shulman, "Discover"
""Nature Wars" is an effective primer for the general reader on our struggles against insects and other pests...In an articulate and accessible writing style, Winston explains the pesticide dilemma, the threat that our reliance on synthetic pesticides poses both to human health and safety and to the preservation of what is left of the natural environment...Winston's discussion of these controversial issues, and the conflict between humans and pests, will be helpful to anyone who hopes to develop an informed opinion about our continuing war with nature." --Lawrence M. Hanks, "Nature"
"A highly readable history of pest control, from chemical sprays to genetically altered plants." --"Chicago Tribune"
"Winston is probing and thoughtful, whether he is exploring what he contends was an unwarranted public outcry over a 1992 spraying in Vancouver of the biological control "Bacillus thuringiensis" to thwart a gypsy-moth invasion, or the likelihood that the public will view as a failure the ongoing effort in the Okanagan Valley ofBritish Columbia to stop the spread of codling moths (an apple pest) by releasing sterile male moths." --Robert Braile, "Boston Globe"
"Humans continue to deploy weapons of mass destruction against other creatures of this planet, namely the insects and bugs that consume our crops. No matter what we do, we seem unable to eradicate them, and there are now those who believe that this fifty-year onslaught is beginning to rebound on us. Mark Winston, author of "Nature Wars," is one of them. His book is...interesting...a good historical approach to the subject...[and] makes fascinating and well-balanced reading."
--John Emsley, "Times Literary Supplement" [UK]
"If the dangers are well known and legislators are prepared to regulate the release of chemicals into the environment, is there still a problem? Mark Winston, in his book "Nature Wars," firmly believes there is...I recommend it to all those concerned with green issues, be they scientist, student or layman." --Graham Elmes, "Times Higher Education Supplement" [UK]
"Mark Winston's study of pest-control regimes and his conclusion that we should go easier on pests...is a compelling argument and certainly lively." --Michael McCarthy, "The Independent" [UK]
"["Nature Wars"] is an extremely coherent and concise statement of progressive thinking on how to manage agricultural pests...it positively exudes good sense and rationality. I strongly recommend it to anyone who has thought twice about biting into a shiny apple on a supermarket shelf...Winston has thought hard about pest management, and believes passionately that it can be improved. This is an excellent book and should be very widely read." --H.C.J. Godfray, "Tree"[UK]
"In this well-written, up-to-date account of the history of pest-control technology, Mark Winston describes how successful alternative methods can be...If we are to realise the goal of controlling pests without poisoning ourselves or the wildlife around us, we need to match their evolutionary adaptability with ingenuity in a diversity of control measures." --Phil Gates, "BBC Wildlife Magazine" [UK]
"In "Nature Wars" Professor Winston brilliantly strips away the media hype to unveil issues of significance such as the indiscriminate and wanton destruction of thousands of insects and arthropod species, seemingly for our benefit. With his background in biological sciences, he builds up a strong case as to why we need to protect these creatures for our own sake." --"European Business Report"
"[An] erudite and fascinating book...Before telling some very good tales about multiplying moths, gnawing rates and invading coyotes, Winston sets down a few key economic facts...[And] the lesson here, says Winston, reads like a Greek tragedy: The more modern agriculture removes biodiversity from the land, the more susceptible it becomes to pests, which ultimately means more pesticides. This deadly cycle explains why the promise of biological controls of the use of natural predators has remained just that, a promise." --Andrew Nikiforuk, "Globe and Mail"[Toronto]
"With a gift for turning the arcane into amusing prose, Winston explains how natural pheromones, sterilization strategies, and insect predators are better alternatives for pest control." --"Science News"
"Mark Winston is that rare person: an entomologist (studier of insects) who, to judge from "Nature Wars," would make acharming and entertaining dinner party guest. In "Nature Wars," short listed for last year's BP Natural World book award, he shows how dependence on chemical pesticides, and unrealistic consumer standards for bug-free houses and gardens, have contributed to massive over-use of dangerous chemicals." --Andy Neather, "Earth Matters" [UK]
"Mark Winston is writing about a population that has lost its perception of itself as a species amongst other species, enjoys horror movies about giant insects, killer bees or human-insect transformations and can no longer see itself as part of a global life-cycle. He offers some thoughtful and moderate views on the way forward...It is a most readable book, a work of real scholarship and provides insights into social history and the phenomena of public opinion as well as the fascinating survey of pest-management." --Brigitte Norland, "Resurgence" [UK]
"Mark Winston's "Nature Wars" provides a useful, sane, and easily accessible discussion about one of the most durable of environmental problems: pest control..."Nature Wars" provides a very useful summary of the biological complexities of pesticides and their alternatives." --John H. Perkins, "Environmental Ethics"
"Winston makes a strong case for pest management versus our ill-fated attempts at pest eradication. He supports his approach with a battery of case histories illustrating the complex political, biological, economic, social and personal interactions that lie behind each pest management decision...Winston also discusses the problems arising from the evolution of pesticide-resistant populations of target pests, the impact of control measures on non-target organisms, the tendency ofconsumers to overreact to the sight of a single cockroach or a blemished fruit, and the attitude that we have a divine right to manipulate nature to shape a world of human design." --"American Biology Teacher"
"Winston manages to shape the art and science of pest management into a fascinating subject. Pests eat our homes and crops and clothes, they transmit disease, they plague our skin, hair, and digestive tracts...And, Winston asserts, 'it is time to reconsider the terms of engagement.' Why? Because chemicals attack a pest's nervous system, which (unfortunately) resembles our own rather closely. The consequences: the author cites one million cases, worldwide, of human pesticide poisoning annually (and 20,000 fatalities among those). Moreover, pest resistance to chemicals is growing even as the chemicals continue to decimate natural predator populations essential to the earth's balance. Winston suggests various remedies for our faulty attitudes and strategies...Like a new Rachel Carson for the new millenium, Winston delivers a nontoxic dose of much-needed common sense." --"Kirkus Reviews"
"It has been over 30 years since Rachel Carson's "Silent Spring" sounded the alarm about the dangers of chemical pesticides. Now Winston is issuing another wake-up call by showing how our battle against pests has become a war on nature. Winston provides case studies demonstrating alternative methods of pest control, explaining how political, social, economic, and biologic interactions behind pest-management decisions have contributed to our failure to replace toxic chemicals as our first method of choice. The author argues that we need to change our philosophy from eradication to controlbecause we will not win the war. Winston has written a convincing and necessary book. Highly recommended for academic and public libraries." --"Library Journal"
"Winston here enlightens those who bewail the massive use of chemical insecticides outdoors--and indoors reach for bug spray at first sight of a creepy crawly. Writing for a general, not technical, reader, Winston descants on campaigns against rats and roaches, then discusses the main strategies for naturally' controlling agricultural pests...A balanced overview." --Gilbert Taylor, "Booklist"
"Before you reach for the can of Raid, reach for this book. Mark Winston explains why our hopes of total victory in the war against pests are as mistaken as they are futile, and he provides a measured dose of common sense that should prevent many a hasty attack." --Bill McKibben, "Author of Hope, Human and Wild: True Stories of Living Lightly on the Earth"
You may also be interested in...
Simply reserve online and pay at the counter when you collect. Available in shop from just two hours, subject to availability.
Thank you for your reservation
Your order is now being processed and we have sent a confirmation email to you at
When will my order be ready to collect?
Following the initial email, you will be contacted by the shop to confirm that your item is available for collection.
Call us on or send us an email at
Unfortunately there has been a problem with your order
Please try again or alternatively you can contact your chosen shop on or send us an email at