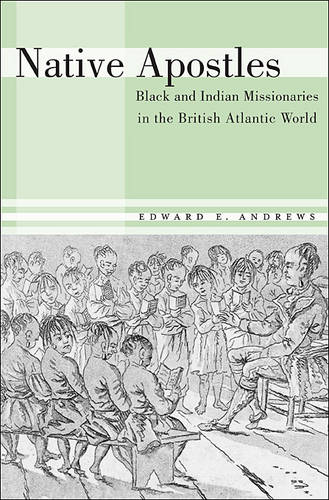 Native Apostles: Black and Indian Missionaries in the British Atlantic World (Hardback)
Edward E. Andrews
(author)
Hardback
336

Pages / Published: 09/04/2013
As Protestantism expanded across the Atlantic world in the seventeenth and eighteenth centuries, most evangelists were not white Anglo-Americans, as scholars have long assumed, but members of the same groups that missionaries were trying to convert. Native Apostles offers one of the most significant untold stories in the history of early modern religious encounters, marshalling wide-ranging research to shed light on the crucial role of Native Americans, Africans, and black slaves in Protestant missionary work. The result is a pioneering view of religion's spread through the colonial world. From New England to the Caribbean, the Carolinas to Africa, Iroquoia to India, Protestant missions relied on long-forgotten native evangelists, who often outnumbered their white counterparts. Their ability to tap into existing networks of kinship and translate between white missionaries and potential converts made them invaluable assets and potent middlemen. Though often poor and ostracized by both whites and their own people, these diverse evangelists worked to redefine Christianity and address the challenges of slavery, dispossession, and European settlement. Far from being advocates for empire, their position as cultural intermediaries gave native apostles unique opportunities to challenge colonialism, situate indigenous peoples within a longer history of Christian brotherhood, and harness scripture to secure a place for themselves and their followers. Native Apostles shows that John Eliot, Eleazar Wheelock, and other well-known Anglo-American missionaries must now share the historical stage with the black and Indian evangelists named Hiacoomes, Good Peter, Philip Quaque, John Quamine, and many more.
Publisher: Harvard University Press
ISBN: 9780674072466
Number of pages: 336
Weight: 635 g
Dimensions: 235 x 156 x 28 mm
---
MEDIA REVIEWS
Andrews has written a book that helps historians rethink not only native and enslaved peoples' involvement in the process of missionizing but also the very forms and dynamics of religious history during the colonial period...In an argument that is simultaneously provocative and convincing, Andrews shows us that African and Indian Christians were part of the creation, organization, and even flourishing of mission life throughout the British Atlantic in the seventeenth and eighteenth centuries.--Christopher J. Bilodeau"Massachusetts Historical Review" (01/01/2014)
A very welcome addition. Based on an impressive number of sources by white, black, and Indian evangelists writing on both sides of the Atlantic, Native Apostles demonstrates that Indians and people of African descent were far more central and active agents in the transatlantic and circum-Atlantic evangelical movement than previously thought.--Vincent Carretta, author of Equiano, the African: Biography of a Self-Made Man
With attention to complexity and nuance, Edward Andrews narrates the gripping story of hundreds of people of color who worked to spread Christianity in North America, the Caribbean, and West Africa. Our understanding of the religious encounter in the British Atlantic will never be the same.--Erik R. Seeman, author of Death in the New World: Cross-Cultural Encounters, 1492-1800
Edward Andrews convincingly shows how native American and African populations took control of their encounters with Christianity in the age of empire and slavery. Native Apostles is an impressive tour through the spiritual kaleidoscope of the Atlantic world.--Jon F. Sensbach, author of Rebecca's Revival: Creating Black Christianity in the Atlantic World
For years, scholars of colonial America have been calling for work that bridges Atlantic, American Indian, African American, and religious history. It is finally here. Edward Andrews's provocative and persuasive assertion that we should see blacks and Indians as leading actors in Christian evangelization and racial formation sets a new benchmark in the field.--David J. Silverman, author of Red Brethren: The Brothertown and Stockbridge Indians and the Problem of Race in Early America
This groundbreaking monograph explores the critical roles played by Native Americans, Africans, and enslaved blacks in the spread of Protestant Christianity throughout the Atlantic world during the 17th and 18th centuries. Andrews deftly brings these forgotten missionaries to the fore, noting that their European counterparts, while seeking to spread Christianity, were not able to learn aboriginal languages and were unwilling to live in the same manner as native peoples. Various Protestant groups thus actively recruited African and Native American missionaries to spread the gospel on their behalf. Although the missions examined here were established in such disparate locales as Iroquoia, Africa, and the Caribbean, these groups were aware of the activities of others and found kinship in their shared Christianity. Over time, and to the chagrin of many of their parent religious organizations, each native group came to shape its version of Protestantism to form a unique Christian identity that appealed to its cultural norms and enabled it to create a community significantly independent of the colonizers...[A] fascinating work.-- (03/15/2013)
Recent studies of indigenous people's encounters with Christianity have emphasized Native agency in adopting, resisting, and adapting to Christian overtures. Historian Andrews goes one step further and examines the lives of many American Indians (and some Africans) in the British colonies who became Protestant evangelists among their own and neighboring peoples.-- (10/01/2013)
A challenging book, one that aims to change the way that we write about British missions and their impact on both the missionized and the missionizers...Native Apostles, then, achieves a great deal. It is, for example, impossible to read this book and not be struck by the sheer number of native missionaries working in the British Atlantic world... Andrews is quite convincing when he argues that British proponents of missions routinely thought in terms of centering their projects on native missionaries and that mission-minded Britons eagerly looked to African and American Indian initiatives for examples of both how to proceed and how not to. Andrews is equally sure-footed in dealing with native approaches to Christianity, recognizing its appeal for native peoples without in any way losing track of the tensions and challenges Christianity brought and the partial and incomplete nature of the victories it permitted. And, of course, Andrews has written a book that is truly transatlantic. He has made himself at home on islands and mainlands, frontiers and coasts, plantations and cities, old worlds and new ones. His book shows us networks of thought and action that not only encompassed Africans, Europeans, and American Indians, but also bound them together in conversations that all those involved recognized to be of critical importance. That is an impressive set of accomplishments.-- (06/01/2014)
In this innovative and energetically written book, Edward E. Andrews argues that 'native' (Indian and African) missionaries, not white ones, were at the center of colonial Atlantic missions in the British Atlantic. Historians have given too much credit to white, middle-class Anglo-European missionaries who were often culturally ignorant of the peoples they were trying to convert. Instead, noting the 'astonishing ubiquity of native preachers, ' whose numbers almost always far exceeded those of white missionaries, Andrews emphasizes the ways in which these Indians and Africans 'not only encouraged Christian missions, but actually led them.'... The book's scope is impressive, and the interpretive framework compelling... Overall, Andrews's points are important, gracefully made, well taken. This book is an excellent and much-welcomed addition to the growing literature on religion in the early modern Atlantic world, one that will surely be appreciated by scholars in the field and profitably used as an accessible introduction to colonial missions for undergraduates and graduates alike.-- (03/01/2014)
You may also be interested in...
×
Download the Waterstones App
Would you like to proceed to the App store to download the Waterstones App?
Simply reserve online and pay at the counter when you collect. Available in shop from just two hours, subject to availability.
Thank you for your reservation
Your order is now being processed and we have sent a confirmation email to you at
When will my order be ready to collect?
Following the initial email, you will be contacted by the shop to confirm that your item is available for collection.
Call us on or send us an email at
Unfortunately there has been a problem with your order
Please try again or alternatively you can contact your chosen shop on or send us an email at