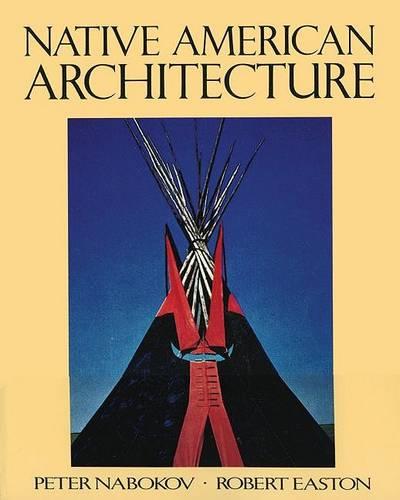 Paperback
432

Pages / Published: 13/06/1991
For many people, Native American architecture calls to mind the wigwam, tipi, iglu, and pueblo. Yet the richly diverse building traditions of Native Americans encompass much more, including specific structures for sleeping, working, worshipping, meditating, playing, dancing, lounging, giving birth, decision-making, cleansing, storing and preparing food, caring for animals, and honoring the dead. In effect, the architecture covers all facets of Indian life. The collaboration between an architect and an anthropologist, Native American Architecture presents the first book-length, fully illustrated exploration of North American Indian architecture to appear in over a century. Peter Nabokov and Robert Easton together examine the building traditions of the major tribes in nine regional areas of the continent from the huge plank-house villages of the Northwest Coast to the moundbuilder towns and temples of the Southeast, to the Navajo hogans and adobe pueblos of the Southwest. Going beyond a traditional survey of buildings, the book offers a broad, clear view into the Native American world, revealing a new perspective on the interaction between their buildings and culture. Looking at Native American architecture as more than buildings, villages, and camps, Nabokov and Easton also focus on their use of space, their environment, their social mores, and their religious beliefs. Each chapter concludes with an account of traditional Indian building practices undergoing a revival or in danger today. The volume also includes a wealth of historical photographs and drawings (including sixteen pages of color illustrations), architectural renderings, and specially prepared interpretive diagrams which decode the sacred cosmology of the principal house types.
Publisher: Oxford University Press
ISBN: 9780195066654
Number of pages: 432
Weight: 1013 g
Dimensions: 280 x 217 x 21 mm
---
MEDIA REVIEWS
I am delighted to have this outstanding book available in paperback for course use! The lavish illustrations, authoritative text, clear organization, and useful maps and diagrams make this an ideal introduction to Native American modes of dwelling on the earth. * Pauline Strong, University of Texas at Austin *
...the authors have combined historical, archeological, and ethnographic data with their own extensive field experience to present an enlightening narrative. * Religious Studies Review *
A very sensitive contribution to worldwide ethnic architecture. A great book. * Michael Reinschmidt, Ph.D., California State University *
Excellent resource material and quite interesting....A beautiful book as well. * Kathryn Stewart-Kalboch, Montana State University *
A unique book, very well down....An interesting book around which to develop a course on North American Indians....A real bargain. * Jonathan E. Reyman, Illinois State University *
Briskly analytical and objective....Impressive in its scope, covering everything from the wigwams and longhouses of North Eastern North America to the pueblos and kivas of the Southwest....There is enough detail for the specialist and enough explanation for the general reader. It is a beautiful book and a bargain for the price. * American Studies International *
Nabokov and Easton's book is a feast....It would be worth buying for the illustrations alone, well presented and printed....The writing is clear and readable, giving a good indication of the flavor of the numerous sources. * The Architectural Review *
Native American building types and village planning are thproughly documented and analyzed within the context of ritual, religion, and culture. * Progressive Architecture *
A thoroughly researched and extensively illustrated guide to the varied histories of native building, urban planning, engineering and iconography. * Ottawa Citizen *
Excellent in every way....Already the standard general reference on the subject, and will surely be the encyclopedia to which everyone refers in the future. The contents are presented with remarkable verbal clarity and with such excelletnt illustrations that both mature academics and intelligent school children can profit from the book. * Journal of the Society of Architectural Historians *
A fascinating presentation and discussion of Native American architectural styles, materials, cultural impacts, and diversities. Native American Architecture will prove to be a work of continuing significance for Native American studies and for students of architecture alike. * Wisconsin Bookwatch *
Definitive....This is...a book about ritual, religion, and family life as much as it is a book about buildings....The authors' knowing observations on this subject have much to tell students of all kinds of architecture, far beyond the wigwam and the pueblo. * Paul Goldberger, The New York Times Book Review *
A book that architects and anthropologists and history buffs will want to own and study. It will also appeal to those who appreciate books as works of art, for it is handsomely designed and contains a great number of unusual photographs of American Indians building and living in their traditional dwellings. * J.B. Jackson, Los Angeles Times Book Review *
A powerful rejoinder to the contemptuous and simple-minded views of the past century....A masterful compilation of the rich architectural achievements of the Indians of North America....Elegantly written and exquisitely illustrated. * San Francisco Review of Books *
[A] long-needed study....A brilliant and beautiful book. Not for one hundred years has there been an attempt to describe the full range of Native American buildings, but it has been worth the wait for this magnificent survey that covers the breadth of the continent from the arctic to northern Mexico. * Allan Temko, San Francisco Chronicle *
Fascinating...a rare find * a book that balances scholarly depth with broad audience appeal and accessibility....[Its] broad-based approach, combined with a wealth of photographs and drawings, serves to satisfy the specialist and intrigue the general reader....I cannot imagine anyone owning this book without returning to it often for new facts, insights or pleasures. *
A better collection of illustrations of North American Indian buildings is unobtainable....Required reading. * Architects' Journal *
The first book-length study of American Indian architecture to appear in more than a century....This outstanding volume easily repays the long wait for it by encompassing a far broader array of styles than those most familiar to viewers of American television: the tepee, the pueblo, and the igloo. * The Cleveland Plain Dealer *
Extraordinary....A visual and narrative tour de force. * Parabola *
[The authors] disarm the classical prejudice that architecture that is meant to be portable is not as sophisticated as the monumental object that assures its survival through brute materiality. * The Philadelphia Inquirer *
A rich, wide-ranging depiction of American Indian culture, belief, and history. * Natural History *
A rich, wide-ranging depiction of American Indian culture, belief, and history....The diverse data [about Native American architecture] have never been assembled in a comprehensive study, certainly not one like Nabokov and Easton's, whose scholarly, well-written text is complemented by a remarkable selection of photographs, drawings, and paintings....The illustrations alone make the book a treasure for both the general reader and the specialist. * Stanley A. Freed, Natural History *
A remarkable book * no, a spectacular book. *
Fascinating....For the thoroughness of its coverage, the clarity of its text, and the artistry of its design, this book cannot be faulted. * Americana *
Will be a basic reference in American vernacular architecture for years to come....A major contribution to the study of American architecture and Native American history. * Great Plains Quarterly *
Rich in information, rich in reinterpretations and discoveries in pre-literate American architecture * inspiration for explor[ing] the contemporary Indian scene *
A fruitful collaboration between an anthropologist and an architect....A breathtaking assemblage of hundreds of historical and contemporary photographs, and an equal number of superb illustrations, Nabokov and Easton manage to portray almost every aspect of the Native American-built environment, covering all the major culture areas of North America....Should definately be in the personal library of anyone interested in either Native America or material culture. * Folklore Forum *
A brilliant, pathbreaking book * sure to be a standard! *
The book is extemely well organized and the variety of photographs is invaluable in interweaving modifying factors into the chapters on each cultural area across North America....I fell in love with the book from the moment I saw its memorable cover....I cannot imagine any American not finding this book a treasure to be returned to many times over. * Betty H. Meyer, Journal of the Interfaith Forum on Religion, Art & Architecture *
A pleasant reminder that we live in a land with aan ancient architectural tradition of its own....The reader's eye is dominated by the beauty revealed in the hundreds of historic photographs the authors use to illustrate their points.."Historic Preservation
Have been excited about using it as a main text. . . . I've used it previously will continue due to the emphasis on oral tradition as the blueprint for architectural styles. Excellent visual drawings, photographs and commentary to give Native perspective of national world views. * Sharon Manybeads Bowers, Moorehead State University *
This reasonably-priced, beautifully illustrated book is ideal for my class. it focuses attention on the central aspect of life - the home. Also, technology, social relations and change through time are covered. * Anna Backer, Western State College *
You may also be interested in...
Simply reserve online and pay at the counter when you collect. Available in shop from just two hours, subject to availability.
Thank you for your reservation
Your order is now being processed and we have sent a confirmation email to you at
When will my order be ready to collect?
Following the initial email, you will be contacted by the shop to confirm that your item is available for collection.
Call us on or send us an email at
Unfortunately there has been a problem with your order
Please try again or alternatively you can contact your chosen shop on or send us an email at