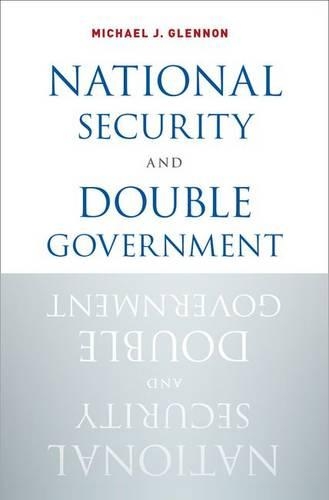 Hardback
257

Pages / Published: 06/11/2014
Why has U.S. security policy scarcely changed from the Bush to the Obama administrations? The theory of "double government" posed by the 19th century English scholar Walter Bagehot suggests a disquieting answer that is extensively discussed in National Security and Double Government. Michael J. Glennon challenges the myth that U.S. security policy is made through the visible, "Madisonian institutions"-the President, Congress, and the courts, proposing that their roles are largely illusory. Presidential control is nominal, congressional oversight is dysfunctional, and judicial review is negligible. He argues that security policy is really made by the managers of the military, intelligence, diplomatic, and law enforcement agencies- a concealed "Trumanite network" of several hundred members who are responsible for protecting the nation, and who are primarily immune from constitutional restraints. As such, this new system of "double government" will not correct itself, as to do so would require those branches to exercise the very power that they lack. Glennon suggests that the main problem is political ignorance, which is becoming more acute as public influence on security policy declines. This book aims to inform and enlighten the reader about the Trumanite network, and highlight the restraints on the Constitution, which operates primarily upon the hollowed-out Madisonian institutions, and poses a grave threat to democratic accountability.
Publisher: Oxford University Press Inc
ISBN: 9780190206444
Number of pages: 257
Weight: 414 g
Dimensions: 215 x 148 x 25 mm
---
MEDIA REVIEWS
Michael Glennon's book is important precisely because it pulls back the curtain to reveal the realities of the largely unconstrained U.S. national security state. In doing so, Glennon's analysis shows how the national security apparatus is a threat to the very freedoms its inhabitants and supporters purport to protect. * Christopher J. Coyne, Public Choice *
[An] original and thought-provoking book, with a key goal of explaining why national security policies change little across presidential administrations. * AJIL, Ashley Deeks, University of Virginia School of Law *
Though it's a bedrock American principle that citizens can steer their own government by electing new officials, Glennon suggests that in practice, much of our government no longer works that way. In a new book, "National Security and Double Government," he catalogs the ways that the defense and national security apparatus is effectively self-governing, with virtually no accountability, transparency, or checks and balances of any kind. He uses the term "double government": There's the one we elect, and then there's the one behind it, steering huge swaths of policy almost unchecked. Elected officials end up serving as mere cover for the real decisions made by the bureaucracy. * Jordan Michael Smith, Books of the Year 2014, The Boston Globe *
If constitutional government is to endure in the United States, Americans must confront the fundamental challenges presented by this chilling analysis of the national security state. * Bruce Ackerman, Sterling Professor of Law and Political Science Yale University *
Shrewdly updating Walter Bagehot's theory of 'double government,' Michael Glennon shows how present-day Washington really works. In our faux democracy, those we elect to govern serve largely ornamental purposes, while those who actually wield power, especially in the realm of national security, do so chiefly with an eye toward preserving their status and prerogatives. Read this incisive and richly documented book, and you'll understand why. * Andrew J. Bacevich, Professor of History and International Relations, Boston University *
Taking a leaf from Walter Bagehot's thesis of dual government in Britain, Michael Glennon has transported the concept of 'double government' to the United States analyzing the constitutional institutions, or what he calls the 'Madisonian' side; and a cohort of several hundred senior military, diplomatic, and intelligence officials who run the daily business of national security, or what he calls the 'Trumanite' side. This explains the relatively little difference between the Bush 43 and the Obama presidencies. In this brilliant, deeply researched book, Glennon spells out the relation of his overall thesis to contemporary issues such as the Snowden revelations. * Charles G. Cogan, Associate, International Security Program Belfer Center for Science and International Affairs, Harvard Kennedy School *
Michael Glennon has written a brilliant book that helps explain why U.S. foreign policy changes so little over time, despite frequent failure. Barack Obama certainly promised to fundamentally alter America's approach to the world, but little changed after he took office. Glennon shows how the underlying national security bureaucracy in Washington - what might be called the deep state - ensures that presidents and their successors act on the world stage like Tweedledee and Tweedledum. * John J. Mearsheimer, R. Wendell Harrison Distinguished Service Professor of Political Science, University of Chicago *
In this timely book Michael Glennon provides a compelling argument that America's national security policy is growing outside the bounds of existing government institutions. This is at once a constitutional challenge, but is also a case study in how national security can change government institutions, create new ones, and, in effect, stand-up a parallel state. This is a well-argued book of academic import and policy relevance. It is recommended reading for an informed debate on an issue of great significance. * Vali Nasr, Dean of Johns Hopkins University's School of Advanced International Studies *
National Security and Double Government is an important and insightful book. It should be read by anyone concerned that Obama's national security policies differ so little from those of the Bush Administration, and by every in-coming President and her staff. * Morton H. Halperin, Senior Advisor, Open Society Foundations *
Glennon has written a unique book that stands out among the collection of post-9/11 works for the way it lashes historical trends to the most contemporary problems of government secrecy, power and overreach in a highly readable way. I underlined passages on just about every page and can't wait to reread it. The 'ah ha!' moments are endless. * Dana Priest, Two-time Pulitzer Prize winning national security reporter, The Washington Post *
Michael Glennon's National Security and Double Government explains why U.S. foreign policy is prone to recurring failure and resistant to genuine reform. Instead of being responsive to citizens or subject to effective checks and balances, U.S. national security policy is in fact conducted by a shadow government of bureaucrats and a supporting network of think tanks, media insiders, and ambitious policy wonks. Presidents may come and go, but the permanent national security establishment inevitably defeats their efforts to chart a new course. Gracefully written and extensively researched, this book is the most penetrating analysis of U.S. foreign policy that I have read in years. * Stephen M. Walt, Robert and Renee Belfer Professor of International Affairs, Harvard Kennedy School *
National Security and Double Government is brilliant, deep, sad, and vastly learned across multiple fields-a work of Weberian power and stature. It deserves to be read and discussed. The book raises philosophical questions in the public sphere in a way not seen at least since Fukuyama's end of history. * David A. Westbrook, Del Cotto Professor, SUNY Buffalo Law School *
You may also be interested in...
Simply reserve online and pay at the counter when you collect. Available in shop from just two hours, subject to availability.
Thank you for your reservation
Your order is now being processed and we have sent a confirmation email to you at
When will my order be ready to collect?
Following the initial email, you will be contacted by the shop to confirm that your item is available for collection.
Call us on or send us an email at
Unfortunately there has been a problem with your order
Please try again or alternatively you can contact your chosen shop on or send us an email at