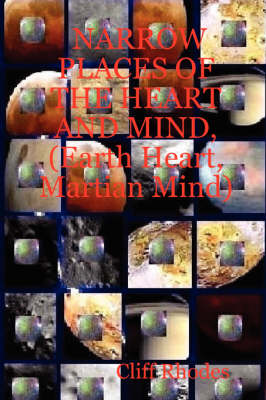 NARROW PLACES OF THE HEART AND MIND, (Earth Heart, Martian Mind) (Paperback)
Cliff Rhodes
Paperback
Published: 17/07/2007
(Soft-Cover print) I designed this front cover myself, has some violence and mature inuendos) Rated Teen.------ A lone agent looking for a key to uncover a mystery of great world shaking proportions has ventured into unknown territory that no one else has returned from. His mind, his training, and his dedication are all that hold him to his quest to make contact and take advantage of a mysterious hidden culture. He is swept up into a new world he is not prepared for and has to survive to save the Earth from destruction...Her eyes were so intense that for a moment I thought she had seen me, but it was something else. The quick movements, all of them made were inhuman, more like hyper-robotic. They were all female but they moved almost as if they were electronic. It was astonishing; the movements they made. They were robotic. They had to be! Nothing human could move that way or want to, comfortably...
Publisher: Cliff Rhodes
ISBN: 9780615151595
You may also be interested in...
We would love to hear what you think of Waterstones. Why not review Waterstones on Trustpilot?