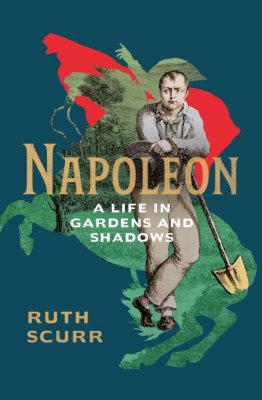 Napoleon: A Life in Gardens and Shadows (Hardback)
Ruth Scurr
(author)
Hardback
400

Pages / Published: 06/05/2021
**A FINANCIAL TIMES, DAILY TELEGRAPH, SUNDAY TIMES, TIMES, SUNDAY TELEGRAPH AND HISTORY TODAY BOOK OF THE YEAR**

'Glorious . . . Scurr has achieved something remarkable: a completely original book on a completely unoriginal subject . . . a truly remarkable writer, one of the most gifted non-fiction authors alive' Simon Schama, Financial Times

A revelatory portrait of Napoleon to mark the 200th anniversary of his death, written for our own time, not in power politics or epic battles, but through his love of nature and the gardens that gave his revolutionary life its light and shade

Napoleon's gardens range from his childhood olive groves in Corsica, to Josephine's gardens and menageries in Paris, to gardens in Cairo, Rome and on Elba, to the walled garden of Hougoumont at the battle of Waterloo, and ultimately to Napoleon's final garden on St Helena, where Chinese labourers built him a summerhouse where he could sit and scan the sea in his final months.

During the French Revolution ideas about nature - human nature, the natural world and exchanges between the two - were at the centre of fierce political debates and events. In this lively and perceptive cultural history, Napoleon is placed firmly in this context: he wanted to see himself as a patron of the sciences and progress, bringing an end to the Revolution and binding up its wounds. In fact he unleashed an era of destruction and war, causing millions of deaths across Europe.

In this innovative biography, as uniquely fitting its subject as Ruth Scurr's applauded portraits of Robespierre and John Aubrey, Napoleon emerges a giant figure made human, seen through the eyes of those who knew him best - close witnesses, rich and poor, famed and obscure - in the shade of his gardens. The result is vivid, multidimensional and haunting, throwing us back in time, so that we see him before us, both as the Emperor hunting for glory and the man in an old straw hat, leaning on his spade.

'An immensely satisfying and captivating book . . . charming and intelligent' Andrew Roberts, Times Literary Supplement
Publisher: Vintage Publishing
ISBN: 9781784741006
Number of pages: 400
Weight: 767 g
Dimensions: 242 x 165 x 38 mm
---
MEDIA REVIEWS
Glorious . . . Scurr has achieved something remarkable: a completely original book on a completely unoriginal subject. But then she is herself a truly remarkable writer, one of the most gifted non-fiction authors alive
-- Simon Schama * Financial Times *
Ruth Scurr, a politics don at Cambridge University, has
ingeniously somehow found an entirely new prism through which to view Napoleon: as a horticulturist . . . an immensely satisfying and captivating book . . . charming and intelligent
-- Andrew Roberts * Times Literary Supplement *
Ruth Scurr's imaginative take on Napoleon's life serves up fascinating insights into the man's behaviour and motivations, as well as an illuminating account of those around him.
The gardening angle is fresh and perfectly developed; to garden is to control and manipulate, an empire builder does the same -- Penelope Lively
An elegant prose stylist, Scurr is above all a fabulous historian, and a vivid storyteller with a novelist's eye for engaging detail . . .
Napoleon emerges not in his warrior guise but in his full humanity . . .
History's palimpsest emerges in these pages too, through Scurr's accounts of modern-day places shaped by Napoleon's vision: while his empire is the stuff of history books, his legacy as a landscape genius endures -- Claire Messud * Harper's Magazine *
Napoleon: A Life in Gardens and Shadows
is
history at its most enjoyable, a discursive ramble along its edges, away from matters of power and into its byways . . . Napoleon is a delight to read and must have been an immense pleasure to research
-- Caroline Moorehead * Literary Review *
Ruth Scurr brings shades of subtlety and nuance to a life well known, telling Napoleon's story through his love of nature and the gardens.
A brilliantly original biographer . . . She can write beautifully; and she casts a cold eye on proceedings, unfazed by previous adoration or condemnation of her subject . . . grippingly original
-- Paul Lay * The Times *
Scurr . . . is a mine of information on the Jardin des Plantes, with its hot-houses, museum of natural history and menagerie... [and]
introduces an array of naturalists and scientists who provide avenues of arresting detail on usually neglected aspects of the great flourishing that was Napoleonic France . . . a delight to read
-- Adam Zamoyski * Daily Telegraph *
Beautiful . . . It is an adjustment to think of Napoleon as a cultivator rather than as a conqueror, a planter rather than a planner. But such ambivalences are precisely Ms. Scurr's metier . . . The mountain of biographies written about the 'Little Corporal' must, at this point, be higher than the Alps he famously crossed in 1800, but her horticultural angle allows Ms. Scurr to tell the endlessly fascinating story of his life anew: not as a megalomaniac's power-hungry ascent to temporary glory but as the constantly frustrated reaching for the plenitude and happiness that Josephine's found in her garden

-- Christoph Irmscher * Wall Street Journal *
A pleasure to read.
The portrait of Napoleon as scientist, scholar, soldier, savant and grubby-fingered gardener is fresh and tremendously enjoyable.
Scurr's sharp perception opens new vistas in the extensive landscape of Napoleon's boundlessly curious mind
-- Sue Prideaux, author of I Am Dynamite! A Life of Friedrich Nietzsche
If you read just one biography this year, make it Ruth Scurr's brilliant and original exploration of Napoleon's life as an amateur gardener.
Everything makes sense once you realise this was a man obsessed with making Nature go his way
-- Amanda Foreman
A strikingly original account of Napoleon's life
-- Constance Craig Smith * Daily Mail *
Just when you might think there is no more to say about Napoleon,
Ruth Scurr, with her characteristic originality, has found a new way to tell his astonishing story: not through revolution or war, but through the gardens he made wherever he went. It's another wonderfully sideways take on a well-known life
-- Stella Tillyard
A quirky portrait from the biographer of Robespierre
* Sunday Times *the Books of 2021* *
In this unusual and innovative biography published to mark the 200th anniversary of its subject's death
, Scurr tells the story of Napoleon through his relationship with nature, particularly the gardens that featured in his life, from Corsica to Saint Helena.
A vividly human portrait of a figure who has in the last two centuries become more myth than man
-- Charlie Connelly * New European *
Ruth Scurr gives us a captivating, original perspective on a man too often simplified as a glorious - or vainglorious - emperor on horseback. Her sparkling book reminds us of Napoleon's human frailties
and, above all, that he was also a man of science fascinated by the order, diversity and richness of the plant world.
The origins of modern warfare and of the botanical sciences were fused in this man
-- Peter McPhee, author of Liberty or Death: The French Revolution
From Napoleon's first garden as a schoolboy to his last, on St. Helena,
Ruth Scurr takes us on a journey filled with unexpected new vistas on a familiar life
.
Napoleon: A Life in Gardens and Shadows
foregrounds his passion for science and love of the natural world.
The result is a refreshing, engaging read
-- Victoria Johnson, Pulitzer Prize finalist and author of American Eden
It is hard to find fresh things to say about Napoleon, but Ruth Scurr has managed it. Tracing his engagement with gardens and plants from his boyhood in Corsica to his final years on St. Helena, she reveals a neglected side to the great soldier and emperor.
No one interested in Napoleon will fail to discover here something unknown or unexpected
-- William Doyle, author of The Oxford History of the French Revolution
I am desperate to see Ruth Scurr's book about Napoleon
. . . it has a glorious conceit. Napoleon is seen through his relationship with gardens, and this feline, stalking approach creates a life of an icon which manages to be different * Scotland on Sunday *
Both beautifully written, as well as being a delight, both to botanists, horticulturalists, silvologists and, last but not least, Napoleonists
-- Paul Joyce * Arbuturian *
The Napoleonic bibliography is a vast and sprawling thing. Nevertheless,
Ruth Scurr . . found an unsuspected gap and has ingeniously filled it with a portrait of Napoleon-as-horticulturist . . . Scurr tracks his rise and fall through his gardens - places of ease in a life of frantic activity
-- Michael Prodger * New Statesman *
You may also be interested in...
×
Download the Waterstones App
Would you like to proceed to the App store to download the Waterstones App?
Reserve online, pay on collection


Thank you for your reservation
Your order is now being processed and we have sent a confirmation email to you at
When will my order be ready to collect?
Following the initial email, you will be contacted by the shop to confirm that your item is available for collection.
Call us on or send us an email at
Unfortunately there has been a problem with your order
Please try again or alternatively you can contact your chosen shop on or send us an email at