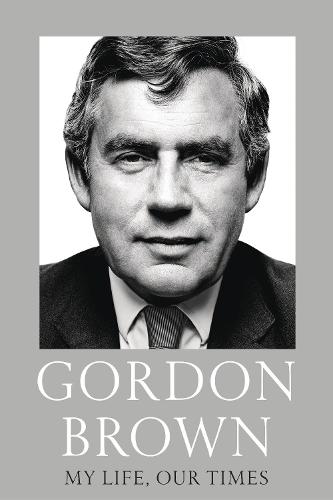 Hardback
512

Pages / Published: 07/11/2017
As former Prime Minister and our longest-serving Chancellor, Gordon Brown has been a guiding force for Britain and the world over three decades. This is his candid, poignant and deeply relevant story.
In describing his upbringing in Scotland as the son of a minister, the near loss of his eyesight as a student and the death of his daughter within days of her birth, he shares the passionately held principles that have shaped and driven him, reminding us that politics can and should be a calling to serve.


Reflecting on the personal and ideological tensions within Labour and its achievements - the minimum wage, tax credits, Bank of England independence and the refinancing of the National Health Service - he describes how to meet the challenge of pursuing a radical agenda within a credible party of government.


He explains how as Chancellor he equipped Britain for a globalised economy while swimming against the neoliberal tide and shows what more must be done to halt rising inequality.


In his behind-the-scenes account of the financial crisis and his leading role in saving the world economy from collapse, he addresses the question of who was to blame for the crash and why its causes and consequences still beset us.


From the invasion of Iraq to the tragedy of Afghanistan, from the coalition negotiations of 2010 to the referendums on Scottish independence and Europe, Gordon Brown draws on his unique experiences to explain Britain's current fractured condition. And by showing us what progressive politics has achieved in recent decades, he inspires us with a vision of what it might yet achieve today.


Riveting, expert and highly personal, this historic memoir is an invaluable insight into our times.
Publisher: Vintage Publishing
ISBN: 9781847924971
Number of pages: 512
Weight: 931 g
Dimensions: 240 x 162 x 45 mm
---
MEDIA REVIEWS
"A compelling story, well told ... This is an important book that goes far to explain what made this enigmatic, solitary and intensely private man tick ... an example of that rare species in Britain: the intellectual in politics ... this book reminds us what a moderate politics of the left looks like and how much it can achieve." - Daniel Johnson, Sunday Times
"Miles ahead of anyone you can name currently in office at Westminster. Brown thinks, and thinks profoundly. And by and large, over the last 30 years, what he has thought has turned out to be correct ... thrilling ... unexpectedly moving." - David Hare, Guardian
"A momentous political career ... he was undoubtedly the right person, at the right time, to deal with the financial crash of 2008 .. surprisingly generous towards those with whom he clashed repeatedly during his time in politics ... when he was good, he was very good indeed." - George Parker, Financial Times
"Very good at describing the process by which an idea for reform is germinated, then shaped into a policy before being executed ... He writes very movingly about the death of baby Jennifer Jane ... You feel great sympathy and admiration for his tenacity ... one of the most formidable chancellors that Britain has ever seen." - Andrew Rawnsley, Observer
"Brown will be remembered for the historic calls which he got right. Independence for the Bank of England, holding out against the euro and leading the global response to a frightening banking collapse. Who, among politicians of recent vintage, can make claim to a posterity as good as that?" - Philip Collins, The Times
"He will rightly be remembered for his and Alistair Darling's decisive intervention to prevent Britain's banks going over a cliff, taking the rest of the UK economy with them... Brown's overall response to the crisis, and the global leadership he showed throughout, helped save us from a 1930s depression. This book is a timely reminder of this recent history" - Peter Mandelson, Evening Standard
"In this fascinating book, Gordon Brown shares the experience and perspective of a lifetime spent in public service. Readers will come away with not just a deeper understanding of British and international politics but also the intellect and integrity of one of today's great statesmen" -- Kofi Annan
"Gordon Brown is a fiercely passionate Scot who is honest, straightforward and trustworthy. He was a consummate politician, and this is a must-read autobiography" -- Alex Ferguson
"I have always believed Gordon Brown to be a decent person who wanted the best for every person in our society regardless of their start in life. This fascinating book demonstrates his measured thinking, intelligence and humanity, which is what I look for in a prime minister" -- Jo Brand
"After hearing Gordon Brown as Prime Minister speaking to a large international audience on eradicating poverty, a colleague from overseas said to me, `I wish we had politicians like that in our country.' Just at the moment, so do I. This book will show something of the heart and the intelligence of a remarkable, compassionate and dedicated man" -- Rowan Williams
"This book tells the story of Labour's major achievements with a level of detail and rigour that is typical of Brown. But it is in the stories behind the statistics, in the description of his path into parliament and in his reflections from outside, that the real lessons for Labour can be learned. Taking stock of a life in elected office - from student rector at Edinburgh University to prime minister - a common theme runs through Brown's approach. This isn't a politician who sees the politics of ideas and the politics of organisation as a zero-sum game. This is someone who matches ideas, clarity of thinking and a clear purpose with dogged political organisation... for those of us in Labour whose memories of 1997 are as much connected with primary school as they are a Labour landslide, Brown's memoir is a timely reminder of why we fight for a Labour government, the power of politics and the need to organise for our ideas" -- Martin McCluskey * LabourList.org *
"Unlike Richard III, Gordon Brown wasn't executed on the battlefield and has lived to tell his own version of history in his new book, My Life, Our Times and it is pretty convincing. I write those words as someone who tried to provide a balanced and nuanced account of the financial crisis which was drowned out in the battle-cries of tribal political conflict... He was, fundamentally, a decent, thoughtful, idealistic man who did his best for the country and will, in time, be remembered more respectfully than his ideologically driven successors now allow" -- Vince Cable * Prospect
You may also be interested in...
Simply reserve online and pay at the counter when you collect. Available in shop from just two hours, subject to availability.
Thank you for your reservation
Your order is now being processed and we have sent a confirmation email to you at
When will my order be ready to collect?
Following the initial email, you will be contacted by the shop to confirm that your item is available for collection.
Call us on or send us an email at
Unfortunately there has been a problem with your order
Please try again or alternatively you can contact your chosen shop on or send us an email at