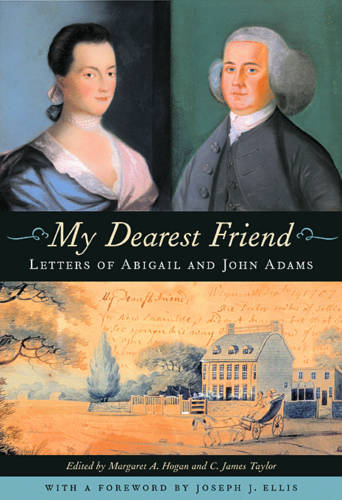 Paperback
528

Pages / Published: 15/11/2010
"A wonderfully vivid account of the momentous era they lived through, underscoring the chaotic, often improvisatory circumstances that attended the birth of the fledgling nation and the hardships of daily life."
-Michiko Kakutani, New York Times

In 1762, John Adams penned a flirtatious note to "Miss Adorable," the 17-year-old Abigail Smith. In 1801, Abigail wrote to wish her husband John a safe journey as he headed home to Quincy after serving as president of the nation he helped create. The letters that span these nearly forty years form the most significant correspondence-and reveal one of the most intriguing and inspiring partnerships-in American history.

As a pivotal player in the American Revolution and the early republic, John had a front-row seat at critical moments in the creation of the United States, from the drafting of the Declaration of Independence to negotiating peace with Great Britain to serving as the first vice president and second president under the U.S. Constitution. Separated more often than they were together during this founding era, John and Abigail shared their lives through letters that each addressed to "My Dearest Friend," debating ideas and commenting on current events while attending to the concerns of raising their children (including a future president).

Full of keen observations and articulate commentary on world events, these letters are also remarkably intimate. This new collection-including some letters never before published-invites readers to experience the founding of a nation and the partnership of two strong individuals, in their own words. This is history at its most authentic and most engaging.
Publisher: Harvard University Press
ISBN: 9780674057050
Number of pages: 528
Weight: 744 g
Dimensions: 235 x 162 x 27 mm
---
MEDIA REVIEWS
A wonderfully vivid account of the momentous era they lived through, underscoring the chaotic, often improvisatory circumstances that attended the birth of the fledgling nation and the hardships of daily life. -- Michiko Kakutani * New York Times *
Provide[s] valuable insights into the early days of partisan politics...The Adamses' correspondence gives modern Americans an extraordinarily personal view of our country's founding. Intermingled with comments on the great events of the day-the Battle of Bunker Hill, the vote for independence, the inauguration of Washington as president-are discussions of daily life, stories of neighbors and relatives, complaints about the high cost of living and laments over such family tragedies as a stillborn daughter and the deaths of parents. Their courtship letters are especially delightful. -- Mary Beth Norton * New York Times Book Review *
Extraordinary...There are many books on these two that provide context and background; this one, in which John and Abigail's voices soar unencumbered over the pages, is a lovely addition to the Adams shelf. You can't help but feel a little guilty reading these rich exchanges, since they were borne of long separations, with mail delivery that was slow at best, and during wartime, unreliable. Even the act of writing could be difficult: in one letter, Abigail talks about a winter so cold, the ink freezes in her pen...While they are apart, they endure the deaths of parents, friends, and, most heartbreaking, an infant daughter. Their elegiac letters carry an almost unbearable beauty. * Boston Globe *
The letters reveal the making of the American nation, in all its chaos and passion, from the inside...Both John and Abigail's letters are packed with evocative details that throw the reader into the epicenter of American revolutionary life. They recount the developments that led to the Declaration of Independence and the emergence of opposing political parties, the Federalists and Republicans. But, equally fascinating, they open a window on to a private world...My Dearest Friend deserves a special place in the literary canon of the founding fathers, not only for recording the amazing relationship between John and Abigail, but also because of the rarity of the survival of such a correspondence...The Adamses' letters are so enjoyable because they offer a wonderful breadth of topics, breathlessly jumping between flirtatious teasing, gossip about friends and family, and philosophical and political argument. -- Andrea Wulf * The Guardian *
Hogan and Taylor...have given history buffs a treat-the most comprehensive edition of letters between two extremely lively writers, America's second president and his wife... Here are trenchant political exchanges, such as Abigail's famous plea to her husband and the Continental Congress to 'Remember the Ladies,' and Adams's less famous, revealing reply: he noted that while it was well known that the Revolution had prompted children, slaves and apprentices to rebel, 'your Letter was the first Intimation that another Tribe more numerous and powerful than all the rest were grown discontented.' Many of the letters are personal, from coquettish courtship epistles to Abigail's moving premonition that the baby she was carrying would be stillborn. The letters shine a light on such aspects of daily life as illness, Sunday sermons and cuisine. Ellis's...foreword explains the rarity of such intimate correspondence-Martha Washington, for instance, destroyed most of the letters she and George wrote. Readers will agree that this book is a treasure. * Publishers Weekly (starred review) *
Their loving partnership in service to our country is a remarkable story and one that merits retelling over and over again. -- Senator Ted Kennedy, as quoted in the Boston Globe
This new edition of the John and Abigail Adams letters, including some never before published, refreshes what many observers consider the paradigmatic correspondence in American history. It also showed Abigail Adams as a woman of prodigious talents and shrewd insights on matters small and large. -- Robert Birnbaum * The Morning News *
John and Abigail Adams wrote to each other throughout separations caused by war and presidential duties. This comprehensive collection of their letters shows them to be affectionate, playful at times, concerned about both national and personal matters, and literate...The letters provide a unique perspective on people and events and allow us to appreciate the great sacrifice they made in service to the country. -- Susan Olasky * World *
An extraordinary series of letters...Most 18th Century letters make for dry reading. Abigail and John's are entirely different. They pour their hearts onto the page, expressing their raw feelings as flesh-and-blood humans, not the marble statues we associate with the Founders...The letters are priceless historic artifacts, not only for what they say about these two people, and about the world-changing events in which they played a role, but also because of the way they transport us back to the time...The letters are much more than rich veins to be mined with an historian's pick-axe. They are fun reading, bubbling with the charm, intelligence and passion of these two, who were both compelling and entertaining writers. -- Edward Achorn * Providence Journal *
Both Abigail and John Adams decried long separations during their marriage (while acknowledging them as necessary for the greater public good), but the unintended legacy of such trials were the thoughtful, loving, and literate letters exchanged by the couple that open a window on the birth and early years of our republic...This is a treasure, for general readers and scholars alike. -- Michele Leber * Booklist *
My Dearest Friend is a refreshing tribute to a remarkable marriage and a reminder of the power of, and intimacy in, good old-fashioned correspondence...As remarkable for its literary eloquence as for its historical significance, My Dearest Friend provides insight into the complexities America faced during its founding years and into a marriage which made sacrifices for, and was sustained by, the commitment to securing a 'more perfect union.' -- Ashley Brown * Times Literary Supplement *
In helping to found a country where their children (and ours) could grow up free, John and Abigail Adams bestowed an extraordinary blessing on all of us. Yet one of their greatest legacies was an unintended one, a consequence of their long separation and constant need for one another. They left behind marvelously detailed, literate, and loving letters to each other-1,016 survive-that add immeasurably to our understanding of this remarkable couple and their tumultuous times. Some 289 of them have been gathered into this new and fascinating collection, compiled by the editors of the Adams Papers at the Massachusetts Historical Society...The letters reveal a man who, for all his flaws, showed stupendous courage, creativity, stubborn devotion to duty, and keen insight into the nature of power. As great as he is, Abigail is easily his match. It is clear from these letters that, in addition to keeping the family's farm going in his absence (a difficult task calling for hard-headed business savvy), she often shows shrewder political instincts. Intensely curious about politics, she clamors for details and advises her husband about what steps to take. As he put it himself, she was his ballast, steadying the ship and keeping him moving forward, and he would not have become the great man he did without her...The crude stuff of life is here, illuminated with the lightning flashes of history. The letters remind us that these were two people who were groping in the darkness, unsure what would become of their lives and their new country...Their letters open a window to their age like few other documents. That alone makes them invaluable. But they are also fun reading, bubbling with the charm, intelligence, pungency, and passion of these two, who were compelling and entertaining writers, one as good as the other. -- Edward Achorn * Weekly Standard *
In My Dearest Friend, I am on page thirty one, and I have not cried, but something more powerful has happened. I stop with the book open in my hands, and just think. There's no way to describe. Certain lines make my entire body have goose bumps in awe of the beauty, the awareness of Abigail and John. I just sit on the couch, for maybe ten, twenty minutes, thinking. The world is somewhere else, far away, when I read this. I am transported to a land over two centuries old, but these humans, these revolutionaries, had the ideas that could change the world today. And these ideas were in normal, everyday letters. I'm astounded even now, and I've known this for quite some time. This book makes me want to be a historian. There's no other way to put it. I want to spend the rest of my life learning about history, writing about history. I want to be able to read the real letters, to see the real documents...I would give this book to nearly anyone. It's a love story, historical fiction, an adventure, almost anything but fantasy. Though their lives were fantastical. Please read this book. It is changing my life. Maybe it will change yours. * Look Books (lookbooks.wordpress.com) *
You may also be interested in...
×
Download the Waterstones App
Would you like to proceed to the App store to download the Waterstones App?
In lockdown areas: reserve online, pay by phone. Collection available in most shops.
For shops outside of these areas: reserve online, pay on collection.
Or,
add to basket
, pay online, collect in as little as 2 hours, subject to availability.
Thank you for your reservation
Your order is now being processed and we have sent a confirmation email to you at
When will my order be ready to collect?
Following the initial email, you will be contacted by the shop to confirm that your item is available for collection.
Call us on or send us an email at
Unfortunately there has been a problem with your order
Please try again or alternatively you can contact your chosen shop on or send us an email at