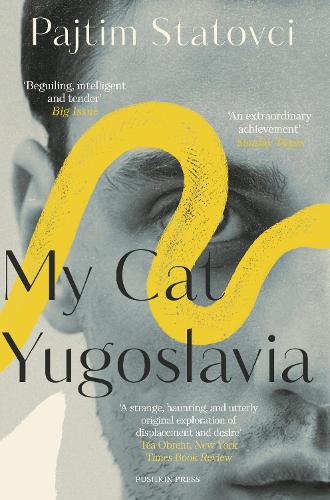 Paperback
Published: 19/04/2018
'A strange,haunting, and utterly original exploration of displacement and desire' -- TéaObreht, author of The Tiger's Wife, New York TimesBook Review

'Fearless, delicate, beautiful, sad,haunting and wonderful. A brilliant novel that mesmerizes with both itshumanity and its utter uniqueness' -- JeffVanderMeer

In 1980s Yugoslavia, a young girl namedEmine is married off to a man she hardly knows. But soon her country is torn apartby war, and she is forced to flee with her family.

Decadeslater Emine's son, Bekim, has grown up a social outcast in a country suspiciousof foreigners. Aside from casual hook-ups, his only companion is a pet boaconstrictor - until one night in a gay bar, Bekim meets a talking cat. It isthis witty, charming, manipulative creature that starts him on a journey backto Kosovo to confront his demons and make sense of the remarkable, cruelhistory of his family. And soon he learns that love can be found in the mostunexpected places.
Publisher: Pushkin Press
ISBN: 9781782273608
Dimensions: 198 x 129 mm
---
MEDIA REVIEWS
Striking... a memorably disconcerting novel, a kind of literary Let the Right One In Widely praised, very good passages, particularly when [Statovci] is writing about life in Kosovo... an extraordinary achievement It's a surreal fable that makes tangible the dislocation felt by those who are persecuted in their home country and in the country that gives them refuge Fearless, delicate, beautiful, sad, haunting, and wonderful. A brilliant novel that mesmerizes with both its humanity and its utter uniqueness. A novel you'll be thinking about long after you've turned the last page Beguiling, intelligent and tender... a masterclass in defining the soft spots which mark human vulnerability A strange, haunting, and utterly original exploration of displacement and desire . . . a marvel, a remarkable achievement, and a world apart from anything you are likely to read this year. Strange and exquisite, the book is a meditation on exile, dislocation, and loneliness. A wonderful and haunting novel about war, family, love - and a talking cat Statovci offers the redemptive promise of love to leaven this stirring portrait of migration's multi-faceted loneliness. This dark debut has a daring, irrepressible spirit [A] compelling and altogether beautiful debut novel... Inventive and playful... At a time when there is a shortage of empathy for refugees both here and in Europe, Statovci's queer perspective on the search of rootedness in My Cat Yugoslavia is wonderful and original - and much welcome, too Spry and warm . . . Statovci's surreal, arresting novel suggests that ... love and identity have many reflections, many destinies, many languages. Sometimes, a broken mirror reflects something truer-as does the kind of love, drawn from the deepest sunken places, that tries to put it back together. An elegant, allegorical portrait of lives lived at the margin, minorities within minorities in a new land... [My Cat Yugoslavia] a fine debut, layered with meaning and shades of sorrow A startlingly original tale... This novel's singular ingredients combine to make a strange but thoroughly intoxicating brew Compelling . . . [an] important exploration of the aftershocks of war. Powerful. . . . Dramatic. . . . Statovci is a tremendous talent. This debut novel - a deserved winner of the Helsingin Sanomat Literature Prize for Best First Novel in 2014 - has an intensity and power that demands a second reading. It is so beautifully written and observed - so so perfect Anyone who writes as naturally and powerfully as Statovci surely has models, but they're not apparent in My Cat Yugoslavia, and he's one of those rare performers in language who puts you out of mind of all others while you're reading his charged, bounding prose... [A] remarkable book This beautiful novel is about a great many things . . . Pajtim Statovci is a writer of brilliant originality and power, and his debut novel conveys as few books can what life feels like now. 'One of my favourites from the past few months... heartbreaking at times, heartwarming, melancholy and unusual... compelling to read, touching and beautifully fresh... I cannot recommend it enough This is a must read and a debut of emotional heft A gripping and ambitious novel . . . explores refreshing literary paths, and Pajtim Statovci is a voice to remember. After this superb debut it's safe to say: this is a literary voice to follow My Cat Yugoslavia operates on so many levels. It completely enraptures me. The boldness of its structure, prose, wisdom and sorrow. ... It is brutal, painful, and utterly topical. An utterly brilliant debut . . . This little gem truly does have everything. Intelligence, warmth, love and pain woven together into an elegantly composed novel about solitude, pets, and the tragic fate of the Kosovo Albanians during the Balkan war in the nineties. I cannot but heap praise upon Statovci's debut novel. It is entertaining, engaging and ingenious. Poignant and sorrowful, sometimes harrowing, while in a strange way also entertaining, almost carefree. Above all it feels real, true. It captures a feeling which I imagine many migrants and refugees can identify with - and that the rest of us can actually understand too. A multifaceted tale of migration, love, family and - let's just call it "animal husbandry". An impressive novel by a 24-year-old debutant. An insanely great debut in all its rattling, imaginative chaos . . . a terrifically openhearted, wild and gentle tale of what the hell it means to fit in in an average Nordic "lottery country" when you're neither very average nor lucky in lotteries. It's written with a young, vibrantly hot hand. Fascinating and heartbreaking. The young debutant Pajtim Statovci, who himself came to Finland as a two-year-old, addresses the material of which alluring human fates are woven. The detail is impressive; one is truly caught and wants to follow Emine till the end. ... My Cat Yugoslavia cuts quickly between Emine and Bekim's stories. Both are well-told, both fascinate, and both engage. A dark, Finnish sensation. ... Rarely have I read such a dark novel simultaneously characterized by playfulness and hope. If in the future Statovci is to follow in Sofi Oksanen's steps when it comes to portraying the challenges of being bicultural in Finland, then his humor and inventiveness are surely his strongest assets. A lion of a writer. ... Pajtim Statovci's first novel will be remembered. We can expect great things from him. Pajtim Statovci's debut novel is the most breathtaking reading experience I've had in years! My Cat Yugoslavia draws you in instantly and offers a reading adventure in which the fate of individual and ethnic group, along with friendship, love, fear, extended family and immediate family, and the turmoils through history of both a single person and a whole country, are all inextricably intertwined. Beyond the success and international resonance of his debut novel, Statovci inspires conversation with his boldness...With a sensual realism imbued with fantastical elements and popular tradition, Statovci confronts the fundamental themes of the bildungsroman. Take one part Bulgakov, one part Kafka, one part Proust, and one part Murakami; shake and pour over an icy wit; and you have the devastatingly tart My Cat Yugoslavia. This book is a rallying cry for breaking conventions of structure and characterization, and it marks the debut of an irresistible new talent. I cannot wait to see what Pajtim Statovci does next. Every once in a while, but not often, a book and author come along so original, so mature, and so timeless you might think you're discovering a classic from the past. But My Cat Yugoslavia by Pajtim Statovci is very much a novel of and for today. It asks urgent questions about identity and family, humanity and nationality, symbols and metaphors, but refuses to give any simple answers. By embracing the complexity of our present world, Statovci has created a work of literature, and a work of art. The cat is a surrealist break in an otherwise realist novel, and a turning point in Bekim's search for love in Statovci's richly symbolic tale of flight and return, and return, and return again.
You may also be interested in...
"Highly original...."
This highly unconventional novel about how difficult it is to be an immigrant and try to carve out a life for yourself despite the cultural differences.

The parallel story of Emine a refugee running from civil war in... More
"Idiosyncratic story that neatly communicates an idiosyncratic identity"
Okay, I was completely drawn in by the cover, and the book doesn't take long to match the terse comedy of its cover illustration. Just as the story begins to get a little preposterous, Statovci gives us enough... More
×
Download the Waterstones App
Would you like to proceed to the App store to download the Waterstones App?
Reserve online, pay on collection


Thank you for your reservation
Your order is now being processed and we have sent a confirmation email to you at
When will my order be ready to collect?
Following the initial email, you will be contacted by the shop to confirm that your item is available for collection.
Call us on or send us an email at
Unfortunately there has been a problem with your order
Please try again or alternatively you can contact your chosen shop on or send us an email at