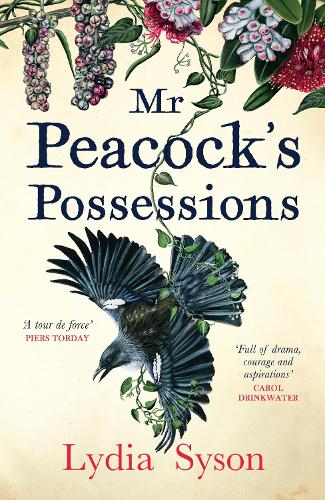 Mr Peacock's Possessions (Hardback)
Lydia Syson
(author)
Hardback
432

Pages
Published: 17/05/2018
'An intelligent, beautifully written story about a dysfunctional family in a sinister paradise' The Times

Oceania 1879. A family of settlers from New Zealand are the sole inhabitants of a remote volcanic island.

For two years they have struggled with the harsh reality of trying to make this unforgiving place a paradise they can call their own. At last, a ship appears. The six Pacific Islanders on board have travelled eight hundred miles across the ocean in search of work and new horizons. Hopes are high for all, until a vulnerable boy vanishes. In their search for the lost child, settlers and newcomers together uncover far more than they were looking for. The island's secrets force them all to question their deepest convictions.

Praise for Mr Peacock's Possessions:

'Syson's novel, a modern take on the literary genre known (after Robinson Crusoe) as the robinsonade, is a haunting exploration of Lizzie's disillusion with her father's dreams and their damaging consequences'
The Sunday Times

'Syson's novel is richly evocative of a Pacific world in flux, as cultures clash and individuals battle to find their place amid the ensuing confusion . . . a very moving story of fathers and children, of faith and disillusion, and of the dangerous consequences of trying to take possession of people as well as land'
BBC History Magazine

'Lushly written, with immaculate historical detail, it worked for me on many levels'
Women and Home

'As compelling, mysterious and haunting as the troubled tropical paradise it portrays . . . Syson doesn't just write about the past, she transports us there. A tour de force'
Piers Torday

'A wonderful book full of drama, courage and aspirations. The language is rich and the characters so humanely drawn'
Carol Drinkwater

'A thrilling story of love and courage, brutality and hope all told with equal measures of deep humanity, imagination and élan. Lydia Syson has an amazing gift of bringing history alive through richness of language, dramatic pace and fabulous visual imagery. This is better than watching a film!'
Anne Sebba

'With its chorus of vivid voices, Lydia Syson's novel reminds us why we consumed The Poisonwood Bible and The Underground Railway so avidly'
Michelle Lovric

'What a powerful, rich and fascinating book. Dark historical events are interwoven with the mystery of a missing child on a remote Pacific island in 1879. Highly compelling'
Anna Mazzola

'Swiss Family Robinson meets Lord of the Flies in Lydia Syson's superb and engrossing book. This scintillating story evokes an island paradise which descends into a nightmarish hell as Mr Peacock's Possessions builds towards a shocking revelation and a thrilling climax'
Wendy Moore

'A tense, evocative, richly imagined novel'
Emma Darwin

'Lydia Syson writes very well about the natural world . . . [and] the dark tensions in family life that overwhelm the Peacocks'
Miranda Miller

'Dazzling . . . A vividly realised, compelling novel'
Linda Newberry

'Mr Peacock's Possessions - one of those rare novels which keeps you up much later than you'd planned - is everything I love in a book. What starts out as a wonderful adventure slowly reveals itself as something altogether darker. Then you realise you can't put it down until you discover the truth. Swallows and Amazons for grown-ups'
Alex Monroe

'That's perhaps the greatest achievement of this novel: it stays with you. I've been haunted by it since I finished reading it. I hope very much that it gets the attention and praise it deserves . . . This novel is pleasurable on so many levels'
The History Girls

'Syson's eye for character is immediate - her narrative voice reaching out from the page and grabbing the reader from the off. They're drawn into a small but compelling community, one full of interesting characters and complicated relationships that only becomes more intriguing as the book goes on . . . Syson brings things to a climax that's as rewarding as it is moving - and allows her to examine community, youth and family in a beautifully drawn setting'
The Bookbag

'This certainly is one of the most powerful, brilliantly written books'
Breakaway Reviews


Publisher: Zaffre
ISBN: 9781785761867
Number of pages: 432
Weight: 628 g
Dimensions: 240 x 162 x 38 mm
---
MEDIA REVIEWS
Syson's novel, a modern take on the literary genre known (after Robinson Crusoe) as the robinsonade, is a haunting exploration of Lizzie's disillusion with her father's dreams and their damaging consequences Syson's novel is richly evocative of a Pacific world in flux, as cultures clash and individuals battle to find their place amid the ensuing confusion . . . a very moving story of fathers and children, of faith and disillusion, and of the dangerous consequences of trying to take possession of people as well as land An intelligent, beautifully written story about a dysfunctional family in a sinister paradise Lushly written, with immaculate historical detail, it worked for me on many levels Mr Peacock's Possessions is a wonderful book, full of drama, courage and aspirations. The language is rich and the characters so humanely drawn A thrilling story of love and courage, brutality and hope all told with equal measures of deep humanity, imagination and élan. Lydia Syson has an amazing gift of bringing history alive through richness of language, dramatic pace and fabulous visual imagery. This is better than watching a film! With its chorus of vivid voices, Lydia Syson's novel reminds us why we consumed The Poisonwood Bible and The Underground Railway so avidly, but it has a (literally) breathtaking bravura and an intensity all of its own What a powerful, rich and fascinating book. Dark historical events are interwoven with the mystery of a missing child on a remote Pacific island in 1879. Highly compelling Swiss Family Robinson meets Lord of the Flies in Lydia Syson's superb and engrossing book. This scintillating story evokes an island paradise which descends into a nightmarish hell as Mr Peacock's Possessions builds towards a shocking revelation and a thrilling climax This tense, evocative, richly-imagined novel conjures the voices of a strange time and place, and makes them universal As compelling, mysterious and haunting as the troubled tropical paradise it portrays . . . Syson doesn't just write about the past, she transports us there. A tour de force Lydia Syson writes very well about the natural world . . . [and] the dark tensions in family life that overwhelm the Peacocks Dazzling . . . A vividly realised, compelling novel Mr Peacock's Possessions - one of those rare novels which keeps you up much later than you'd planned - is everything I love in a book. What starts out as a wonderful adventure slowly reveals itself as something altogether darker. Then you realise you can't put it down until you discover the truth. Swallows and Amazons for grown-ups A gripping yarn with unexpected outcomes . . . Syson writes engagingly and evocatively Syson's eye for character is immediate - her narrative voice reaching out from the page and grabbing the reader from the off. They're drawn into a small but compelling community, one full of interesting characters and complicated relationships that only becomes more intriguing as the book goes on . . . Syson brings things to a climax that's as rewarding as it is moving - and allows her to examine community, youth and family in a beautifully drawn setting That's perhaps the greatest achievement of this novel: it stays with you. I've been haunted by it since I finished reading it. I hope very much that it gets the attention and praise it deserves . . . This novel is pleasurable on so many levels Powerful, intense and beautiful, this novel will stay with me for a long time A wonderfully written piece from Lydia Syson Mr Peacock's Possessions is a gripping novel . . . I'm in love with Lydia Syson's writing I absolutely love this book. It was an amazing read Lydia Syson's skill as a storyteller, brings Monday Island, the place and its eccentric inhabitants so vividly to life Mr Peacock's Possessions was an enjoyable historical read which offered an intriguing family story within an unfamiliar landscape This certainly is one of the most powerful, brilliantly written books A dazzling tale of colonisation and corruption, enterprise and abuse . . . Lord of the Flies as if written by Barbara Kingsolver, perhaps, with a dash of The Wicker Man. But I think readers will find various other parallels and echoes in this vividly realised, compelling novel Haunting Historical fiction fans, meet your new favourite author . . . intense and beautiful Mr Peacock's Possessions offers an intriguing and tension-packed exploration of family dynamics, colonialism, loss of innocence, and the perilous power of both possession and obsession . . . Beautifully written, immaculately researched and powerfully imagined Syson succeeds splendidly . . . Her main narrator, 15-year-old Lizzie, is utterly authentic: idealistic, frightened and pitiless. The narrative counterpoint between her and Kalala is deftly balanced. Pa is a memorable creation, driving and driven Richly descriptive, her narrative is a history lesson, a geography lesson, a survival story, and, as it reaches its climax, disturbingly heart-pounding A novel both expansive and intimate... a beautiful and perceptive adventure Richly told in poetic prose An absorbing exploration of a daughter's disillusion with her father's dreams of freedom A mesmerising portrait of a family unravelling Atmospheric, lyrical and tense... beautiful, thoughtful writing, full of elegant turns of phrase In its characters, settings and details, Mr Peacock's Possessions tells an all-too­ human and modem tale about the dangers of untrammelled authority, heedless romanticism, phobic gender and racial archetypes and the shortcomings of power. Astutely, the author anchors this rich mix of themes to the lives of one family and their employees on one small Pacific island. This particularising of the general pays off big time, making Mr Peacock's Possessions rich and comprehensive indeed.
You may also be interested in...
×
Download the Waterstones App
Would you like to proceed to the App store to download the Waterstones App?
Reserve online, pay on collection


Thank you for your reservation
Your order is now being processed and we have sent a confirmation email to you at
When will my order be ready to collect?
Following the initial email, you will be contacted by the shop to confirm that your item is available for collection.
Call us on or send us an email at
Unfortunately there has been a problem with your order
Please try again or alternatively you can contact your chosen shop on or send us an email at