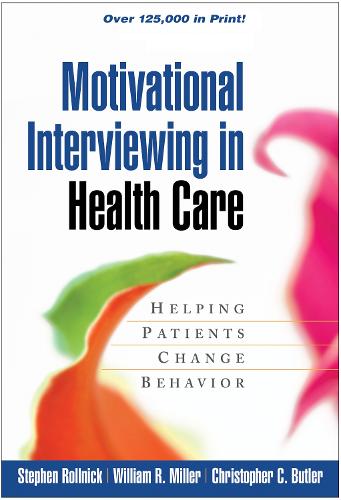 Paperback
210

Pages / Published: 10/01/2008
Much of health care today involves helping patients manage conditions whose outcomes can be greatly influenced by lifestyle or behavior change. Written specifically for health care professionals, this concise book presents powerful tools to enhance communication with patients and guide them in making choices to improve their health, from weight loss, exercise, and smoking cessation, to medication adherence and safer sex practices. Engaging dialogues and vignettes bring to life the core skills of motivational interviewing (MI) and show how to incorporate this brief evidence-based approach into any health care setting. Appendices include MI training resources and publications on specific medical conditions.

This book is in the Applications of Motivational Interviewing series.
Publisher: Guilford Publications
ISBN: 9781593856120
Number of pages: 210
Weight: 316 g
Dimensions: 229 x 152 x 14 mm
---
MEDIA REVIEWS
"We use this book for Coaching Wellness Behavior Change, a core class for all Exercise and Health Science students at UMass Boston. Lifestyle behavior has become a targeted issue contributing to population health. This book provides all health professionals (and future professionals) with invaluable information on developing provider-client relationships that facilitate change."--Dana Commesso, MA, Lecturer, College of Nursing and Health Sciences, University of Massachusetts, Boston
"At the heart of rehabilitation are two central tenets: First, the patient is a key member of the rehabilitation team. Second, the rehabilitation process requires patients to learn and utilize new adaptive behaviors. How do we make these two key notions come alive in our interactions with patients? This text is the answer to that question. It provides useful theory, evidence-based methods, and clinical examples. The material is accessible and does not assume advanced knowledge of psychology. The message and skills in this book should be part of the practice of every rehabilitation professional."--Stephen T. Wegener, PhD, ABPP, Director, Division of Rehabilitation Psychology, Department of Physical Medicine and Rehabilitation, Johns Hopkins University "This book provides a well-organized, thoughtful discussion about how to develop a set of interpersonal skills that can promote the betterment of patient care and health behaviors. Pharmacy practice faculty would be well advised to incorporate these powerful methods and examples into courses that address health behaviors and/or patient counseling."--Douglas J. Pisano, PhD, Professor and Dean, School of Pharmacy, Massachusetts College of Pharmacy and Health Sciences "As pharmacists take an increasingly active role in health care and medication counseling, we now recognize that many 'medication problems' are, in essence, communication problems. Motivational interviewing allows pharmacists to communicate with their patients in a clear, concise, and structured way. Pharmacists and pharmacy students in any practice setting will benefit from implementing the tools and techniques in this book."--Ernest J. Dole, PharmD, ABQ Health Partners, Albuquerque, New Mexico, and University of New Mexico College of Pharmacy
"In this era of evidence-based practices in health care, practitioners still face the vexing question: Will my patient actually follow the procedures known to be efficacious? This book assists health care professionals in maximizing their effectiveness. An evidence-based practice in its own right, MI facilitates cooperation and compliance with treatment regimens. If you are a health care professional or a mental health professional consulting in a medical setting, and have ever wondered what to do with a seemingly 'unmotivated' patient, this is the book for you."--Barent Walsh, PhD, Executive Director, The Bridge of Central Massachusetts
"This is an immensely useful text for teaching students and professionals how to help patients adopt health-promoting behaviors; for example, dieting, exercising, or attending follow-up appointments. Most such education concentrates on what to tell patients; this text concentrates on how to guide patients so that they will hear and implement the 'what.' As an MI trainer, I will be using this resource with a range of health care providers."--Robert G. Rhode, PhD, Department of Psychiatry, University of Arizona; member, Motivational Interviewing Network of Trainers (MINT)
"This book delivers what it promises: practical, effective, and efficient strategies for producing more productive interactions with patients about behavior change. The authors, who are largely responsible for originating and refining MI, have translated this powerful evidence-based intervention into a set of core competencies and skills that can be easily understood, learned, practiced, and, most importantly, integrated into real-world clinical practice."--Michael G. Goldstein, MD, Associate Director for Clinical Education and Research, Institute for Healthcare Communication, and Department of Psychiatry and Human Behavior, Warren Alpert Medical School of Brown University
"Many of today's leading causes of death are significantly related to modifiable health behaviors. This book provides a critical approach for helping patients change their behavior. Motivational interviewing (MI) provides a new alternative to the outdated direct persuasion approach, bringing a breath of fresh air to the conversation between health care providers and those with chronic diseases like diabetes and obesity. Practical examples and exercises make this book a powerful tool for use in educating medical students, nurses, and other health care professionals about encouraging patients to make healthy choices."--Robert Gabbay, MD, PhD, Executive Director, Penn State Hershey Diabetes and Obesity Institute
"This practical guide moves motivational interviewing (MI) into the realm of everyday health care practice. Specifically, the book addresses the 'why' and the 'how-to' aspects of having conversations about behavior change. It helps clinicians learn to hear what their patients are really saying, and how to guide them through resolving ambivalence about behaviors. Relevant examples from various fields of medicine are provided. The chapter featuring extended examples of how to integrate MI into everyday interactions is particularly helpful. I see this as a useful resource for physicians, nurses, physician assistants, and other clinicians, as well as clinician educators involved in training students and residents."--Carol R. Schermer, MD, MPH, Department of Surgery, Division of Trauma, Loyola University Medical Center
"Packed with practical pearls of wisdom for guiding patients in the process of changing many types of unhealthy behaviors, this easy-to-read book is a gift to all health care providers. The authors use real-life cases and believable dialogue to illustrate how to use listening skills to elicit the patient's perspective and build toward change. Too many of us in health care get discouraged and give up hope too soon when patients are not compliant with our advice, when we really should be trying a different way to approach the issues. This book's 'can-do' and 'no-blame' orientation helps the busy clinician regain satisfaction in relationships with patients and become more effective in facilitating change."--Edward Bernstein, MD, Department of Emergency Medicine, Boston University School of Medicine; Director, Brief Negotiated Interview and Appropriate Referral to Treatment (BNI-ART) Institute, Boston University School of Public Health
"The authors highlight the underpinnings of effective communication and demonstrate how the spirit, philosophy, and principles of MI can actually enhance patient-provider relationships. This book is a 'must read' for health care practitioners across disciplines, from novice clinicians searching for practical advice to expert providers seeking professional refueling. Faculty will find this book invaluable for teaching future health care providers, as the information on MI is evidence based and the case examples are drawn from real-world clinical experiences. In today's fast-paced health care industry, providers may feel daunted by encroaching technology or hamstrung by requisite documentation. Therefore, enjoying meaningful interactions with patients becomes even more of a challenge. Fortunately, MI can help providers connect with their patients. After reading this book, one cannot help but feel empowered to change behavior."--Pam Burke, PhD, RN, Division of Adolescent Medicine, Boston Children's Hospital
"I highly recommend this book for any practitioner dealing in health behavior change. In a conversational style with numerous helpful examples, the authors translate complex psychological concepts into easy-to-understand terms that will support and guide health care practitioners in improving their consultations with patients. The book is also a 'must' for undergraduates and graduate students who are interested in motivational interviewing within the world of health care practice."--Judith Carpenter, registered dietitian, Derbyshire County Primary Care Trust, UK
You may also be interested in...
Simply reserve online and pay at the counter when you collect. Available in shop from just two hours, subject to availability.
Thank you for your reservation
Your order is now being processed and we have sent a confirmation email to you at
When will my order be ready to collect?
Following the initial email, you will be contacted by the shop to confirm that your item is available for collection.
Call us on or send us an email at
Unfortunately there has been a problem with your order
Please try again or alternatively you can contact your chosen shop on or send us an email at