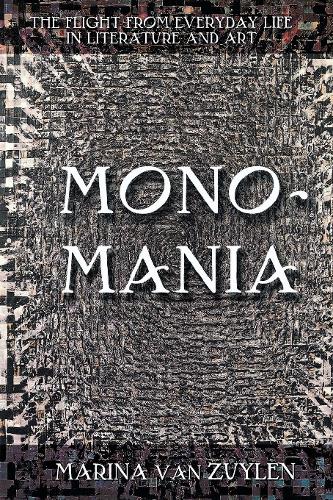 Monomania: The Flight from Everyday Life in Literature and Art (Paperback)
Marina van Zuylen
(author)
Paperback
252

Pages / Published: 23/03/2005
"This book is about the obsessive strategies people use to keep the arbitrary out of their lives; it is about the fanaticism and intolerance linked to their ideas of perfection and permanence.... Those readers who have brushed against the dangers of the idee fixe, who have come close to surrendering to something or someone diabolically seductive or coercive, will recognize in these characters their own encounter with a dangerously systematized world."-From the introduction.
Monomania explores the cultural prominence of the idee fixe in Western Europe during the nineteenth and twentieth centuries. Marina van Zuylen revives the term monomania to explore the therapeutic attributes of obsession. She introduces us to artists and collectors, voyeurs and scholars, hypochondriacs and melancholics, whose lives are run by debilitating compulsions that may become powerful weapons against the tyranny of everyday life.
In van Zuylen's view, there is a productive tension between disabling fixations and their curative powers; she argues that the idee fixe has acted as a corrective for the multiple disorders of modernity. The authors she studies-Charles Baudelaire, Sophie Calle, Elias Canetti, George Eliot, Gustave Flaubert, and Thomas Mann among them-embody or set in motion different manifestations of this monomaniacal imperative. Their protagonists or alter egos live more intensely, more meaningfully, because of the compulsive pressures they set up for themselves. Monomania shows that transforming life into art, or at least into the artful, drives out the anxiety of the void and puts in its place something so orderly and meaningful that it can take on the aura of a religion.
Publisher: Cornell University Press
ISBN: 9780801489860
Number of pages: 252
Weight: 369 g
Dimensions: 229 x 152 x 14 mm
---
MEDIA REVIEWS
"As we turn these learned pages on modernist fanaticism, obsession, compulsion, and idees fixes, we come to recognize the figure in the mirror: the monomaniac is us. Marina van Zuylen's gentle irony and dry wit make this richly written book a delight to read."
-- Janet Beizer, Harvard University
"In the same way as Rene Girard analyzed the structure of mimetic desire in his groundbreaking Deceit, Desire and the Novel of 1965, Marina van Zuylen constructs the history of what seems at first an obsolete psychological affliction by ordering a series of case studies into a teleological march through time-from Flaubert's to ours. She reactivates notions that had fallen into oblivion and in so doing proposes an entirely new reading of monomania as a symptom, or rather a coherent set of symptoms, of modern life."
-- Yve-Alain Bois, Harvard University
"Monomania is a rich and compelling study of an often misunderstood condition.... Marina van Zuylen's interest lies in analyzing monomania as an all-too-common yearning for absolutes that transcends the nineteenth century and permeates literature, art, and life even today. Her book offers a fascinating philosophical and psychological consideration of the desire to organize one's existence around a stable ideal, and the corresponding anxiety that life is otherwise meaningless or empty. Drawing on various sources-case studies, letters, and biographies in addition to fiction, philosophy, and art-van Zuylen illuminates monomania's role in a range of practices and predilections. Myriad idees fixes coalesce around the drive to establish the coherence that life lived freely fails to provide. The desire unites the artist fleeing reality for abstraction, the nineteenth-century housewife seeking a master in her mate, the hypochondriac focusing ever inward on his or her body, and even the academic obsessed with productivity."
-- Laura Spagnoli, French Forum, Fall 2007
"Monomania is highly original, deeply learned, intelligent, and thoughtful. It is also engagingly and agreeably written. Marina van Zuylen fruitfully combines psychological and literary issues, achieving a balance between attention to specific authors and a strong central argument. She successfully brings together the inner problematics of literature-the act of writing, the choice of the writing life, the investment in form and style-and the literary imagination of the psychology of human thought and behavior."
-- William Paulson, author of
Literary Culture in a World Transformed: A Future for the Humanities
"This intriguing book is finally about our relationship to time-plain time that is at once too dull and too rich for us to bear-and how it invests modern art with esthetic urgency. Marina van Zuylen's case studies of notable modernist monomaniacs are poignant in their precise appreciation of the risks and riches of the idee fixe. We come to feel we understand these characters all too well! A dim but haunting awareness of one's own susceptibility to the 'fear of everyday life' grows in the reader, engendering a kind of double reading that performs the very ambiguity of monomania so precisely revealed by van Zuylen's analysis. I read this beautifully written book monomaniacally."
-- Suzanne Guerlac, University of California, Berkeley
"This is an enthralling book-I found myself monomaniacally lecturing anyone who came near about its ideas. Marina van Zuylen revives a concept of obsession broader than that currently used in psychiatry, and in doing so makes it easier to see what the urge to create literature can have in common with such states as obsessive grief, hypochondriasis, and perfectionism. Monomania is not only a theory-rich delight for students of literature and culture, it has practical implications for clinicians-and for any general reader who has felt the seductive tug of being a jealous lover, a tchotchke collector, or a workaholic."
-- Alice Flaherty MD, PhD, Director, Movement Disorders Fellowship, Department of Neurology, Massachusetts General Hospital, and author of
The Midnight Disease: The Drive to Write, Writer's Block, and the Creative Brain
You may also be interested in...
Simply reserve online and pay at the counter when you collect. Available in shop from just two hours, subject to availability.
Thank you for your reservation
Your order is now being processed and we have sent a confirmation email to you at
When will my order be ready to collect?
Following the initial email, you will be contacted by the shop to confirm that your item is available for collection.
Call us on or send us an email at
Unfortunately there has been a problem with your order
Please try again or alternatively you can contact your chosen shop on or send us an email at