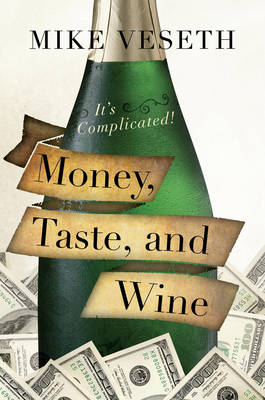 Money, Taste, and Wine: It's Complicated! (Hardback)
Mike Veseth
(author)
Hardback
208

Pages / Published: 04/08/2015
"It's complicated!" That's a simple way to describe the sort of relationship that seemingly defies simple explanations. Like a love triangle, money, taste, and wine are caught in a complicated relationship affecting every aspect of the wine industry and wine enthusiast experience. As wine economist and best-selling author Mike Veseth peels back the layers of the money-taste-wine story, he discovers the wine buyer's biggest mistake (which is to confuse money and taste) and learns how to avoid it, sips and swirls dump bucket wines and Treasure Island wines, and toasts anything but Champagne. He bulks up with big-bag, big-box wines and realizes that sometimes the best wine is really a beer. Along the way he questions wine's identity crisis, looks down his nose at wine snobs and cheese bores, follows the money, surveys the restaurant war battleground, and imagines wines that even money cannot buy before concluding that money, taste, and wine might have a complicated relationship but sometimes they have the power to change the world. His engaging and enlightening book will surprise, inform, inspire, and delight anyone with an interest in wine-or complicated relationships.
Publisher: Rowman & Littlefield
ISBN: 9781442234635
Number of pages: 208
Weight: 445 g
Dimensions: 235 x 161 x 21 mm
---
MEDIA REVIEWS
The more it costs, the better the wine. That is the most common mistake made by wine buyers, according to Veseth, author of Wine Wars (2011) and blogger for Wine Economist. Veseth bring his love of wine and knowledge of economics to bear in this thoroughly enjoyable examination of how to satisfy the wine palate and the wallet. Perceptions of wine come from context and expectations, such as the occasion and the location. Palates are confused by labels, fancy wine-tasting venues, even placement on the store shelf. Veseth details the economics of winemaking as well as the psychology behind the wine market from the perspectives of the winemakers, the wine consumers, and investors and the connection between perceptions of quality and price. Drawing cultural references from movies and books, he debunks wine snobbery and offers advice on choosing based on personal tastes and finding treasures in wine stores, supermarkets, and big-box retailers. This is a humorous, engaging, and commonsense look at the tricky triangulation between money, taste, and wine. * Booklist *
Everyone knows stories about people who prefer a bottle of swill to a $1,000 wine or a blindfolded aficionado waxing poetic about an old Bordeaux that turns out to be a warm white Burgundy. Wine economist Veseth takes readers on an entertaining romp through the wine world, which often bucks common economic theory. Veseth warns readers `not [to] expect this to be a linear journey.' The book's 14 chapters are organized into four sections: `Buyer Beware,' which examines the disconnect between price and quality; `Get a Clue! Searching for Buried Treasures,' on where values lie; `A Rose Is a Rose? Money, Taste, and Identity,' about labeling and identity; and `What Money Can (and Can't) Buy,' on extrinsic value, sales, restaurants, perception, and much more. The book is readable and packed with corny humor. Endnotes and an index may appease scholars, but the book is really pitched to general readers and consumers looking for deals. . . .Summing Up: Recommended. General readers, professionals. * CHOICE *
Of all the wine blogs in the wide, wide blogosphere, one that I look forward to reading the most is Mike Veseth's Wine Economist. There's nothing else quite like it-a blend of economic insight . . . and often irreverent winespeak. -- Lettie Teague * The Wall Street Journal *
Veseth writes about how the complicated relationship between money, taste and wine runs the wine industry. He peels away layers to reveal the wine lover's biggest mistake: confusing money and taste. * Seattle Times *
Mike Veseth appears to be on a mission . . . in discussing aspects of the wine world in a language ordinary mortals can understand. . . . He is so adept at making complex issues fun and accessible. This book should appeal to wine consumers and professionals intrigued to understand more about the issues behind the product itself. * Harpers Wine & Spirit *
"A caffeinated writing style [and] catchy themes...make the book a quick and lively read." * Wine Spectator *
Money, Taste, and Wine is a great read: entertaining, informative, and heartfelt. Like Wine Wars it is packed with economic and historic insights into the world of wine. At times I found myself laughing out loud and also reaching for my notebook to jot down facts and add (wine and non-wine) books to my reading list. -- Caro Feely, Feely Wines and French Wine Adventures
Written in Mike Veseth's inimitable style, Money, Taste, and Wine goes down as easily as the finest pinot, will make you laugh, and will fatten your wallet. If you've ever suspected that wine's pricing is rigged, fumed at stratospheric restaurant tariffs, or want to be amazed at how the revolution in global trade has affected your favorite drink, then look no further than this book. A must for any consumer of the fruit of the vine. -- William Bernstein, author of Birth of Plenty, A Splendid Exchange, and Masters of the World
With his usual wit, wisdom, and whimsy, the ebullient Mike Veseth (aka The Wine Economist) unravels the complexities of what he calls the `unhealthy love triangle of money, taste, and wine.' For anyone with taste who is remotely interested in discovering hidden, undervalued vinous treasures and willing to learn a little about themselves along the way, this insightful book is a must read. Having fought the good fight in Wine Wars and tickled the imagination in Extreme Wine, Mike's insights into the vexed relationship between Money, Taste, and Wine could be subtitled `choose your wine and those you share it with carefully.' -- Michael Hince, HinceOnWine, Australia
I laughed out loud reading Mike Veseth's Money, Taste, and Wine. He has such a humorous and down-to-earth style when writing about wine, and his new book involves hilarious romps through supermarket aisles, restaurants, and discount stores to find a good deal on wine. It also has its serious points, providing invaluable information for wine lovers in analyzing their own palates and expectations. A definite read for all wine enthusiasts, wine students, and wine newbies. -- Liz Thach, Master of Wine, Professor of Wine Business & Management, Sonoma State University
Mike has the unique ability to look at wine differently and discover facts beyond the mythology. In this fascinating book, he gives the poor consumer overwhelmed by choice and myth an eye-opening look at wine. -- Paul Cluver, Paul Cluver Wines, South Africa
In Money, Taste, and Wine, preeminent wine economist Mike Veseth teaches us how to be a rational, informed wine consumer by better understanding available wine choices, personal tastes and preferences, and common wine buying mistakes. Along the way, he provides fascinating insights into the workings of the wine industry in a fun and interesting way with his engaging and provocative writing style. A must read for anyone who drinks wine or has an interest in the wine market. -- James Thornton, Eastern Michigan University, author of American Wine Economics
A remarkable blend of research, history, and examples straight from the heart of a genuine explorer makes this book a must read. Mike skillfully walks his readers through the multifaceted relationship of money, taste, and wine and leads them to a smart, optimistic, and enjoyable conclusion. A perfect fit for those who thirst for more. -- Evy Gozali, CEO of Sababay Winery, Bali, Indonesia
You may also be interested in...
Simply reserve online and pay at the counter when you collect. Available in shop from just two hours, subject to availability.
Thank you for your reservation
Your order is now being processed and we have sent a confirmation email to you at
When will my order be ready to collect?
Following the initial email, you will be contacted by the shop to confirm that your item is available for collection.
Call us on or send us an email at
Unfortunately there has been a problem with your order
Please try again or alternatively you can contact your chosen shop on or send us an email at