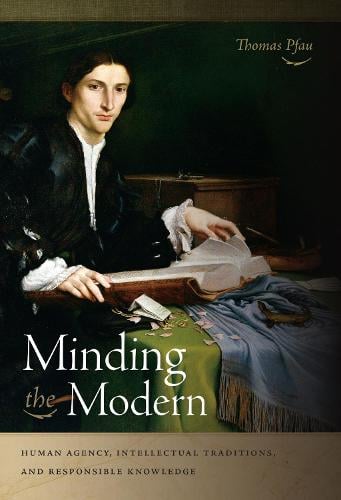 Minding the Modern: Human Agency, Intellectual Traditions, and Responsible Knowledge (Paperback)
Thomas Pfau
(author)
Paperback
688

Pages / Published: 28/02/2015
In this brilliant study, Thomas Pfau argues that the loss of foundational concepts in classical and medieval Aristotelian philosophy caused a fateful separation between reason and will in European thought. Pfau traces the evolution and eventual deterioration of key concepts of human agency-will, person, judgment, action-from antiquity through Scholasticism and on to eighteenth-century moral theory and its critical revision in the works of Samuel Taylor Coleridge. Featuring extended critical discussions of Aristotle, Gnosticism, Augustine, Aquinas, Ockham, Hobbes, Shaftesbury, Mandeville, Hutcheson, Hume, Adam Smith, and Coleridge, this study contends that humanistic concepts they seek to elucidate acquire meaning and significance only inasmuch as we are prepared positively to engage (rather than historicize) their previous usages. Beginning with the rise of theological (and, eventually, secular) voluntarism, modern thought appears increasingly reluctant and, in time unable to engage the deep history of its own underlying conceptions, thus leaving our understanding of the nature and function of humanistic inquiry increasingly frayed and incoherent. One consequence of this shift is to leave the moral self-expression of intellectual elites and ordinary citizens alike stunted, which in turn has fueled the widespread notion that moral and ethical concerns are but a special branch of inquiry largely determined by opinion rather than dialogical reasoning, judgment, and practice.

A clear sign of this regression is the present crisis in the study of the humanities, whose role is overwhelmingly conceived (and negatively appraised) in terms of scientific theories, methods, and objectives. The ultimate casualty of this reductionism has been the very idea of personhood and the disappearance of an adequate ethical language. Minding the Modern is not merely a chapter in the history of ideas; it is a thorough phenomenological and metaphysical study of the roots of today's predicaments.
Publisher: University of Notre Dame Press
ISBN: 9780268038441
Number of pages: 688
Weight: 1179 g
Dimensions: 229 x 152 x 36 mm
---
MEDIA REVIEWS
"
Minding the Modern
is comparable to Alasdair MacIntyre's
Whose Justice? Which Rationality?
and Charles Taylor's
A Secular Age
. With extraordinary erudition, Pfau locates the philosophical developments that contributed to the agony of the modern mind. Moreover, he helps us see why many who exemplify that intellectual stance do not recognize their own despair. Suffice it to say, this is an immensely important book that hopefully will be read widely and across the disciplines." --
Stanley Hauerwas, Gilbert T. Rowe Professor of Theological Ethics, Duke Divinity School
"In
Minding the Modern
, Thomas Pfau uses a panoramic range of writers, including many contemporaries, and employs literary as well as philosophical resources. The book is enriched by brilliant quotations. It is hermeneutics at its best. It helps us understand ourselves and the world in which we live; it reads texts and images that have brought us to where we are, and offers a judicious proposal for where we go from here. The book is a major contribution to the effort to live in the present without disowning the past, and to see freedom as involved with truth." --
Robert Sokolowski, Elizabeth Breckenridge Caldwell Professor of Philosophy, The Catholic University of America
"[A] learned, deeply important, and accomplished study . . . that calls upon a set of interpretive and communal traditions that, far from being fossilized, contain radical and renovating power, but whose power can be called on, extended, elaborated, and applied to the present and future only if one knows that those traditions can and do remain alive and available, and that we ignore or pronounce them 'past' at our peril. The sweep and comprehensiveness of the work are remarkable. This is not a history of philosophy at all. It is a call for us to rededicate ourselves to a serious, demanding practice of humanistic studies." --
James Engell, Gurney Professor of English and Professor of Comparative Literature, Harvard University
." . . like Charles Taylor (
A Secular Age
) and Brad Gregory (
The Unintended Reformation
), Pfau is a man equipped for the enormous cartographic task of remapping the rise of modernity. . . .
Minding the Modern
is not history, nor is Pfau a historian. Instead, it is an extended, historically grounded close reading of texts that an accomplished literature professor is well equipped to provide. . . . Pfau focuses his wide-ranging account by choosing the (admittedly enormous) category of human personhood, and its corollaries of will and agency, as the vehicle in which he takes his tour of the ages. His express aim is 'to capture the intrinsic idea of will and person through a series of forensic readings of representative arguments.'" --
Books & Culture
"Thomas Pfau's argument is bold: concepts of personhood--rationality, consciousness, judgment, responsibility, and will--have, since the thirteenth century, been so shorn of their distinction and truth value that they have crippled all modern formulations of human agency. More than a decline narrative,
Minding the Modern
is a thick narration of the systematic forgetting of the hard-won content of these concepts, counterilluminated by a few resilient thinkers who refused to participate in modernity's collective amnesia. . . . the consequent depth and richness of the interpretation of these canonical texts--nimbly supported with scholarly citation and counterinterpretation--will not fail to impress and, I think, consistently persuade." --
The Journal of Religion
"By returning the concerns of the 'big books' to literary studies, Pfau hopes to deliver the humanities in general from the methodological dead ends of historicism and reductionist approaches imported from the hard sciences. . . . Whether sympathetic or hostile to Pfau's arguments, readers will find them a useful provocation. The ensuing debate, and the intellectual traditions it will engage, could help restore seriousness and urgency to the humanities." --
The Hedgehog Review
"In this book [Thomas Pfau] argues that the loss of fundamental concepts in classical and medieval Aristotelian philosophy has caused a fateful separation between reason and will in European thought. . . . A book of transcendent vision, and one that deserves to be studied in depth." --
The Sun News Miami
"Pfau's book is recommended reading for humanists on both sides of the contemporary querelle des Anciens et des Modernes, and required reading for humanists whose theoretical apparatus is derived predominately or exclusively from late modern and postmodern sources. Pfau sees the proliferation of theories as a symptom of a crisis in humane learning." --Choice
"Thomas Pfau's Minding the Modern offers its readers one of the most substantial historical discussions now available on the relationship between human will, intellect and reason." --The Immanent Frame
"Pfau's book is rich and deserving a look. . . . Anyone interested in the history of philosophy or teaching in a humanities program should have this book on their shelves to help build their lectures, giving them a perspective to share with students that provides opportunities for questioning some of our key humanistic terms." --Augustinian Studies
"Minding the Modern is an immensely rich genealogy and critique of modernity. For years to come, its innovative phenomenological approach promises to be at the center of debates in theology, philosophy, and other humanistic disciplines about what it means to be human and about the direction the humanities themselves should take." --The Review of Metaphysics
." . .
Minding the Modern
is highly stimulating, methodologically self-aware and admirably audacious . . . . Part One offers a brilliant methodological reflection on the commitments and aims of the book. The seventy pages of these Prolegomena count among the most original and inspiring parts of the book and hopefully find a wide readership . . . . Minding the Modern will rightfully be seen as a serious, lucid contribution to the search of a new method for the humanities after modernity." --
Reviews in Religion and Theology
"Thomas Pfau's Minding the Modern, a groundbreaking work that may aptly be compared to studies by Charles Taylor and Alasdair MacIntyre, develops a sustained argument about the concept of human agency from Aristotle to the present day. Against the loss of deliberative agency, Pfau persuasively demonstrates why the idea of the person remains indispensable to humanistic inquiry today." --Journal of Theological Studies
"Pfau's book is an expression of profound faith and conviction . . . the problems posed by voluntarism are tracked through a wide range of materials and it is here that we see Pfau at his best."--Studies in English Literature 1500-1900
"As with many cartographies of modernity, Pfau covers enormous intellectual ground here. But by limiting his scope to the metamorphosis affecting the relationship between the will and the intellect, he sheds much needed light on how the once indissoluble, metaphysical link between human agency and responsible knowledge gradually became severed. . . . This is, above all, a scholarly work of remembering: both what it once meant to be human and how those ancient possibilities might revitalize a contemporary area of decay." --Religious Studies Review
"The sheer depth of Pfau's scholarship must deter criticism. His philosophical claims are underwritten by his dazzling erudite close readings, and he traverses with ease a vast intellectual terrain. . . . The case that Pfau makes is compelling, and its urgency . . . is hardly over-stated." --European Romantic Review
You may also be interested in...
Simply reserve online and pay at the counter when you collect. Available in shop from just two hours, subject to availability.
Thank you for your reservation
Your order is now being processed and we have sent a confirmation email to you at
When will my order be ready to collect?
Following the initial email, you will be contacted by the shop to confirm that your item is available for collection.
Call us on or send us an email at
Unfortunately there has been a problem with your order
Please try again or alternatively you can contact your chosen shop on or send us an email at