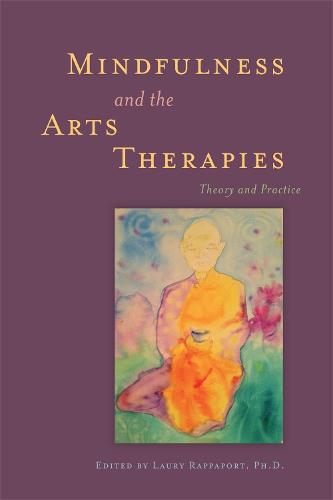 Paperback
352

Pages / Published: 31/10/2013
In stock online

Free UK delivery
This ground-breaking book explores the theoretical, clinical and training application of integrating mindfulness with all of the arts therapies, and includes cutting-edge contributions from neuroscience. Written by pioneers and leaders in the arts therapies and psychology fields, the book includes 6 sections that examine mindfulness and the arts therapies from different perspectives: 1) the history and roots of mindfulness in relation to spirituality, psychotherapy and the arts therapies; 2) the role of the expressive arts in cultivating mindful awareness; 3) innovative approaches that add mindfulness to the arts therapies; 4) arts therapies approaches that are inherently mindfulness-based; 5) mindfulness in the training and education of arts therapists; and 6) the neuroscience underlying mindfulness and the arts therapies.
Contributors describe their pioneering work with diverse applications: people with cancer, trauma, chronic pain, substance abuse, severe mental illness, clients in private practice, adolescents at camp, training dance and art therapists, and more. This rich resource will inspire and rejuvenate all clinicians and educators.
Publisher: Jessica Kingsley Publishers
ISBN: 9781849059091
Number of pages: 352
Weight: 648 g
Dimensions: 246 x 181 x 20 mm
---
MEDIA REVIEWS
"Mindfulness and the Art Therapies is a wonderful and comprehensive book. This is an important contribution to the growing field of mindfulness. How wonderful that Laury Rappaport has masterly brought to the forefront the importance of mindfulness and art therapies." -- Bob Stahl, Ph.D., Co-Author of A Mindfulness-Based Stress Reduction Workbook, Living with Your Heart Wide Open, Calming the Rush of Panic, and A Mindfulness-Based Stress Reduction Workbook for Anxiety
"Applications of mindfulness and meditation are demonstrating their effectiveness with stress reduction, self-regulation, trauma recovery, and overall quality of life. Likewise, the expressive arts therapies are increasingly embraced as methods of transformation that enhance health and well-being. This impressive book is a timely and seminal contribution to both the current literature on mindfulness and the arts therapies. It incorporates everything helping professionals and students need to know, including the foundations of mindfulness and arts therapies, neurobiology and somatic perspectives, and pragmatic, integrative approaches to applying methods to a variety of populations and settings.
Mindfulness and the Arts Therapies brings together the basics of mindfulness and meditation in a practical, accessible way that invites not only arts therapists but also, all mental health and healthcare professionals to cultivate and apply its wisdom to both working with clients and as a personal wellness practice."
-- Cathy Malchiodi, Ph.D., ATR-BC, LPAT, LPCC, Trauma-Informed Practice and Expressive Arts Therapy Institute, and Lesley University
"Mindfulness and the arts can play an important role in psychospiritual growth and the evolution of human consciousness. Is the complex consciousness that we call 'mind' and brain the same or different? If you are interested in this question, Drs. Jared D. Kass and Sidney M. Trantham provide a clear and comprehensive roadmap to your evolving understanding in their ambitious chapter in Mindfulness and the Arts Therapies.
The authors decipher the most current research in brain science- the autonomic nervous system, polyvagal theory and the stress response, human brain evolution, hemispheric lateralization, attachment theory, pleasure and pain, trauma and PTSD, addiction, self-awareness, empathy, memory, and emotion. They carefully link their discussion of these topics, fostering greater appreciation of the neuroanatomy and physiology of internal composure, resilience, and maturity -in contrast to that of aggression, violence, and destructive coping. Kass and Trantham's chapter, toward the end of this impressive volume, provides an integrative understanding for clinicians, researchers, and anyone interested in mindfulness, meditation, the arts, and the brain."
-- Lawrence Peltz, MD., Author of The Mindful Path to Addiction Recovery: A Practical Guide to Regaining Control Over Your Life
"The integration of mindfulness practices and the art therapies is a natural and much needed evolution for clinicians and group facilitators. Dr. Laury Rappaport has brought together a remarkable group of practitioners in this timely book. The authors embrace a broad spectrum of approaches -authentic movement, Focusing-Oriented Arts Therapy, Person-Centered Expressive Arts, drama, poetry, and music therapies, and more-all finding enhanced results of combining deep meditation practices with their arts modality. Theories and concepts are carefully presented with meaningful case material. The last chapter, 'Perspectives from Clinical Neuroscience: Mindfulness and the Therapeutic Use of the Arts' describes how the healing, transformative work we are doing is validated by scientific research. This book contributes new and vital material to the humanistic practices of the arts therapies as enhanced by mindfulness methods." -- Natalie Rogers, Ph.D., REAT, Author of The Creative Connection for Groups: Person-Centered Expressive Art for Healing and Social Changeand The Creative Connection: Expressive Arts for Healing
"Although I sincerely believed that I was a pretty thoughtful art therapist, this book has enabled me to realize that I have not been sufficiently mindful of mindfulness- at least not in the deepest sense of the word. As a painter I often experience an altered state of consciousness in the process of creating, something I value tremendously, but have not named. My psychoanalytic training allowed me to strive for 'evenly hovering attention,' trying to attune my entire self toward the other. Yet now, Laury Rappaport's marvelous collection of writings by expressive arts therapists who have experienced genuine mindfulness-and who know how to name and to promote such states-has opened my spirit to an even more profound way of being-in-the-world as
a helper. There is no question that this book is both timely and timeless, as are the arts themselves, and the practice of mindfulness in all of its forms."
-- Judith A. Rubin, Ph.D., ATR-BC, HLM, Department of Psychiatry, University of Pittsburgh, Pittsburgh Psychoanalytic Center, Author of Approaches to Art Therapy and The Art of Art Therapy
"Psychotherapists will find here a rich, practical guide for illuminating how mindfulness can be applied to a variety of art therapies. Rappaport has brilliantly assembled leading pioneers in their respective fields to clearly show how mindfulness offers a basis for healing, growth, and transformation. Her own chapters are notable for offering a clear, compelling integration of Gendlin's Focusing-a very specific kind of mindfulness practice -with the expressive arts. I highly recommend this refreshing and insightful resource." -- John Amodeo, Ph.D., author of Dancing with Fire: A Mindful Way to Loving Relationships
"Gathering together a rich array of creative arts therapists in a single volume, the various authors provide rich illustrations of how mindfulness and creative arts enhance and reflect each other. Readers are presented with a diverse range of practical application, and left with the space to imagine additional ways to apply these concepts in therapy, education and wellness." -- Jordan S. Potash, Ph.D., ATR-BC, REAT, LCAT, Lecturer, Centre on Behavioral Health and the Department of Social Work and Social Administration, The University of Hong Kong
"Finally there is a book that brings together leaders in the field of arts-based therapy, to impart their knowledge of mindfulness-based practice. This innovative and comprehensive book demonstrates the effective use of a 2,500-year practice within the framework of expressive arts for health and well-being. Mindfulness has been utilized in the lexicon through other names such as 'presence' or 'attunement' or 'flow' or 'witnessing' but here, through historical background, theory and current day mindfulness-practices, the authors gathered take contemporary psychological inquiry to a new wave of application and understanding. I am sure this book will have a great impact and be utilized in the training of practitioners for many years to come." -- Mitchell Kossak, Ph.D., Associate Professor, Expressive Therapies, Lesley University, Executive Co-Chair, International Expressive Arts Therapy Association
You may also be interested in...
Simply reserve online and pay at the counter when you collect. Available in shop from just two hours, subject to availability.
Thank you for your reservation
Your order is now being processed and we have sent a confirmation email to you at
When will my order be ready to collect?
Following the initial email, you will be contacted by the shop to confirm that your item is available for collection.
Call us on or send us an email at
Unfortunately there has been a problem with your order
Please try again or alternatively you can contact your chosen shop on or send us an email at