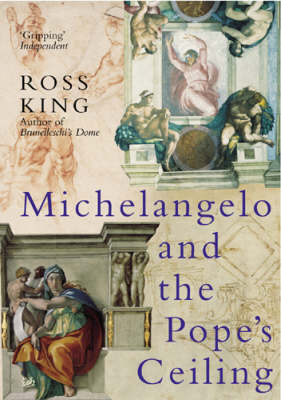 Michelangelo and the Pope's Ceiling (Paperback)
Ross King
Paperback
Published: 02/10/2003
In 1508 Pope Julius II commissioned Michelangelo to paint the ceiling of the Sistine Chapel. He had been advised against doing so. The painting of the vaults was so difficult and Michelangelo so inexperienced in fresco that it was considered a folly. Indeed, Michelangelo himself was reluctant. He considered himself primarily a sculptor rather than a painter. However, for the next four years he would labour over the vast ceiling, at first employing assistants, later working alone; spending back-breaking hours with his face turned upwards. The result was one of the greatest masterpieces of all time. "There is no other work to compare with this for excellence, nor could there be," wrote Vasari in his "Lives of Artists". Ross King's book tells the story of those four extraordinary years. Battling against ill health, financial difficulties, domestic problems and inadequate knowledge of the art of fresco, Michelangelo created figures so beautiful that, when they were unveiled in 1512, they stunned his onlookers. Modern anatomy has yet to find names for some of the muscles on his nudes, they are painted in such detail. From Michelangelo's experiments with the composition of pigment and plaster to his bitter rivalry with Raphael, who was working on the neighbouring Papal Apartments, Ross King paints a magnificent picture of day-to-day life on the Sistine scaffolding and outside in the upheaval of early 16th-century Rome.
Publisher: Vintage Publishing
ISBN: 9780712667685
You may also be interested in...
We would love to hear what you think of Waterstones. Why not review Waterstones on Trustpilot?