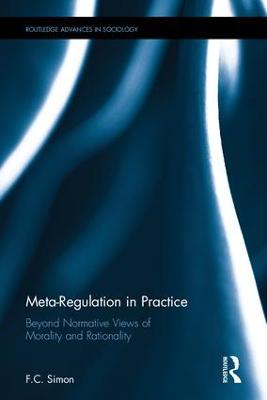 Meta-Regulation in Practice: Beyond Normative Views of Morality and Rationality - Routledge Advances in Sociology (Hardback)
F.C. Simon
(author)
Hardback
240

Pages / Published: 30/05/2017
Meta-regulation presents itself as a progressive policy approach that can manage complexity and conflicting objectives better than traditional command and control regulation. It does this by `harnessing' markets and enlisting a broad range of stakeholders to reach a more inclusive view of the public interest that a self-regulating business can then respond to.
Based on a seventeen year study of the Australian energy industry, and via the lens of Niklas Luhmann's systems theory, Meta-Regulation in Practice argues that normative meta-regulatory theory relies on questionable assumptions of stakeholder morality and rationality. Meta-regulation in practice appears to be most challenged in a complex and contested environment; the very environment it is supposed to serve best.
Contending that scholarship must prioritise an understanding of communicative possibilities in practice, this book will be of interest to undergraduate and postgraduate students, as well as postdoctoral researchers interested in subjects such as business regulation, systems theory and corporate social responsibility.
Please visit meta-regulation.com for more insightful information on meta-regulation and Meta-Regulation in Practice.
Publisher: Taylor & Francis Ltd
ISBN: 9781138233720
Number of pages: 240
Weight: 630 g
Dimensions: 235 x 159 mm
---
MEDIA REVIEWS
[T]his is a sparkling book with brilliant case study material. It should enliven debate about what has perhaps become a slightly tired orthodoxy about regulatory policy and may well be destined to become a classic.
Christopher Hood, Australian Journal of Public Administration
Based on extensive analysis and deep insider knowledge of the Australian retail energy sector, F.C. Simon builds a powerful and fascinating critique of meta-regulation theory and its practical manifestation. Simon shows how complexity and contested views of compliance and market competition, challenge key tenets of meta-regulatory thinking, not least capacities for learning and for responsiveness to reputational risk. Meta-Regulation in Practice will be of considerable interest to scholars, policy makers and managers in the energy sector and beyond.
Michael Power, London School of Economics and Political Science, UK
Don't be put off by the title - you don't need to be a sociologist to enjoy Fiona Simon's highly engaging, insightful and perceptive account of retail energy regulation in Australia. Meta-Regulation in Practice explores alternative views of what regulation should achieve, and shows how policy evolved in response to the various different pressures. It calls out for an equally stimulating and informed account of UK and other experience, and for the (re)opening of diplomatic relationships between economic and sociological concepts of regulation. This is a superb book and a welcome addition to the literature.
Stephen Littlechild, Emeritus Professor, University of Birmingham, and Fellow, Judge Business School, University of Cambridge UK; former UK electricity regulator (1989-98)
This is a very perceptive book, offering an original perspective on regulation, illustrated with an information-packed analysis of a major regulated market - the retail energy market in Australia.
Martin Cave, Visiting Professor, Imperial College Business School, UK
Meta-Regulation in Practice is an excellent case study on the attempt to morally and politically steer the Australian retail energy sector. F.C. Simon shows how such regulation efforts may only result in a growing hiatus between the public self-description of an industry and its actual functioning. Its intricate systems-theoretical reflections connect this book with cutting-edge contemporary social theory far beyond its immediate area.
Hans-Georg Moeller, Professor and Subject Convenor, Philosophy and Religious Studies Program, University of Macau, China
F.C. Simon provides a unique and original perspective on the practice of regulatory organizations and in doing so rejects the enthusiastic claims and uncritical accounts of many academic commentators. She takes as her starting point the contradictions and self-deceptions under which these organizations operate. In the footsteps of Niklas Luhmann, whose systems theory inspired her analysis, she skilfully exposes their taken-for-granted world as an illusion. At the same time she recognizes fully the complexity of the task facing regulation in its attempt to reconcile the demands of politics, law and economics and produce a coherent account of its activities. This is a ground-breaking book which deserves to be widely read.
Michael King, Professor Emeritus, University of Reading, UK
Your reviewer can do no better than advise the readers of this journal interested in energy regulation or regulation generally to read Simon's case study. It is amongst the most incisive, sobering and salutary accounts of the actual results of intervention known to your reviewer, who has been reading these things for more than thirty years. Simon's contribution to the problematisation of the public interest in regulation is important.
David Campbell, Journal of Law and Society
Meta-Regulation in Practice is a very good book which unusually coherently combines theoretical reflection with a real-world story. It will be of interest to students of regulatory theory and those who are specifically interested in energy regulation.
Cosmo Graham, LSE Review of Books
[This book] is essential reading for those of us who have in the past emphasized the need for regulation of any kind to be open and responsive; the author does us a great service in encouraging us to see the limits of communication and discourse.
Tony Prosser, Governance
This book is a meticulously researched analysis of the issues that flow from reliance on co-regulation or self-regulation. It particularly identifies the problems created when the expectations of policy makers do not align with the capacity or strategy of the regulated. In doing so, it also highlights the potentially uncomfortable alignment (or otherwise) between policy makers and regulators.
Rob Nicholls, Australian Business Law Review
It's unlikely that anyone other than Simon could have written this book...The combination of Simon's theoretical grounding and deep professional expertise makes this book a rigorous and incisive critique of meta-regulation, while her crisp style and personal insights make it highly readable, including to a non-academic readership.
Kieran Donoghue, Energy Research and Social Science
This is a fascinating book on a topic of increasing debate and relevance.
Patricia Leighton, Journal of Management and Organization
This work is timely and fills an important gap in the scholarly literature.
Brooke Lahneman, Journal of Management and Governance
Simon's important work has much to tell us about the variety of ways that regulatory instruments can be integrated into a welfare regime under conditions of marketization and how this reshapes the nature and processes of legal and political accountability.
Sangeetha Chandrashekeran, Law and Society Review
We might expect a text on the regulation of energy retail to be a bit dry, but there is high drama, with characters of varied disposition and clashing ideology; there is good and evil and a confusion of these befitting a good story - even one that tells the truth.
Jesse Cunningham, Sydney Law Review
Meta-Regulation in Practice can be read as using a theory of how the world is - i.e., systems theory - to critique a theory of how the world should be, i.e., meta-regulatory theory. In that, it is successful. Readers will find lots to engage with beyond these particular theories, though, as the book taps into broader conceptual challenges across the study of politics, policy, and related fields. How can we measure policy effectiveness? How can we account for contingency in policy-making decisions? What does it mean for actors to act `rationally'? How can we conceptualize the public interest? Simon addresses such questions directly, and challenges the assumptions through which they are sometimes resolved.
Gabriel Menard, Canadian Journal of Sociology
Simon is to be commended for the methodological approach used in this research. Delineating unstated and untested assumptions in normative meta- regulatory theory and using a detailed case study to test these assumptions is exemplary practice.
Stephen M. Mitchell, Administrative Science Quarterly
Meta-Regulation in Practice serves as a cautionary tale about the difficulties involved in successfully implementing meta-regulatory reforms in contested and complex policy environments. It deserves to be widely read by students of regulatory policy and politics.
Neal D. Woods, Journal of Public Administration Research and Theory
You may also be interested in...
Simply reserve online and pay at the counter when you collect. Available in shop from just two hours, subject to availability.
Thank you for your reservation
Your order is now being processed and we have sent a confirmation email to you at
When will my order be ready to collect?
Following the initial email, you will be contacted by the shop to confirm that your item is available for collection.
Call us on or send us an email at
Unfortunately there has been a problem with your order
Please try again or alternatively you can contact your chosen shop on or send us an email at