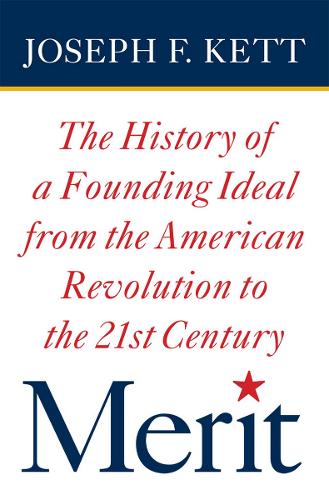 Merit: The History of a Founding Ideal from the American Revolution to the Twenty-First Century - American Institutions and Society (Hardback)
Joseph F. Kett
(author)
Hardback
344

Pages / Published: 15/01/2013
The idea that citizens' advancement should depend exclusively on merit, on qualities that deserve reward rather than on bloodlines or wire-pulling, was among the Founding ideals of the American republic, Joseph F. Kett argues in this provocative and engaging book. Merit's history, he contends, is best understood within the context of its often conflicting interaction with the other ideals of the Founding, equal rights and government by consent. Merit implies difference; equality suggests sameness. By sanctioning selection of those lower down by those higher up, merit potentially conflicts with the republican ideal that citizens consent to the decisions that affect their lives.
In Merit, which traces the history of its subject over three centuries, Kett asserts that Americans have reconciled merit with other principles of the Founding in ways that have shaped their distinctive approach to the grading of public schools, report cards, the forging of workplace hierarchies, employee rating forms, merit systems in government, the selection of officers for the armed forces, and standardized testing for intelligence, character, and vocational interests. Today, the concept of merit is most commonly associated with measures by which it is quantified.
Viewing their merit as an element of their selfhood-essential merit-members of the Founding generation showed no interest in quantitative measurements. Rather, they equated merit with an inner quality that accounted for their achievements and that was best measured by their reputations among their peers. In a republic based on equal rights and consent of the people, however, it became important to establish that merit-based rewards were within the grasp of ordinary Americans. In response, Americans embraced institutional merit in the form of procedures focused on drawing small distinctions among average people. They also developed a penchant for increasing the number of winners in competitions-what Kett calls "selection in" rather than "selection out"-in order to satisfy popular aspirations. Kett argues that values rooted in the Founding of the republic continue to influence Americans' approach to controversies, including those surrounding affirmative action, which involve the ideal of merit.
Publisher: Cornell University Press
ISBN: 9780801451225
Number of pages: 344
Weight: 652 g
Dimensions: 235 x 156 x 26 mm
---
MEDIA REVIEWS
"The young American republic seemed a nation peculiarly conducive to recognizing merit, or a 'quality deserving reward' in public life. Here Kett traces the evolution of this ideal from the revolution forward, pointing out how merit frequently clashed with other ideals such as equality. . . . He succeeds in a tightrope performance, tying what seem disparate phenomena together in a frequently delightful narrative . . . . . Kett's book has opened new historical avenues."-Library Journal (22 February 2013)
"Historian Kett (Univ. of Virginia) provides a wide-ranging history of the idea of merit, tracing its shaping of the US over the course of three centuries. Much has been written about the importance of 'equality' and 'consent' to the American experience; comparatively, 'merit' has been overlooked. For Kett, the US was 'born meritorious,' as advancement by merit was a pillar belief of American revolutionaries. . . . Summing Up: Recommended."-M.G. Spencer, Choice (September 2013)
"Kett's dense and detailed history argues that the ideal of merit was vital to the founding and development of the United States. . . This ambitious and wide-ranging book is an apt complement to such indispensable studies of the subject. . . " --Darrin M. McMahon, The Journal of Interdisciplinary History (April 2014)
"How societies recognize and reward talent is a fascinating historical subject. When the subject is studied properly, a nation's entire inner circuitry is exposed. A fair number of scholars have undertaken the task, and we are truly lucky to have Joseph F. Kett among them. An accomplished historian has written a wonderful book about American struggles to define merit ('worth,' 'desert') since the colonial period. A large and formidable body of source material has been perfectly digested, and national comparisons, notably with France and England, are accurate and to the point. They help readers understand the different national route the American Republic took to reach modernity. A compressed book review of a volume with so much on offer can only hint at the treasures within. Kett is in superb control of a complex narrative, which he never simplifies. The path to the present was scarcely straightforward. It was full of nuances, unintended consequences, and surprises, Clio at her most fickle. The necessary and fascinating detail notwithstanding, not for a moment does the historian lose sight of the logic of his main argument."-American Historical Review
"This book provides a veritable treasure trove of historical anecdotes, facts, statistics, and studies relating to American educational history and its intersections with American political history. The book is impressively researched throughout and provides a number of insightful suggestions at the intersections of American political history/theory and educational history/theory. For these reasons, Kett's book should prove valuable to a wide range of scholars of American political thought, including both historians and political scientists."-S. Adam Seagrave, Political Science Quarterly (Winter 2014-2015)
"Kett's history of decision making about talent is consistently strong and readable. . . . The bittersweet legacy for American history is a partial triumph of meritocracy. There is a perennial tension in attempts to reconcile equality and excellence. Setting asside abuses of blatant favoritism, a typical situaion is as thus: whether in admission to an academically selective college, in selecting candidates for a judgeship or cabinet position, in being hired as a CEO, or in choosing an award-winning book, the social fact is that often most applicants are qualified, perhaps highly qualified. The corollary is that even talented people can be left out in high-stakes competition. That may not be the way of the world, but as Kett's excellent book documents, it is the American way."-John R. Thelin, The Journal of Southern History(November 2014)
"A great virtue of this book-really a stunning notion-is that there are such things as a history of merit and a history of the idea of merit and its associated institutions in America. No one has ever written this book or anything close to it."-Michael Schudson, Columbia Journalism School, author of The Good Citizen: A History of American Civic Life
"In this brilliant book, Joseph F. Kett traces the history of merit in the United States as its meaning shifted from a personal quality to an institutionally certified warrant for allocating social rewards. As he shows, this evolution made schooling the central mechanism for distributing opportunity while at the same time subjecting schools to continual criticism for failing to distribute merit fairly."-David Labaree, Stanford University, author of Someone Has to Fail: The Zero-Sum Game of Public Schooling
"What is it you've earned and think you deserve but haven't got? Joseph F. Kett takes this question all the way back to the Founding era, tracing meritocracy and its discontents up to the present. This is a tough-minded, contrarian book that takes a stand: the Founding ideal of the United States was not equality but rather merit. Kett's historical insights on the origins of report cards, legacy admissions, the civil service, and intelligence testing add up to a challenging and bold argument that although life in these United States has never been fair, on the whole this nation is the fairest of them all."-Scott A. Sandage, author of Born Losers: A History of Failure in America
You may also be interested in...
Simply reserve online and pay at the counter when you collect. Available in shop from just two hours, subject to availability.
Thank you for your reservation
Your order is now being processed and we have sent a confirmation email to you at
When will my order be ready to collect?
Following the initial email, you will be contacted by the shop to confirm that your item is available for collection.
Call us on or send us an email at
Unfortunately there has been a problem with your order
Please try again or alternatively you can contact your chosen shop on or send us an email at