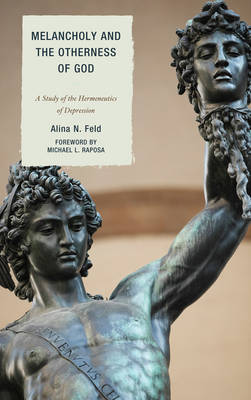 Melancholy and the Otherness of God: A Study in the Genealogy, Hermeneutics, and Therapeutics of Depression (Paperback)
Alina Feld
(author)
Paperback
240

Pages / Published: 01/05/2013
This probing study of melancholy invites readers to view "depression" genealogically through the history of its interpretation. It plumbs interior depths where psychology, theology, philosophy, and literary creation intersect. Therapies proposed for the dark mood have included work, prayer, care of the self, and deepening awareness of its indispensable role in the development of consciousness of oneself and God. Reflecting on these historical responses and cures can prompt a personal exploration, making this a practical manual for self-knowing and self-transcending, a philosophical "guide for the depressed."
Publisher: Lexington Books
ISBN: 9780739182079
Number of pages: 240
Weight: 336 g
Dimensions: 226 x 153 x 18 mm
---
MEDIA REVIEWS
Feld's Melancholy and the Otherness of God wholly recreates melancholy into a comprehensive sickness of our soul by way of a reenactment of our deepest philosophical and theological thinking. Now everything is not only centered upon the sickness unto death but that sickness is drawn forth as our deepest and most ultimate condition, yet a condition that is not simply a negative condition but one making possible renewal and rebirth, and renewal precisely by way of melancholy itself, a melancholy that is an ultimate depression, but a depression open to a profound reversal. -- Thomas J. J. Altizer, radical theologian, professor emeritus, SUNY Stony Brook
Alina Feld's book admirably fills a gap in offering its reader a work covering the wealth of possibilities associated with melancholy. It is a well informed and intelligent study rich with impressive erudition and covering an intellectual and historical field from the ancients to the moderns. It offers us a treasure trove of attitudes and understandings concerning melancholy, deftly engaging the reader from premoderns theories of the humors all the way to postmodern depression. While dealing with the darker moods it is not itself dark but illuminating. It is not devoid of a leavening touch of Dante-like wisdom that reminds us that descent into hell precedes return to the surface of the earth and ascent to the things that are above us. -- William Desmond, Villanova University
In this richly detailed, historical analysis of the complex of depression, acedia, and melancholy in different languages and literatures throughout the entire tradition, Alina Feld returns behind the modern views of the subject in Descartes, Kant and their descendants. Her main aims lie in determining if earlier views help us in revising our modern views and, ultimately, to cast light on what it means to be human. The result is an interesting, unusual, and thought-provoking book. -- Tom Rockmore, Duquesne University
With an extraordinary breath of learning drawn from philosophy, theology, mythology and medicine, Alina Feld demonstrates how melancholy relates to the big questions of Being, Time and God. She brilliantly argues that melancholic pathos is not reducible to purely social or psychological factors but is a primordial and perduring condition of human existence. In an age when depression has become one of our greatest ills, Feld recommends that we fully assume our melancholic condition in a labor of self-transformation. To face the nothing concealed in the depths of the self and the abyssal otherness of God, is, she claims, a crucial task for human beings - for a world without melancholy is not a human world. To this end both medicine and theology may be conjoined in a wise therapeutics of the dark soul. -- Richard Kearney, Charles Seelig Professor of Philosophy, Boston College
Melancholy and the Otherness of God is a truly exceptional work, without parallel, so far as I know, in philosophy, theology, or comparative literature. The author, Alina Feld, brilliantly navigates the history of melancholy and its related manifestations in Western tradition, from the ancients in classical and medieval philosophy, theology, and mysticism, through the major figures in German Idealism and contemporary reflections on the nature of God and the human condition in Continental existentialism and phenomenology. She accomplishes this not only by way of an encyclopedic survey of the relevant literature, but weaves her analysis through mythology, art, and medical science by way of refined hermeneutical and methodological skills. Few writers today have the ability and talent required to master the complex interface between philosophy, theology, psychology, and literary art as is evident in this work. Melancholy and the Otherness of God is a breathtaking tour de force and surely will be considered required reading for all who venture into the frequently trivialized realm of melancholy and depression as these conditions bear upon the nature of consciousness, being human, and experience of the otherness of the Absolute. -- Alan M. Olson, Boston University
This intellectually exhilarating book will leave even its most competent readers gasping for mindful breath. A comprehensive recovery of the `moods' of the human condition, the work centers on the hermeneutics of `depression' and its historical precedent surrogates (melancholia, sadness, ennui, carelessness, etc.) together with their ontologic/meontologic substrata. From the ancient Greeks (in both medicine and philosophy) through Heidegger and Michel Henry, no philosophical stone is left unturned. To stunning historical anamnesis the author brings her own critical thinking admirably to bear, and sets the highest possible standard for all subsequent work on this now clearly evident-and not uniquely modern or postmodern-human condition. -- Ray L. Hart, Boston University
Alina Feld's book Melancholy and the Otherness of God: A Study of the Hermeneutics of Depression compels us into a much needed reflection and reinterpretation of the role of melancholy, by assessing its ontological roots and pathological effects. The book offers with an exhaustive treatment of the historical fundaments of melancholy and its several nuances, establishing important conceptual definitions and clarifications. The intense terminological scrutiny that accompanies the chapters helps dismantling a rather fused and clumsy misusage of the term, such as the common homology attributed to melancholy, depression, boredom and acedia....The considerations of this study are not intended at exalting and cultivating melancholy in oneself but at valuing its inherency, existence and importance, as a remote and often intangible contact with the complexity of our human nature. * Metapsychology Online *
You may also be interested in...
Simply reserve online and pay at the counter when you collect. Available in shop from just two hours, subject to availability.
Thank you for your reservation
Your order is now being processed and we have sent a confirmation email to you at
When will my order be ready to collect?
Following the initial email, you will be contacted by the shop to confirm that your item is available for collection.
Call us on or send us an email at
Unfortunately there has been a problem with your order
Please try again or alternatively you can contact your chosen shop on or send us an email at