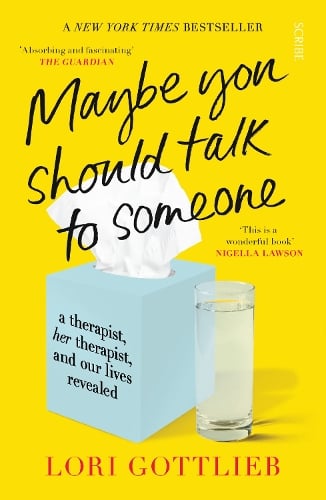 Maybe You Should Talk to Someone: the heartfelt, funny memoir by a New York Times bestselling therapist (Paperback)
Lori Gottlieb
(author)
Paperback
Published: 01/12/2022
A TIME magazine Must-Read Book of the Year
Ever wonder what your therapist is thinking? Now you can find out, as therapist and New York Times bestselling author Lori Gottlieb takes us behind the scenes of her practice — where her patients are looking for answers (and so is she).
When a personal crisis causes her world to come crashing down, Lori Gottlieb — an experienced therapist with a thriving practice in Los Angeles — is suddenly adrift. Enter Wendell, himself a veteran therapist with an unconventional style, whose sessions with Gottlieb will prove transformative for her.
As Gottlieb explores the inner chambers of her own patients' lives — a self-absorbed Hollywood producer, a young newlywed diagnosed with a terminal illness, a senior citizen who feels she has nothing to live for, and a self-destructive twenty-something who can't stop hooking up with the wrong guys — she finds that the questions they are struggling with are the very questions she is bringing to Wendell.
Taking place over one year, and beginning with the devastating event that lands her in Wendell's office, Maybe You Should Talk to Someone offers a rare and candid insight into a profession that is conventionally bound with rules and secrecy. Told with charm and compassion, vulnerability and humour, it's also the story of an incredible relationship between two therapists, and a disarmingly funny and illuminating account of our own mysterious inner lives, as well as our power to transform them.
Publisher: Scribe Publications
ISBN: 9781913348922
Dimensions: 198 x 129 x 26 mm
---
MEDIA REVIEWS
'Absorbing and fascinating.'
'This is a wonderful book … I wish I hadn't finished reading it, but will start from the beginning again happily.'
'Gottlieb has written a wise, funny, and sometimes blisteringly sad book that is warmer than any self-help guide: one that feels like a friend.'
'Candid and deeply personal, this is a book about being both patient and clinician, and one that offers hope to us all.'
'In prose that's conversational and funny yet deeply insightful, psychologist Lori Gottlieb is here to remind us that our therapists are people, too.'
'In her memoir, bestselling author, columnist, and therapist Lori Gottlieb explores her own issues — and discovers just how similar they are to the problems of her clients.'
'Maybe You Should Talk to Someone is funny, hopeful, wise, and engrossing — all at the same time. Lori Gottlieb takes us inside the most intimate of encounters as both clinician and patient and leaves us with a surprisingly fresh understanding of ourselves, one another, and the human condition. This is a daring, delightful, and transformative book.'
'I've been reading books about psychotherapy for over a half century, but never have I encountered a book like Maybe You Should Talk to Someone: so bold and brassy, so packed with good stories, so honest, deep, and riveting. I intended to read a chapter or two but ended up reading and relishing every word.'
'If you have even an ounce of interest in the therapeutic process, or in the conundrum of being human, you must read this book. It is wise, warm, smart, and funny, and Lori Gottlieb is exceedingly good company.'
'Shrinks, they're just like us — at least in Maybe You Should Talk to Someone, the heartfelt memoir by therapist Lori Gottlieb. Warm, funny, and engaging (no poker-faced clinician here), Gottlieb not only gives us an unvarnished look at her patients' lives, but also her own. The result is the most relatable portrait of a therapist I've yet encountered.'
'Here are some people who might benefit from Lori Gottlieb's illuminating new book: Therapists, people who have been in therapy, people who have been in relationships, people who have experienced emotions. In other words, everyone. Lori's story is funny, enlightening, and radically honest. It merits far more than 50 minutes of your time.'
'Maybe You Should Talk to Someone is ingenious, inspiring, tender, and funny. Lori Gottlieb bravely takes her readers on a guided tour into the self, showing us the therapeutic process from both sides of the couch — as both therapist and patient. I cheered for her breakthroughs, as if they were my own! This is the best book I've ever read about the life-changing possibilities of talk therapy.'
'This book is so insightful, and compassionate, and rich, and taught me a lot about myself. I was sucked right in to these vivid, funny, illuminating stories of humans trying to climb their way out of hiding, overcome self-defeating habits, and wake up to their own strength. Gottlieb has captured something profound about the struggle, and the miracle, of human connection.'
'With wisdom and humanity, Lori Gottlieb invites us into her consulting room, and her therapist's. There, readers will share in one of the best-kept secrets of being a clinician: when we bear witness to change, we also change, and when we are present as others find meaning in their lives, we also discover more in our own.'
'Some people are great writers, and other people are great therapists. Lori Gottlieb is, astoundingly, both. Maybe You Should Talk to Someone is about the wonder of being human: how none of us is immune from struggle, and how we can grow into ourselves and escape our emotional prisons. Rarely have I read a book that challenged me to see myself in an entirely new light, and was at the same time laugh-out-loud funny and utterly absorbing.'
'Gottlieb is an utterly compelling narrator: funny, probing, savvy, vulnerable. She pays attention to the small stuff — the box of tissues and the Legos in the carpet — as she honours the more expansive mysteries of our wild, aching hearts.'
'Saturated with self-awareness and compassion, this is an irresistibly addictive tour of the human condition.' STARRED REVIEW
'Gottlieb finds herself learning powerful lessons from her patients as they untangle their emotional challenges while learning to understand her own self-image and what it genuinely means to be human ... Written with grace, humor, wisdom, and compassion, this heartwarming journey of self-discovery should ­appeal to fans of Mitch Albom and Nicholas Sparks.'
'Therapists play a special and invaluable role in the lives of the 30 million Americans who attend sessions, but have you ever wondered where they go when they need to talk to someone? Veteran psychotherapist and New York Times best-selling author Lori Gottlieb shares a candid and remarkably relatable account of what it means to be a therapist who also goes to therapy, and what this can teach us about the universality of our questions and anxieties.'
'A dishy romp, an eavesdropper's guilty pleasure … provocative and entertaining … Gottlieb gives us more than a voyeuristic look at other people's problems (including her own). She shows us the value of therapy.'
'What makes this book a joy to read is that it offers a wise and witty meld of the author's personal insights and clinical observations plus bite-sized nuggets of psychology without ever lecturing or boring the reader ... For those who are skeptical, fearful or turned off by the idea of the talking cure, this fly-on-the-wall view of the subject just might convince you that therapy is remarkably worthwhile ... For self-help aficionados, there is wisdom galore on topics such as the drivers and inhibitors of psychological transformation, managing loss and grief, discovering meaning in life and work ... And for therapists, there is the chance to sit back and take note of how another clinician applies her skills to conjure up the magic of effective therapy ... A talented and highly accomplished writer, Gottlieb's insecurities and chronic internal conflicts may surprise some readers. The fact that she doesn't hold back talking about her suffering is what makes this book so powerful ... a most satisfying and illuminating read for psychotherapy patients, their therapists, and all the rest of us.'
'An irresistibly candid and addicting memoir ... [Gottlieb's] book does feel deeply, almost creepily, voyeuristic ... In showing us how patients reveal just a part of their selves, [Gottlieb] gives us a dizzily satisfying collage of narratives, a kind of ensemble soap opera set in the already soap operatic world of Los Angeles ... Gottlieb can be judgmental and obsessive, but she's authentic, even raw, about herself and her patients.'
'She combines journalism and therapy, most notably in her "Dear Therapist" advice column for the Atlantic, which itself somewhat makes the argument for therapy based on the fact that the questions are often far too complicated ever to be answered in the span of one response, though Gottlieb does her best ... There's something satisfyingly voyeuristic and intimate about getting to listen in on anyone else's therapy, a feeling Gottlieb amplifies by contextualising what is actually happening in each session from a more clinical perspective. She does this by gently and constantly explaining to the reader what exactly therapists are trying to do with their patients, sharing language and frameworks ... It's strange to see Gottlieb, a therapist herself, seemingly imply that someone can be too 'together' to benefit from talking to someone. And yet, I'm glad she grapples with this. Watching her come to the realisation that the process has things to offer her beyond a quick solution is a lesson in and of itself.'
'As Gottlieb's patients proceed (often painfully) through their sessions, so does Gottlieb with her new therapist, Wendell. And we get to listen in through this unusual combination of memoir, self-help guide and therapy primer ... warm, approachable, and funny — a pleasure to read ... As we watch Gottlieb and her patients learn to tell the rest of their own stories and move beyond their pain, we find some surprising insights and even a bit of wisdom.'
'Gottlieb plunges further into the psychological depths as she discloses how therapists keep each other honest ... Some readers will know Gottlieb from her many TV appearances or her "Dear Therapist" column, but even for the uninitiated-to-Gottlieb, it won't take long to settle in with this compelling read.'
'An addictive book that's part Oliver Sacks and part Nora Ephron. Prepare to be riveted.'
'Reading it is like one long therapy session — and may be the gentle nudge you need to start seeing a therapist again IRL.'
'With startling wisdom and humour, Gottlieb invites us into her world as both clinician and patient, examining the truths and fictions we tell ourselves and others ... Maybe You Should Talk To Someone is revolutionary in its candour, offering a deeply personal yet universal tour of our hearts and minds and providing the rarest of gifts: a boldly revealing portrait of what it means to be human, and a disarmingly funny and illuminating account of our own mysterious lives and our power to transform them.'
'A psychotherapist and advice columnist at The Atlantic shows us what it's like to be on both sides of the couch with doses of heartwarming humour and invaluable, tell-it-like-it-is wisdom.'
'Entirely reframes the way we think about psychotherapy … Movingly depicts our collective longing for lasting connection.'
'A delightful, fascinating dive into human behavior and idiosyncrasies, habits, and defenses, fears and blind spots: hers, her patients', yours, and mine.'
'This relatable memoir reminds us that many of our struggles are universal and just plain human.'
'A no-holds-barred look at how therapy works.'
'A fascinating, funny behind-the-scenes look at what happens when people — even shrinks themselves — 'break open,' with the help of a therapist.'
'Who could resist watching a therapist grapple with the same questions her patients have been asking her for years? Gottlieb, who writes the Atlantic's "Dear Therapist" column, brings searing honesty to her search for answers.'
'[Maybe You Should Talk to Someone] explores the ups and downs of life with humour and grace.'
'Charmingly readable.'
'In her compassionate and emotionally generous new book, Gottlieb … pulls back the curtain of a therapist's world … The result is a humane and empathetic exploration of six disparate characters struggling to take control of their lives as they journey back to happiness.'
'[A] smart, hilarious, insightful book. Lori Gottlieb will have you laughing and crying as she breaks down the problems of her patients, her therapist, and herself.'
'Both poignant and laugh-out-loud funny, [Gottlieb] reveals how our stories form the core of our lives.'
'Reads like a novel and reveals what really happens on both sides of the couch.'
'A hugely entertaining memoir about a therapist in therapy.'
'A rare and candid insight into a profession that is conventionally bound with rules and secrecy. Told with charm and compassion, vulnerability and humour, it's also the story of an incredible relationship between two therapists and a disarmingly funny and illuminating account of our own mysterious inner lives, as well as our power to transform them.'
'Heartwarming and upbeat, this memoir demystifies therapy and celebrates the human spirit.'
'A sparkling and sometimes moving account of her work as a psychotherapist, with the twist that she is in therapy herself ... For someone considering but hesitant to enter therapy, Gottlieb's thoughtful and compassionate work will calm anxieties about the process; for experienced therapists, it will provide an abundance of insights into their own work.'
'A source of inspiration.'
'A great read for anyone interested in mental health, humanity, and empathy.'
'It's incredibly open, honest, and there are insights Gottlieb comes to acknowledge in the pages that will resonate with you deeply.'
You may also be interested in...
"Insightful without being heavy"
I really loved this book. It was equal parts light and easy to read, while being thought provoking and insightful.
"Readable but very average"
Pros: interesting subject. The author knows her subject well and can write about it with ease.
Cons: Far too long. Very self-indulgent. In need of an editors red pen for the first 1/3 of the book which really is just... More
"Epic"
One of my all-time favorite books. Simply marvelous. Laughed and learned things whilst doing so!
×
Download the Waterstones App
Would you like to proceed to the App store to download the Waterstones App?
Reserve online, pay on collection


Thank you for your reservation
Your order is now being processed and we have sent a confirmation email to you at
When will my order be ready to collect?
Following the initial email, you will be contacted by the shop to confirm that your item is available for collection.
Call us on or send us an email at
Unfortunately there has been a problem with your order
Please try again or alternatively you can contact your chosen shop on or send us an email at