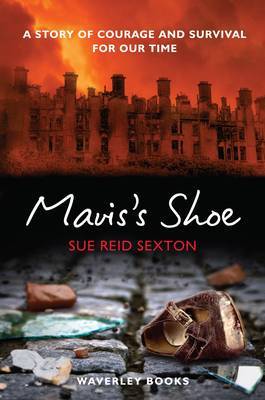 Paperback
Published: 21/02/2011
Click

&

Collect
From your local shop
A strong novel about the trauma of the Clydebank Blitz during the Second World War told through the eyes of a nine-year-old girl, Lenny Gillespie. Lenny survives the bombing, but in the chaos of that night she cannot find her mum and her wee sister, Mavis. Told in an urgent, true-grit voice, the story describes the devastation of the blitz as seen through Lenny's eyes. During her desperate search for her mum and sister, Lenny finds a shoe she thinks belongs to Mavis and it becomes her talisman in the days that follow. Lenny is forced to flee over the hills to the hut community of Carbeth in the company of a scary neighbour, Mr Tait, her old school teacher, Miss Weatherbeaten, and little Rosie, a girl who is oddly like Mavis. With Mr Tait's help she finds her mother but still no Mavis. It is left to Lenny herself to return to the terrifying scenes of devastation and search amongst the rubble for her wee sister, a desperate act that ultimately leads to the arrival of Mavis at Carbeth and a joyful reunion. Written by Glasgow writer, Sue Reid Sexton, who has worked with war veterans and as a counsellor specialising in trauma, this book is extensively researched and covers what went on in Clydebank, Glasgow and Carbeth during this harrowing time in Scotland's history. The book includes additional notes and pictures on the Clydebank Blitz and the Carbeth huts, which provided shelter for some of those who escaped from the ruins of the Clydebank Blitz. The novel contains some disturbing scenes. A sample from the novel: Most of the tenement building over the road had gone, and what was left was burning. I'd never seen flames the size of these, leaping and gobbling everything up. This made no sense to me. I searched my memory for something I could compare this to but there was nothing, just like there was almost nothing left of this building, only a hole where something indestructible had been ...Behind me, behind the houses, beyond, there were flames bigger even than the flames over the road, reaching right into the sky, so much flame it was like there wasn't room for it all down below. It lit up the whole sky and all the buildings. There was nothing hidden. The Gerries had found us and we were laid bare naked, and I had lost Mavis. Some facts and figures: The Clydebank Blitz took place on the nights of the 13th and 14th March 1941. The Luftwaffe chose to target the shipbuilding town of Clydebank in Scotland during those nights because of the full moon. During the bombing raids most of Clydebank was destroyed, suffering the worst destruction and loss of civilian life in all of Scotland. While there is still some discrepancy over the number of casualties, we know more than 500 people died, over 600 people were seriously injured, and hundreds were injured by the blast debris. Only 7 houses remained undamaged out of 12,000; 4,000 houses were completely destroyed, and 4,500 seriously damaged; over 35,000 people were made homeless; 439 bombers dropped over 1,000 bombs; only two enemy aircraft were shot down by the RAF; the Singer factory was destroyed but the landmark Singer tower survived. It was the use of bombs on parachutes, known at the time as landmines and designed to maim and kill at ground level, which made the attack so devastating.
Publisher: Waverley Books Ltd
ISBN: 9781849341059
You may also be interested in...
"Mavis's Shoe"
I think that Mavis's Shoe by Sue Reid Sexton is a great book. It's about 9-year-old Lennie Gillespie and her experience of the Clydebank bombing in 1942. It lasted for two nights, and after the bombing she sets off to... More
"I couldn't put this down!"
I have just finished reading a proof copy of Mavis's Shoe. There were a couple of times at the beginning where I wasn't sure if using the first person was going to sit comfortably with me. However, before I... More
We would love to hear what you think of Waterstones. Why not review Waterstones on Trustpilot?