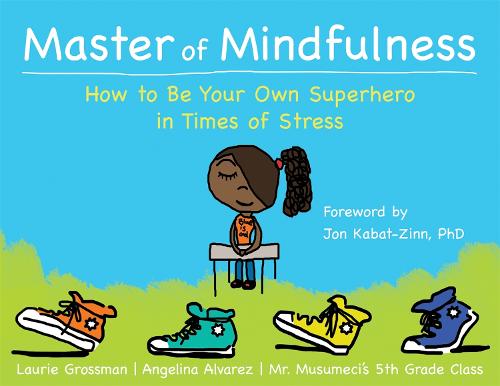 Paperback
72

Pages / Published: 28/04/2016
Do you ever feel angry, disappointed, or stressed out about family problems, school, bullies, or trouble with friends? If so, mindfulness can help. Master of Mindfulness is a unique and empowering book written for kids by kids, with cool illustrations and tips that show you how to be confident, get focused, stay calm, and tap into your own inner strength so you can be your own superhero-no matter what life throws your way!
Childhood is supposed to be a happy, carefree time, but the truth is that all kids have stress-especially when dealing with difficulties at school, at home, or with friends. Sometimes things happen in life that are hard, and you can't stop thinking about them, or you react too fast. You might be mad, sad, irritated, embarrassed, anxious, jealous, or even disappointed with yourself when things don't go the way you would've hoped. And when you're really upset, it's hard to make good decisions-you may end up doing something you later regret, or that gets you into trouble. You could probably use some help-and fast!-but where can you turn? This book will give you the skills you need to discover your own superpowers by showing you how mindfulness-like stopping to take a few deep, mindful breaths-can help you calm down and deal with things differently.
Written by Laurie Grossman, cofounder of Mindful Schools, and Mr. Musumeci's fifth grade class at Reach Academy in Oakland, CA, Master of Mindfulness presents mindful activities proven to make it easier to pay attention, accept yourself and others, manage your anger, and even get to sleep at night. The book features cool, mixed media illustrations with real kids' photos and stories about how mindfulness can help in different stressful situations. It even covers some of the brain science behind why mindfulness helps people to feel better, stay in the present moment, be kind, and make good decisions. The book includes easy and fun practices like mindful breathing, noticing your feelings, paying attention to your body, and mindful eating, as well as links to engaging audio recordings produced by Mr. Musumeci's students. And once you become a master of mindfulness, you can help others by sharing your superpower and teaching them how to do it, too.
When things go wrong, or when you have scary thoughts or strong feelings, you may need help to sort it all out-no matter how old you are. Learning and practicing mindfulness can make it easier to deal with the issues you face every day by showing you how to tap into your own inner strength in times of stress. So, why not use mindfulness and start being your own superhero today?
Publisher: New Harbinger Publications
ISBN: 9781626254640
Number of pages: 72
Weight: 220 g
Dimensions: 214 x 278 x 4 mm
---
MEDIA REVIEWS
"Given the landscape of today's teen's mental and physical health difficulties, the earlier you can plant the seeds of mindfulness the stronger the roots become and the sprouts more prodigious. After working with thousands of teens in education and therapy, I believe that if they had been offered these skills earlier, they would have fared better and had stronger roots from which to approach and manage the landscape of today's adolescent. Master of Mindfulness gets it! It gets that these skills know no age boundaries, class boundaries, or race boundaries. Mindfulness helps children to fare well in this growing, fast-paced, and technologically stimulated lifescape that we call the 21st century. Bravo Grossman, Alvarez, Musumeci, and most prominently the 5th grade children!"
--Gina M. Biegel, MA, LMFT, researcher, author of The Stress Reduction Workbook for Teens, founder of the Mindfulness-Based Stress Reduction Program for Teens (MBSR-T) and Stressed Teens program

"Safety is an embodied place that lives inside our physical self. Learning to experience safety is the first step in healing the behavioral and emotional effects of trauma and profoundly overwhelming life experiences. If we want to teach kids how to take charge of their lives, how to make wise choices, how to be empowered to realize their dreams, we first need to teach them how to feel safe. The transformative practice that the teachers and students describe in Master of Mindfulness is the cornerstone of building an internal safe place. Give a copy of this book to every kid you know!"
--Marjorie Chaset, LMFT

"Slowly but surely, a quiet revolution is taking place across the county. More and more folks are turning to the practice of mindfulness to cope with the stresses of modern life. Time and time again we've seen mindfulness deployed with great success in boardrooms, hospitals, and classrooms. But, as this book illustrates, mindfulness isn't just for the adults--students too, no matter the age, can benefit greatly from it. This proven practice can help our kids face a world of challenges with clarity and focus. The more our students know the ins and outs of how their own minds work, the better prepared they'll be to lead a fulfilling and productive life. I am extremely heartened to see Mr. Musumeci's fifth-grade class taking on this project."
--Tim Ryan, US representative, Ohio, and author of A Mindful Nation

"The latest research in education and youth development talks a lot about the importance of character building, grit, social-emotional learning, non-cognitive skills, etc., to prepare young people for success in school, work, and life. This research names important skills such as awareness of one's feelings, empathy, and the ability to control one's behavior. But how do you promote these skills? In our work supporting the quality of expanded learning programs, there is no better practice than teaching young people the skills of mindfulness. We believe that this is an important book to build awareness about the power of mindfulness programs for schools and youth program leaders."
--Sam Piha, LCSW, founder and codirector of Temescal Associates and the Learning in Afterschool & Summer Project

"This wonderful book is full of mindful wisdom taught from students who have used these profound practices themselves and are now teaching others. These simple and profound lessons will help youth to find balance, happiness, and lifelong mindfulness tools."
--Daniel Rechtschaffen, author of The Way of Mindful Education and The Mindful Education Workbook

"A delightful and masterful way to meet kids where they are when it comes to mindfulness. This is a book that truly honors 'inner wisdom' in a profound way by trusting that those who practice mindfulness (whether they are kids or adults) know the topic best. Using the defining theme of being our own 'mindfulness superhero, ' Grossman, Alvarez, and the fifth graders in Mr. Musumeci's class have created an engaging and enlightening resource for everyone. I'm going to start calling on my own shark fin regularly from now on!"
--Steven D. Hickman, PsyD, clinical psychologist; executive director of the University of California, San Diego Center for Mindfulness; and associate clinical professor at UCSD departments of psychiatry and family medicine and public health

"Master of Mindfulness brings such joy to the reader--students, teachers, parents--by showing us the power of mindfulness to help young people cope with their own thoughts, their peers, their world--more resiliently, more authentically, more creatively. These mindfulness-based tools mature students' capacities to skillfully navigate their increasingly complex world as adults. A true gift."
--Linda Graham, MFT, psychotherapist and author of Bouncing Back

"Imagine being able to feel clear and calm, even when things get tough. That's what this wonderful book can teach you right now--how to become a Master of Mindfulness! Kids, teens, and even adults can all strengthen their minds by learning how to focus attention in an open way on what is happening right now. Get ready and enjoy!"
--Daniel J. Siegel, MD, author of Brainstorm, and clinical professor at the University of California, Los Angeles School of Medicine

"As a leader in a large urban district, I have seen firsthand the positive impact of students having mindfulness experiences throughout the day. I have witnessed students, after learning the tools of mindfulness, stop themselves in a moment of stress, and practice breathing and visualizing with great success. This book, Master of Mindfulness, written by students for students, helps children understand how to use the tools of mindfulness on a daily basis. I highly recommend investing in this practice each and every day with our students so that they can be resilient and successful in life."
--Sara Stone, Network 1 deputy superintendent, Oakland Unified School District

"Master of Mindfulness is a child-centric and beginner's introduction to the practice of mindfulness. Written by fifth graders with a little help from their mindful adult friends, Master of Mindfulness links a child's need to be mindful with practical applications for how a mindfulness practice might be used in the daily life of a child. How can mindfulness help in dealing with the powerful emotions that can sometimes overwhelm children? How can mindfulness help a young athlete or musician? How can mindfulness help a child deal with a sibling during a disagreement? And more. Full of funny illustrations and photos of children, this book would be helpful to any adult or teacher hoping to introduce mindfulness to children in a language that they understand and can use."
--Scott Duyan, head of school, Presidio Hill School, San Francisco, CA

You may also be interested in...
Simply reserve online and pay at the counter when you collect. Available in shop from just two hours, subject to availability.
Thank you for your reservation
Your order is now being processed and we have sent a confirmation email to you at
When will my order be ready to collect?
Following the initial email, you will be contacted by the shop to confirm that your item is available for collection.
Call us on or send us an email at
Unfortunately there has been a problem with your order
Please try again or alternatively you can contact your chosen shop on or send us an email at