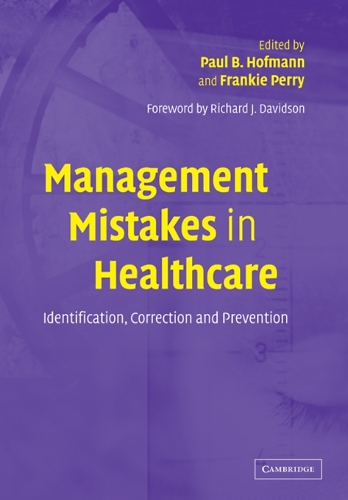 Paperback
276

Pages / Published: 01/04/2010
This book defines management mistakes and offers a variety of models to classify and interpret them. It describes the evolution of management mistakes, techniques for identifying and disclosing mistakes, the relationship between management and medical mistakes, and steps to prevent and correct mistakes. Six case studies, drawn from a real set of events in healthcare organizations, describe management mistakes and are followed by commentaries by experts in the field of healthcare management. They indicate steps that might have produced more positive outcomes. Ultimately, managers will not be completely successful in making healthcare better and more cost-effective without viewing mistakes as learning opportunities. This book is written for healthcare managers throughout the world and for the benefit of their patients, staff and communities.
Publisher: Cambridge University Press
ISBN: 9780521535946
Number of pages: 276
Weight: 440 g
Dimensions: 244 x 170 x 15 mm
---
MEDIA REVIEWS
Review of the hardback: 'This book is a must-read for academics, researchers and health care practitioners. It contains an intriguing blend of facts, theory and practical applications. 'Covering the waterfront' is an understatement. I found every chapter to be insightful and instructive.' C. Duane Dauner, President and CEO of the California Hospital Association, Sacramento, California
Review of the hardback: 'Paul Hofmann, Frankie Perry and their illustrious contributors have done a superb job at addressing an issue no one wants to discuss. Only by understanding the causes of our mistakes can we prevent them in the future. Those we serve have the right to expect no less of us.' Thomas C. Dolan, President and Chief Executive Officer, American College of Healthcare Executives, Chicago, Illinois
Review of the hardback: 'This book poses some of the most difficult questions in our profession. At times, I found myself in complete agreement with the authors and, at other times, arguing violently with them. The line between a decision that carries a known risk and one that borders on dereliction of duty is blurry. If the point of the book is to cause the reader to re-examine long-held positions and to take stock of one's career, the authors have succeeded. It is also an excellent blueprint for evaluating future choices.' Leo Greenawalt, President and CEO, Washington State Hospital Association, Seattle, Washington
Review of the hardback: 'Hofmann and Perry have created a ground-breaking book - provocative, comprehensive and a breath of fresh air in today's ethically-challenged managerial climate. Particularly enjoyed the U.K. perspectives and chapter 15, the Hofmann/Perry synopsis, is very strong! Should become the standard ethics text for graduate study in healthcare management.' Pat Hays, Former president of the Blue Cross Blue Shield Association, Chicago, Illinois
Review of the hardback: 'Management Mistakes in Healthcare is an important addition to the conversation on how to eliminate preventable errors in healthcare institutions. Up to now, the focus has been on the errors that occur in clinical practice. But decisions by healthcare managers and leaders are every bit as critical to patient care and the services patients rely on as those made by clinicians. The authors provide a robust framework for understanding these mistakes and a valuable discussion of how best to prevent them. The case studies, drawn from a wide range of healthcare settings, offer valuable insights for managers, leaders, clinicians, and patients alike.' David Lawrence, M.D., Chairman Emeritus of Kaiser Foundation Health Plan and Kaiser Foundation Hospitals, Oakland, California
Review of the hardback: 'In an era where the imperative to improve health care quality and patient safety is clearly understood and accepted, Paul Hofmann and Frankie Perry have expanded the definition of quality to include management decision making. Management Mistakes in Healthcare breaks new ground, raising issues that healthcare executives and their organizations need to consider seriously. Gary A. Mecklenburg, President and CEO, Northwestern Memorial HealthCare, Chicago, Illinois
Review of the hardback: 'This significant compilation of essays and case studies extends the vistas of the 1999 IOM report on error in health care to the realm of health care management. In so doing, it introduces the important concept of decision systems and their design and execution, and illustrates the critical impacts of organization culture (whose origins lie with the CEO) on performance. Here, the etiologic distinctions between individual responsibility and organization system design (for which the CEO is also ultimately responsible) blur, but the eventual implications for patient safety and health care quality are at least as great as they are on the clinical side. This book is must reading both for today's health care executives and for those who aspire to lead health care organizations tomorrow.' Dennis S. O'Leary, M.D., President, Joint Commission on Accreditation of Healthcare Organizations, Oakbrook Terrace, Illinois
Review of the hardback: 'With their new book, Paul B. Hofmann and Frankie Perry turn the spotlight on an aspect of management that is often ignored: management mistakes and their consequences. This enlightening work demonstrates that just as clinical errors have the potential to inflict harm, so, too, do mistakes made in the management suite. While management mistakes may not always directly impact patient care, the authors show that medical errors and management mistakes are interrelated.' Management Mistakes in Healthcare explores the multitude of factors that result in management mistakes and presents a series of guidelines for preventing errors. The authors draw on a series of well-designed case studies to illustrate the various ways that mistakes happen and their impact on health care organizations. Unlike medical errors, the impact of management mistakes may not be realized until months and years in the future. Throughout this edited work, the importance of acknowledging errors and learning from mistakes is emphasized. Management errors are not always obvious and they can easily be hidden or obscured. Still the authors advocate that effective managers will create a climate that promotes disclosure of missteps. It is clear that this is as much a book about management ethics as it is about error. Management Mistakes is an essential read for health care managers at every level and in every segment of the field. Mary E. Stefl, Ph.D., Professor and Chair, Department of Health Care Administration, Trinity University, San Antonio, Texas
Review of the hardback: 'This book's combined set of thoughtful essays and case studies on management mistakes is an ideal way to promote a management culture of ethical decision-making, integrity, transparency, good judgement and accountability. Hofmann and Perry's book is a must-read for health care CEOs, trustees, strategists and medical leaders.' Gail L. Warden, President Emeritus, Henry Ford Health System, Detroit, Michigan
Review of the hardback: 'Books like this can be heavy going, but I was surprised to find that all the people involved provided commonsense advice, rendered in mostly nonacademic prose.' Healthcare Hospitality
Review of the hardback: 'This book is aimed at healthcare managers who have a drive to improve management decisions by a practical problem-solving approach. The American influence may deter some, but the similarities in cultures facilitate rich learning.' British Journal of Healthcare Cumputing and Information Management
Review of the hardback: 'It serves as a good introduction to the theoretical aspects of management of mistakes in contemporary healthcare; equally, there is practical value for managers and administrators in the examples described by the contributing authors.' Journal of Biosocial Science
'... a timely reminder to senior managers of what good leadership looks like and the need for communication and trust in their role.' Open Forum
You may also be interested in...
Simply reserve online and pay at the counter when you collect. Available in shop from just two hours, subject to availability.
Thank you for your reservation
Your order is now being processed and we have sent a confirmation email to you at
When will my order be ready to collect?
Following the initial email, you will be contacted by the shop to confirm that your item is available for collection.
Call us on or send us an email at
Unfortunately there has been a problem with your order
Please try again or alternatively you can contact your chosen shop on or send us an email at